An Introduction to Auger Drives
Picture this: it's a crisp, early morning and your landscaping crew has arrived at the job site in excellent time. Today you have a large job that primarily involves planting bushes and trees. 
Work begins smoothly - this will be a great day! 
Then just as the day warms up, your auger malfunctions. You know the feeling well, and unfortunately, there could be many reasons the auger isn't working like 
It wasn't cleaned properly after the previous job

An outside object (stone, dirt, sand) has gotten into the motor

The motor wasn't lubricated recently
No landscaping or construction crew deserves to experience the morale-killing frustration of an auger that needs constant maintenance and repair. 
At Lawsen Equipment, we understand this frustration and its damage to a company's efficiency and a crew's morale. That's why we've designed the planetary auger drive for skid steers and excavators.
Do you want to learn more about planetary auger drives and how they can increase the efficiency of your business?
Then this blog is for you!
Let's start with a quick overview of the basics. 
An auger drive is an invaluable tool for anyone who needs to dig holes regularly. Augers' circular or helix-shaped blades pierce the surface and lift material from the hole with ease, greatly diminishing the necessary manpower for the job. 
Augers are made from steel, but the strength and quality of the steel vary significantly. Some augers even have tips made from tough materials like diamond. 
There are two overarching categories of augers; handheld and machine. Despite this, augers are very diverse and are designed for a wide range of jobs. 
For example, 
Tapping trees for sap

Garden projects

Ice drilling 

Planting trees 

Digging post holes 

Grinding stumps 

Building deep foundations for bridges and large buildings 
For our purposes, let's focus on auger drives that attach to skid steers and excavators. These drives are somewhat similar to a giant drill bit. The center comprises a heavy-duty steel shaft surrounded by round or helix-shaped blades that spiral downward. This cuts through the surface and lifts the dirt (or other material) out of the hole as its being dug, leaving behind a clean hole.
These augers can be designed to dig through various surfaces, including rock, dirt, ice, wood, and more.
While there are many different types of auger drives, the most commonly used motorized drives are planetary motor augers and chain-reduction augers. 
Let's look at the pros and cons of each. 
Chain-reduction augers 
The first motorized augers were chain-reduction augers. Chain-reduction motors operate by transferring energy to the auger drive via a series of chains or gears. These augers provide a simple, cost-effective way to transmit the high levels of torque needed for digging. They are designed with an open motor box. While this makes maintenance easy, it also increases the risk of damage by outside materials like rocks, dirt, and sand. 
Pros
Cheaper to purchase: Because of their more straightforward design, chain-reduction augers are consistently more affordable upfront.

Simple maintenance: The open motor box allows easy access for repairs and maintenance. Many owners can do simple repairs themselves. 

High digging torque: Chain-reduction augers deliver consistent, high torque levels, suitable for digging in average soil hardness. 
Cons 
Regular maintenance: Chain-reduction augers require constant maintenance, including cleaning the motor box and lubricating the gears or chains.

More susceptible to damage: While the open motor box provides easy access for repairs and maintenance, it also contributes to the need for both. 

Limited torque values when compared to planetary reduction methods: Though chain-reduction augers are powerful, they have lower speed-reduction rates and are limited by auxiliary flow rates and pressure settings. 
Planetary Motor Augers 
Planetary augurs are currently the more popular choice because they are easy to use and require minimal maintenance. Rather than operating via a chain, these augers are fully hydraulic and have an enclosed, oil-lubricated motor. This eliminates the risk of damage by outside materials and significantly decreases the effects of general wear and tear. 
Pros 
Low maintenance: Having an enclosed motor that operates in oil does away with the need for regular cleaning maintenance.

Enclosed motor: This feature eliminates the risk of wear or damage from outside materials.

Compact: Planetary motors are more compact and lighter than chain-reduction motors. 

Powerful: Planetary motor augers are the most powerful option on the market.  
Cons 
Greater upfront cost: Augers vary significantly in price, but because of their more intricate parts, planetary motor augers require a larger upfront investment.  

Repair cost: Though they don't need repairs often when something breaks, it can be costly to fix.
Why buy a planetary auger drive?
Now that we have established some auger dive basics let's look at some reasons why purchasing one for your business is an excellent investment. 
Efficiency
One of the most significant benefits of investing in an auger drive is increased efficiency. This efficiency is realized in at least two ways. 
First, if you invest in a quality planetary motor auger, you will be able to complete jobs more quickly. Not only will you have an auger that is suited for the job, but you also won't be delayed by the auger having issues or being damaged.
Second, you won't need to wait on a rental company. While it's possible to rent a quality auger, you will need to work around the rental company's schedule. No more need to wait on the rental company!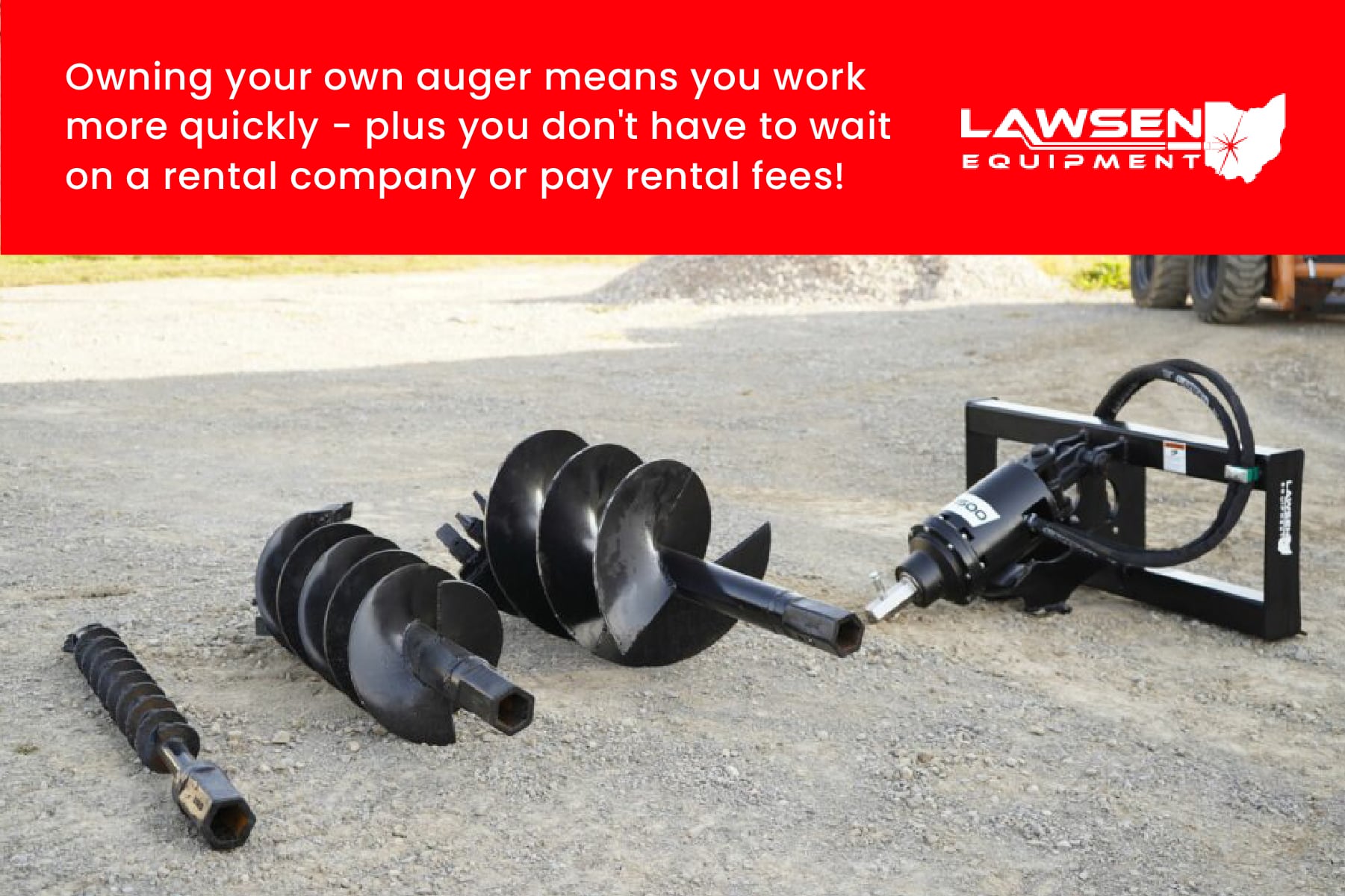 Ease of Job Completion 
As the old saying goes, work smarter, not harder. A planetary auger greatly simplifies the hole-digging process. Easy to use and built for the job, it can complete it using significantly less manpower while producing better results.
Saves Money 
A planetary auger also saves money in at least two ways. 
It saves time. The old clique "time is money" is very true for businesses. With an auger drive, you can get more work done in a shorter amount of time, saving on labor costs and increasing your profits. 

Overall, it costs less. It may seem a bit strange to say a planetary auger will save you money when it costs more upfront than a chain-reduction auger. While the upfront cost is indeed more, the amounts of time and money that can be saved with the reduced maintenance costs are significant. This, combined with the greater longevity of the planetary auger, easily make it the better investment.
Crew Morale 
We've probably all experienced the frustration of trying to complete a quality job on time without the proper equipment or materials. Maybe someone forgot a tool at the shop, or the auger stopped up again, and the delays seem to multiply. 
Nothing kills crew morale quite like repeated delays due to faulty equipment. Investing in a quality auger for your crew is a great way to maintain morale!
Auger drive vs. post driver - which is better?
We've compared planetary auger drives with chain reduction augers and discovered that planetary augers are usually the better option. 
But chain reduction augers aren't the only challenger to planetary augers for the best method for planting posts. 
For example, what about a post-driver? Are they better suited for planting posts than a planetary auger?
The answer to this question is directly related to the job(s) you want to complete. Let's take a closer look. 
Post-drivers are used to drive posts into the ground without needing to dig a hole first, although some designs do come with an auger attachment. There are three main styles of post drivers: drop hammer drivers, breaker-style drivers, and vibratory drivers. 
Post-drivers are an excellent choice if your primary job is setting posts (e.g., fencing) in regular soil. If the post driver includes an auger attachment, it is usable in harder soils and has more job versatility. 
However, if you want to do more heavy-duty work or dig holes for reasons beyond fencing (like planting shrubs, installing pipes, etc.), an auger drive is the better choice.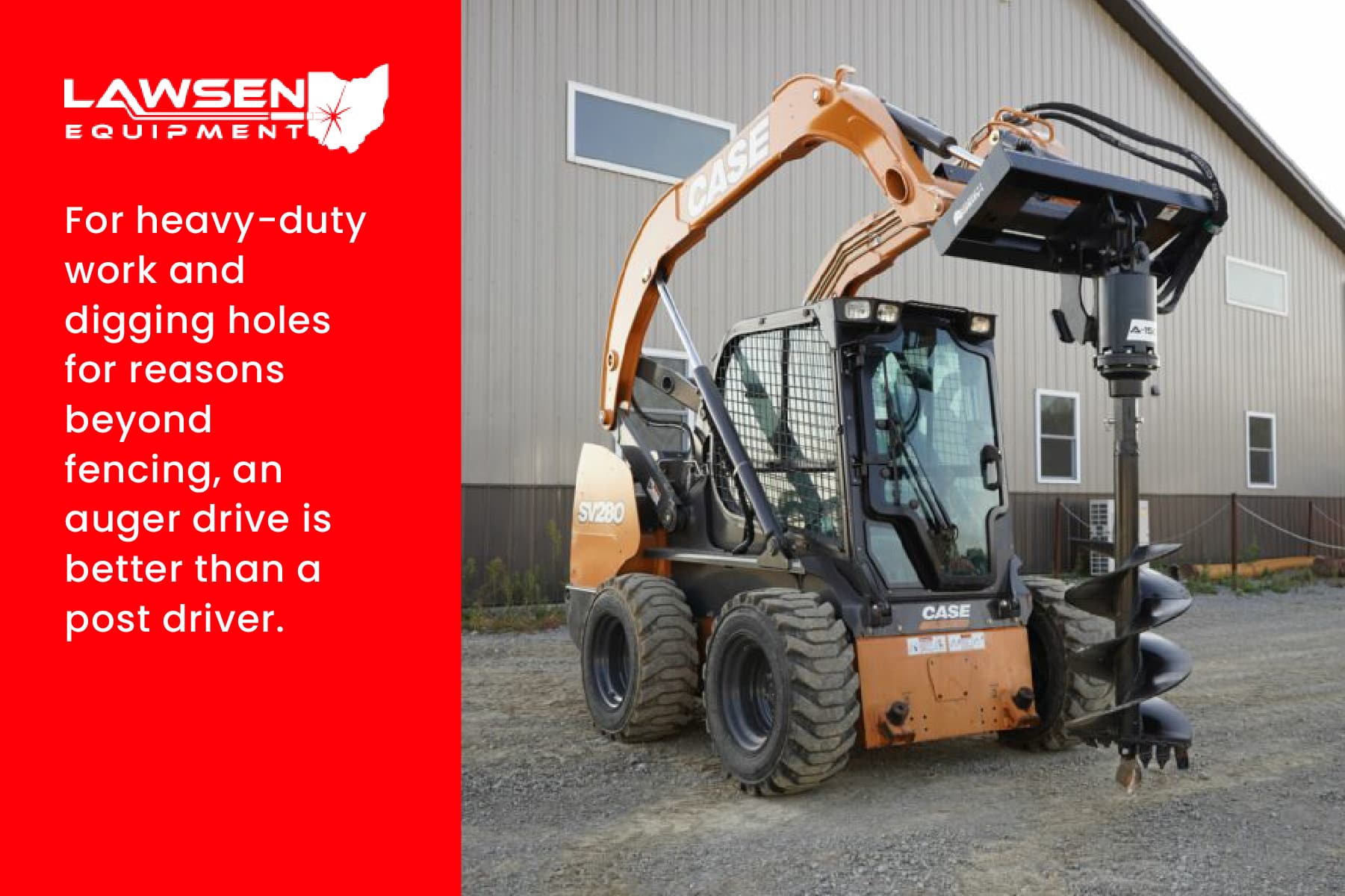 What makes Lawsen Auger Drives Unique?
Now that we've covered the basics of auger drives, what makes Lawsen Equimpment's auger drives unique? 
Let's take a look! 
Here are four reasons why Lawsen takes augers to the next level. 
Correct Sizing 
At Lawsen Equipment, we ensure that you find an auger and auger bits that fit your machine. Proper sizing extends the lifetime of your machine and the auger. It also diminishes the risk of accidents due to poorly fitted equipment.
Warranties 
We stand behind the quality of our products. All of our auger drives come with a 5-year warranty, and the hydraulic motors include a 3-year warranty. This allows you to invest with confidence. If something goes wrong, we'll make it right! 
Common Sense Engineering
Because we believe in efficiency, durability, and ease of use, our products are designed with common sense engineering.
What does this mean for you? It means that our machines are intuitive to use, with durable parts rather than showy breakable ones. For example, our auger drives are designed with a pedestal that protects them when unattached.  
Not only do our augers simplify the job, but they are also simple to use!
Made in Ohio 
It's true that you could probably purchase cheaper equipment overseas. However, off-shore equipment is often made with cheaper materials, and (even when it's a quality product) timelines for getting replacement parts can be long and frustrating. 
Purchasing equipment made in the USA ensures that you are getting a quality product and have access to replacement parts if something breaks. And you're supporting the US economy.
We are proud to offer you this quality and service through our auger drives made right here in Ohio!
Planetary auger drives are an excellent investment for any construction or landscaping crew. Not only do they increase efficiency, they make the job easier and boost crew morale! 
At Lawsen Equipment, we care about quality products that help you work with greater efficiency. Purchasing your auger drive is simple. 
Find the right model (we'll help!).

Find a local dealer (or purchase online if there is a dealer nearby). 

Dig holes faster and enjoy the peace of mind that comes with knowing you have quality equipment that will last!
In addition to auger drives, we sell post drivers, concrete breakers, and brush grapples. 
Please get in touch with us if you have any questions. We look forward to hearing from you!