Sized properly
for your machine
Don't rely on
rental companies
Safer for
machine & operator
Are you tired of jobs being stalled because you couldn't find the right-sized concrete breaker for rent?
We believe every contractor should have a skid steer jack hammer that is correctly sized for their specific machine and keeps a job moving without being at the mercy of a rental company.
How does a properly sized concrete breaker improve efficiency?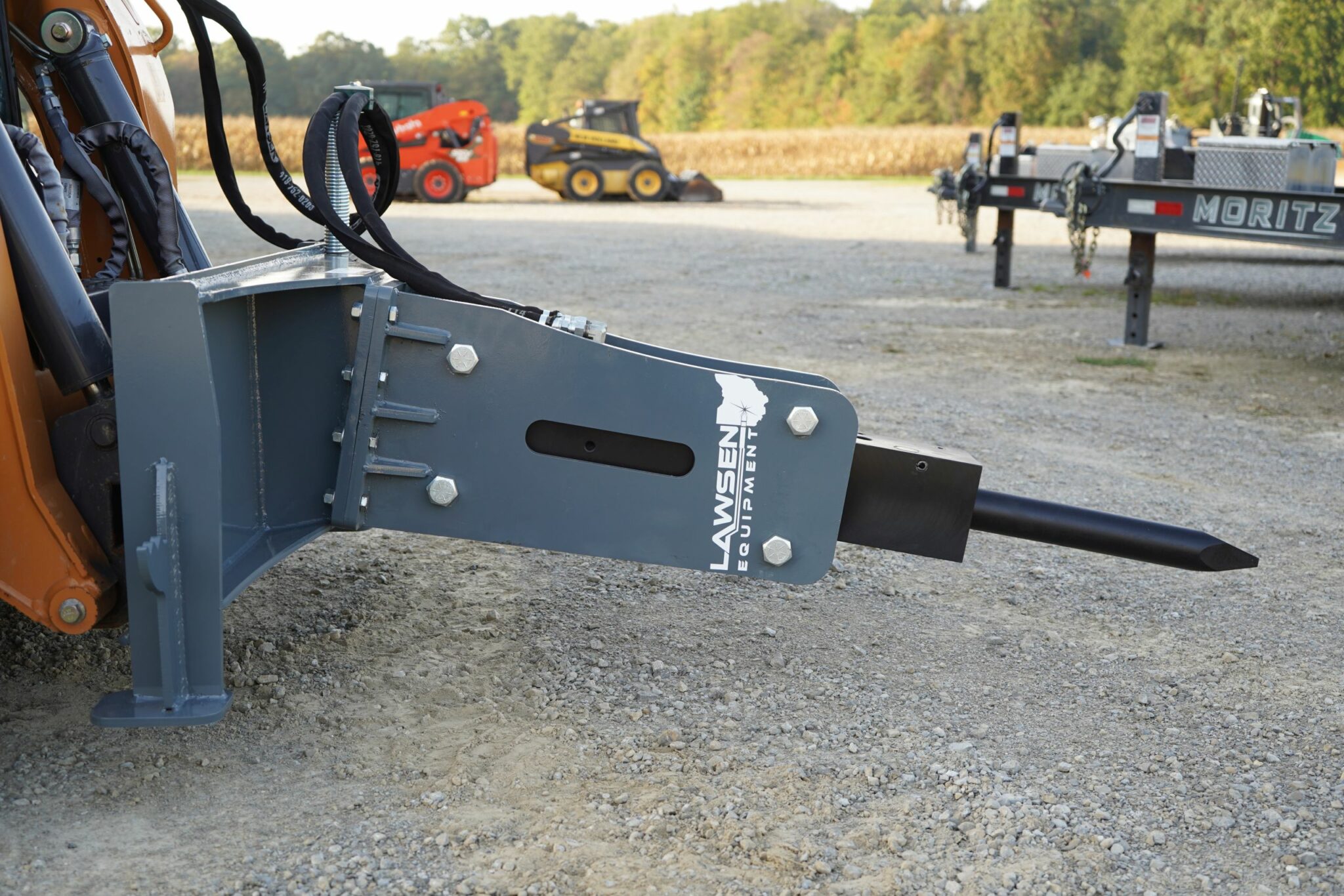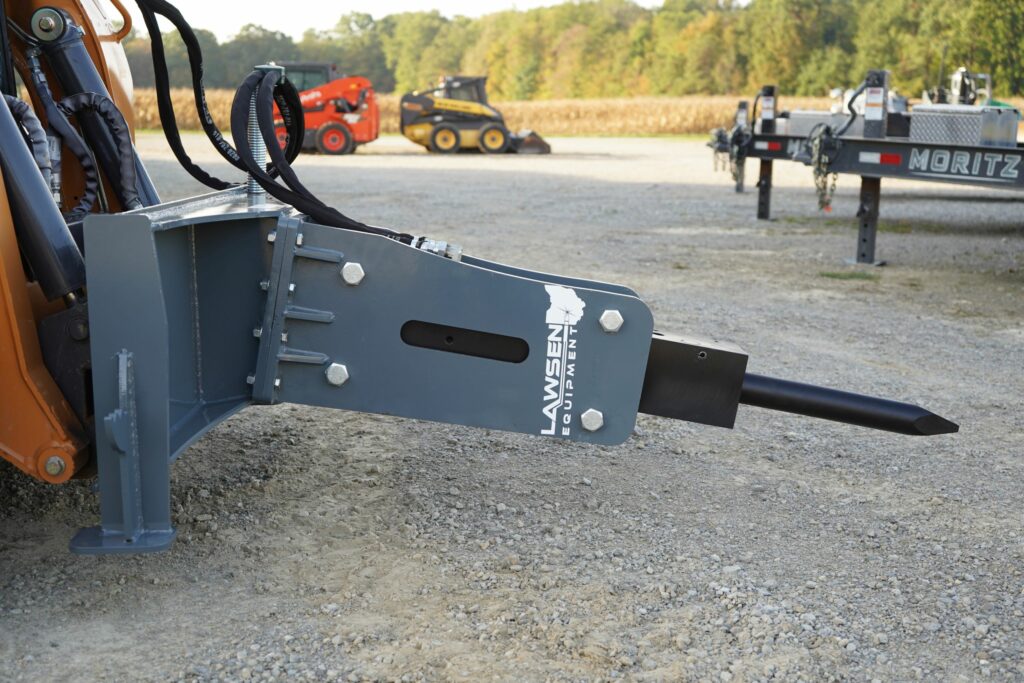 Safer for the machine and operator
Less wear-and-tear on the machine and jack hammer
Easier to operate
No job downtime picking up a rental
And all without needing to pay for a rental!
Are you ready to reduce job downtime when concrete needs to be broken?
We Make The Process Simple:
We help you find the concrete jackhammer for your specific machine.
Purchase your skid steer jackhammer from your local dealer, or buy online if you don't have a dealer near you.
3.
Experience Less Downtime!
Complete projects faster with the right jackhammer without relying on rental companies.
Why Work With Lawsen Equipment?
2-year warranty on our concrete breakers
We match your machine with the correct-sized jack hammer resulting in less wear-and-tear
Common-sense engineering that is easier to use
Our concrete breakers come with a standard 2-year warranty.
Chisel Diameter: 2" - 3.375"
Oil GPM: 5.2 - 26 GPM
Skid Steer Mounted Concrete Breakers:
Model

Chisel
Diam.
Working
Pressure
Oil
GPM
Operating
Weight
Energy
Class
L - 53B
2"
2500 PSI
5.2 - 13.2
457 lbs.
550 ft. lb.
L - 68B
2.75"
2500 PSI
10.5 - 19
1100 lbs.
750 ft. lb.
L - 75B
3"
2500 PSI
13 - 24
1400 lbs.
1000 ft. lb.
L - 85B
3.375"
2500 PSI
16 - 26
1640 lbs.
1500 ft. lb.
Do you have more questions about our concrete breakers?
The size of concrete breaker you need depends on the type of job you are doing. If the concrete is thick, you need a bigger concrete breaker.

Another factor is the skid steers or excavators that you have on site. Certain skid steers and excavators are only capable of running certain concrete breakers.

So, the two things to check when choosing a concrete breaker are the thickness of the concrete and specifications for the operating machine.
Choosing the wrong size of concrete breaker has 3 possible outcomes:

If the breaker you chose is too small for how thick the concrete is, it won't be very effective and will take a long time to complete the job. 
If the concrete breaker is too small for the skid steer or excavator, it will operate too fast and cause internal seal damage.
If the concrete breaker is too big for the skid steer or excavator it presents a tipping hazard for the operating machine. 
Your skid steer will need a minimum of 10 GPM to operate our concrete breakers. .
Honestly, a concrete breaker is almost always better than a jackhammer. A hydraulic concrete breaker is the modern way to creak concrete and is simply more effective. The main time you may want to choose a jackhammer is if you only have a small amount of concrete that needs to be removed, or if you don't have access to a skid steer or excavator. 
Sometimes, people generically refer to hydraulic concrete breakers as jackhammers. However, this is not accurate. 

Concrete breakers are almost always hydraulic while jackhammers are air driven. Concrete breakers are often operated by machine while jackhammers are handheld.

And usually, concrete breakers are much more effective and efficient when removing concrete (and they save you a lot of backaches!) 
The main thing to remember is that you should always start on an edge and work into the concrete. This allows the concrete to break away in larger chunks.
It's impossible to go over all the ins and outs of running a concrete breaker for a skid steer here, so we'll start by saying the best thing you can do is to thoroughly read the operator's manual of the purchased concrete breaker. This is NOT wasted time.

One critical thing to make sure always do is to ensure that the concrete chisel is always in contact with the material being broken to eliminate premature wear of the breaker.
We have several different models. The lightest is 450 lbs. and the heaviest is 950 lbs.
Our concrete breakers are standard universal quick attach so they are quite easy to attach and remove. 
Yes, providing the skid steer has auxiliary hydraulics and is capable of 10 GPM.
No. Standard universal skid steer quick attach and 1 set of hoses is all that is needed. 
Increase Your Job Efficiency With A Properly Sized Concrete Breaker!
As a contractor, there is nothing more frustrating than needing to break up some concrete on the job - only to realize the nearest rental company doesn't have the right jack hammer for your machine.
This results in you needing to call and chase down the right rental while your crew has to wait or move onto something else.
By owning your own jack hammer, you don't need to experience these delays, and having the proper-sized breaker is also safer for the machine and operator!
At Lawsen Equipment, we know you want peace of mind knowing that jobs requiring concrete breakup won't result in job downtime.
To do that, you need a concrete breaker designed for your specific machine so that you don't need to rely on rental availability.
You've probably experienced the problems of needing to rent a jack hammer: the rental company has limited availability or don't have one properly sized for your machine. Sadly, this often results in job downtime until you can find the right rental.
All this leaves you feeling frustrated when a job is stalled due to not having the right jack hammer.
We believe every contractor should have a concrete breaker that is correctly sized for their specific machine, whether it's a skid steer or excavator, and keeps a job moving without being at the mercy of a rental company.
We understand the frustration of a job being paused because you can't find the right jack hammer for rent. That's why we offer a wide range of jack hammers and help you match the right model to your machine.
With our 2-year warranty and online sizing tool, we make sure you get the tool sized for your machine to minimize wear-and-tear.
You don't need to worry about job downtime or the unnecessary wear-and-tear on your machine due to improper sizing.
Instead, find your tool today so that you can break concrete when you need to without relying on rentals. You'll also experience the benefits of having the right-sized breaker for your machine:
Safer for the machine and operator
Better for your machine and jackhammer
Overall easier to operate!
You can browse our other products for skid steers and excavators, including: