Less Time
Per Post
Fewer Split &
Crooked Posts
Fewer Safety &
Maintenance Issues
Is your current excavator post pounding equipment making you frustrated with wasted time, split posts, and safety concerns?
We believe every farmer, rancher, and contractor who uses an excavator deserves a post driver designed with the end-user in mind that pounds posts quickly and safely!
How did a focus on user experience help us develop a better post pounder for excavators?
It provides a clear view of sight during the whole pounding process
Hydraulic hoses are protected during use and hooking/unhooking
No extra gadgets or electronics to break
Has a quality powder-coat finish
We help you find the driver that best fits your specific machine
No pinched fingers
Models available for excavators
How would a safer excavator post driver
help your business or farm be more efficient?
We Make The Process Simple:
We help you find the driver designed for your specific excavator.
Purchase your post driver from your local dealer, or buy online if you don't have a dealer near you.
Enjoy the increased safety and speed on your next post-pounding job.
Why Work With Lawsen Equipment?
2-year warranty on our post drivers
Common-sense engineering that is easy to use
Less maintenance issues with protected hydraulic hoses and a powder-coat finish
C - Series Post Drivers for Your Excavator
This post driver attaches to a skid steer or excavator by using the adapter that fits your machine with the assistance of only two pins. It drives posts and breaks concrete with the same kind of efficiency!
OIL GPM: 5.2 - 26
Energy Class: 500 - 1500 FT-LBS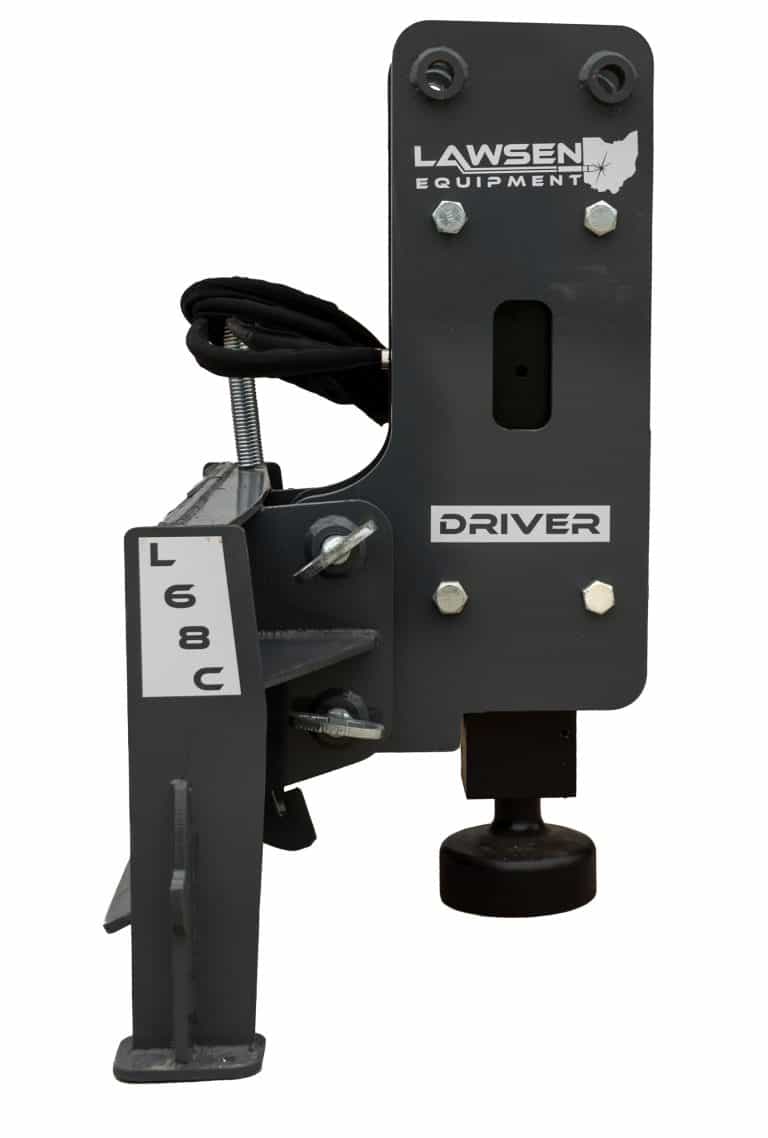 C - Series Post Driver / Concrete Breaker:
Model

Post Pad
Diameter
Chisel
Diameter
Working
Pressure

Oil GPM

Operating
Weight
Energy
Class
L - 53C
6" ID
2"
1,200 PSI
5.2 - 13.2
550 LBS
500 FT LBS
L - 68C
8" ID
2.75"
2,500 PSI
10.5 - 19
1,200 LBS
750 FT LBS
L - 75C
9" ID
3"
2,500 PSI
13 - 24
1,800 LBS
1,000 FT LBS
L - 85C
10" ID
3.375"
2,500 PSI
16 - 26
2,000 LBS
1,500 FT LBS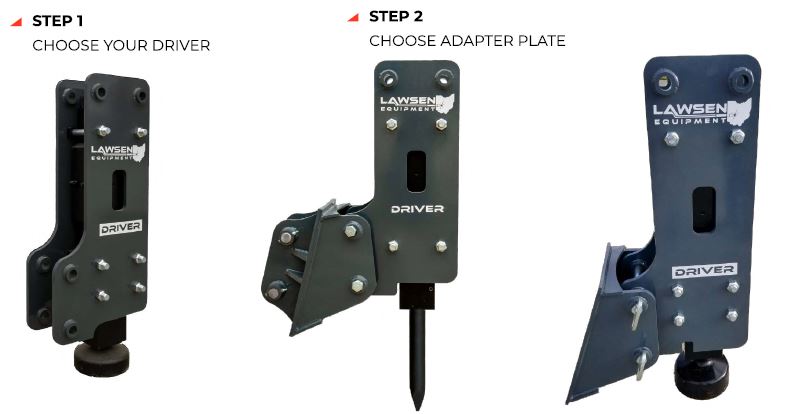 TC-CEA - Excavator adapter with pins
TC-BEA - Blank excavator adapter
*Adapters can be mounted on either side or top of the driver
Auger System
Swivel - 30 degree swivel feature
Extension - 24" - 60" post driver extension
T-Post Pad - (1.75" - 2.375" ID)
Pipe & T-Post Pad - (4" ID)
Flat Post Pad - (9" - 11" ID)
Get More Done With An Efficient & Safe Excavator Post Driver!
As a contractor, farmer, rancher, or someone else who pounds a lot of posts with an excavator, you may have experienced the frustration with many hydraulic post pounders in today's market.
Split or crooked posts, safety concerns, bad hydraulic hose placement - the list could go on.
That's why we started our post pounder design with the end-user in mind to make one of the safest and most efficient post drivers on the market!
We also offer a variety of mini skid steer attachments for sale - check them out today if you own a Vermeer, Ditch Witch, or Dingo!
At Lawsen Equipment, we comprehend your yearning for unwavering assurance when it comes to investing in a post driver.
To fulfill this, you require an adept, secure, and uncomplicated vibratory post driver meticulously tailored to your distinct machinery.
Time and resources are precious commodities, and the tribulations triggered by drop-hammer post drivers are unwelcome: jeopardized safety, impaired visibility during pounding, and the squandering of materials due to posts veering off-course or splintering. Such frustrations lead to diminished efficacy and mounting exasperation.
We ardently advocate that each farmer, rancher, and contractor merits a post driver that is thoughtfully fashioned with the end-user as the focal point – a tool that rapidly and securely anchors posts in place.
We are acutely aware of the vexation arising from conventional drop-hammer post drivers that engender time and material wastage. This is precisely why we undertook the innovative challenge of reverse-engineering our vibratory post driver, with the user experience at its core, aimed at optimizing safety, productivity, and user-friendliness.
How did this unwavering commitment to the user experience give rise to an enhanced post driver?
No extravagant contraptions or vulnerable electronics prone to malfunction
Precision-designed for unobstructed visibility throughout the entire pounding process
Safeguarding hydraulic hoses during deployment and connection/disconnection from your machine
Adorned with a premium powder-coat finish for lasting durability
We guide you to the driver that seamlessly suits your specific machinery
This amalgamation culminates in a post driver that redefines ease and safety of operation, accompanied by our standard 2-year warranty.
Bid farewell to concerns of time squandered, compromised post materials, the hazard of pinched hands, or the quagmire of maintenance linked to suboptimal hose placement or electronic glitches.
Instead, seize the moment to procure your post driver today and witness an exponential surge in post-pounding efficiency. Attain unparalleled post alignment with pinpoint precision, mitigate the occurrence of fractures and splintering, and curtail safety apprehensions – all orchestrated through intuitive engineering that effortlessly caters to your needs!
You can browse our other products for excavators, including:
We sell and ship our post drivers throughout the entire United States. States we serve include:
Not sure if we serve your area? Please fill out our quote request form, and we will let you know!