10 Hydraulic Concrete Breaker FAQs
Hydraulic concrete breakers can be a construction worker's best friend on job sites requiring serious demolition–they save massive amounts of time and labor.  
However, these machines are complicated and challenging to operate properly, and they can be self-destructive if misused. If you are going to handle them on your job sites, you'll want to educate yourself on how they work and how to use them safely. 
In this article, Lawsen Equipment wants to help you by going over 10 of the most common questions about concrete breakers. 
Ready to go? 
Let's get started!
1. What is a hydraulic concrete breaker?
In very simple terms, hydraulic concrete breakers are just giant jackhammers. (If you're interested in the technical differences between the two, check out this blog.)  
They are normally mounted on a larger machine, such as a skid steer, and use hydraulics to power a piston that breaks up concrete, rock, or other hard materials. 
They are invaluable for breaking up large slabs of concrete, chunks of rock, or even asphalt surfaces–anything that would be too difficult and time-consuming to break apart by hand.
2. How do concrete breakers work?
Most hydraulic concrete breakers work like this: 
The breaker attaches to a skid steer or other larger piece of machinery, such as a skid steer, normally via a universal hydraulic quick-attach system. 
Once attached, the breaker uses the hydraulic system of the larger machine to power a piston that drives the head, which strikes the rock or concrete, breaking it apart. 
Given how the breaker works, one thing to remember when using it is that you should never, ever dry-fire it. 
Think about it for a second.
If you accidentally dry fire, the piston fires, driving into the head, but the head doesn't have anything to strike, so it essentially strikes itself, and the entire force of the blow goes back into the breaker. 
That's enough force to break rock, all directed back into the tool and from there back into the carrier machine. That amount of force is pretty destructive, and if you dry-fire too often, the tool essentially self-destructs and may even damage the carrier machine. 
That is why experienced operators develop the skill of stopping operation right before the material breaks, so it dry fires as little as possible.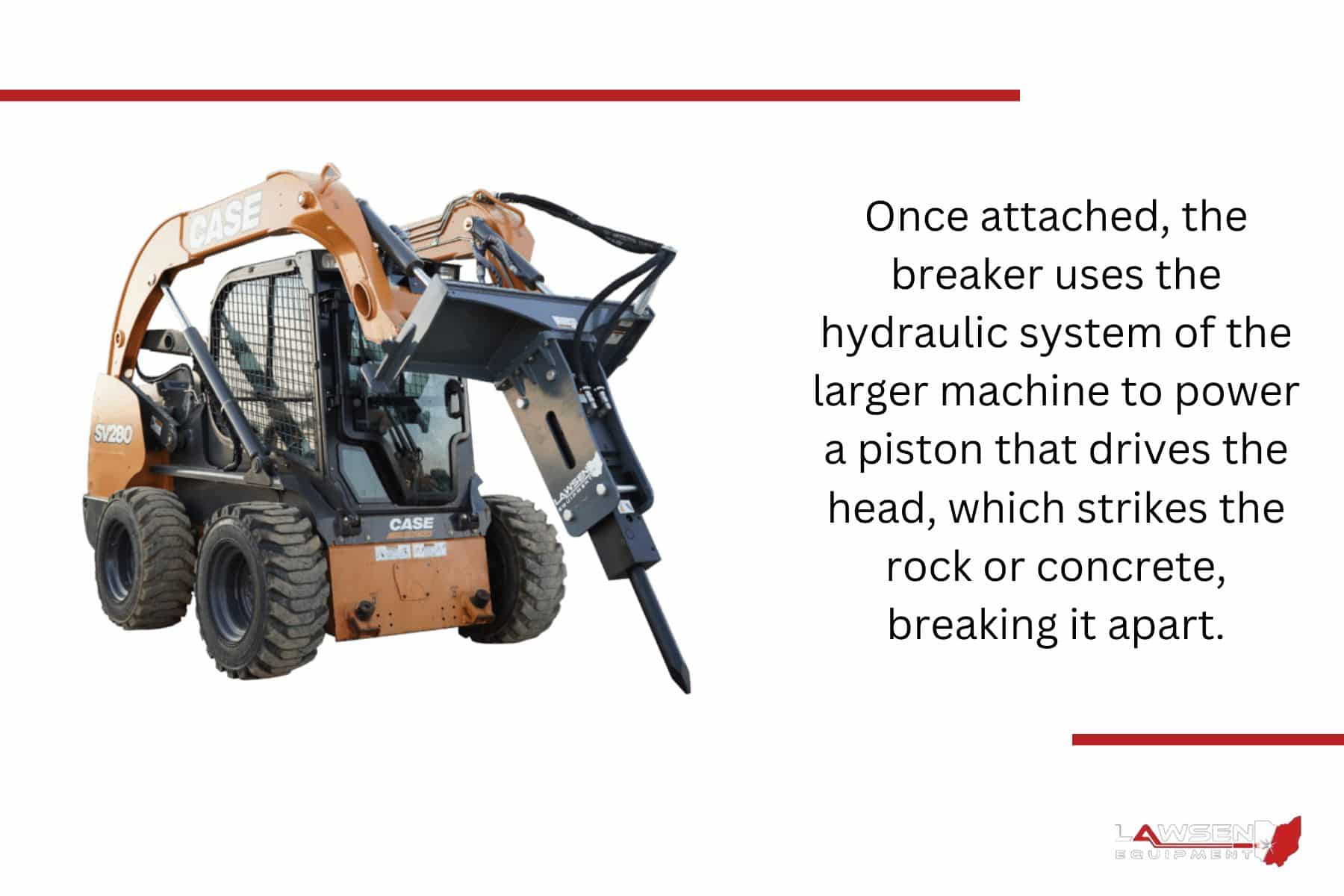 3. What are some risks associated with using a breaker?
There are multiple risks you should watch out for when using these tools. These include: 
Flying debris, such as rock chunks 

Leaking hydraulic fluid, which can pierce the skin 

Pinch points 

Damage to the breaker and the carrier machine 

Eye and ear damage from loud noise and flying debris 

Hitting gas and electrical lines if using the breaker to loosen dirt

Inhaling excessive dust or other harmful materials in the air
4. How can you use these tools safely?
As with any heavy machinery, there is plenty of risk involved with breakers. Here are a few tips on how you can stay safe while operating a concrete breaker:  
Only run the breaker from the operator's seat. 

Wear protective gear, especially eye protection and hearing protection. There may be a lot of flying rock and debris in the air. 

Be mindful of pinch points when attaching/detaching the breaker. 

Make sure you have the right type and size of breaker. (we'll explain why this is so important later.) 

Make sure you operate perpendicular to the material surface. 

Never hit the same spot for more than 15 seconds. 

Never use the head as a pry bar or to move chunks of rock, even though it may be tempting! 

Stop operation immediately if you spot issues such as the hydraulic hoses rattling violently, the head ceasing to move, or hydraulic oil leaking. 

Work from the edges of the object, never start in the center. 
One of the best ways to keep yourself safe on the job is to use common sense. Be aware of what is happening around you and potential hazards. That goes a long way towards keeping you and those around you safe.
5. Can you use concrete breakers for more than just concrete?
Yes, you can use one for almost any hard object you need to break. That could include concrete, rock, asphalt, or even hard-packed earth that you need to loosen in order to dig out. 
Some common uses for them include breaking up large concrete slabs or footings, asphalt, demolishing walls, and removing old foundations.
6. How do I choose the right size of concrete breaker?
What size of concrete breaker you need depends on two factors: the type of job you are doing and the size of carrier vehicle you have. 
Also, hydraulic breakers attached to larger vehicles are only for large-scale projects. For a smaller project, you may need a hand-held jackhammer or other smaller tool. 
If you are breaking up thick, strong concrete or tough rock types, you'll need a bigger breaker.  

These are large, heavy tools. To accommodate very heavy breakers, you'll need a large carrier vehicle. 
To determine exactly what size of breaker you need, we recommend you talk to the manufacturer/rental company you buy from. 
7. What happens if I don't choose the right type and size of concrete breaker?
There are several possible outcomes if you choose the wrong size:  
If it is too small for the thickness of the concrete you need to break, it won't be very effective, and the job will take a long time to complete. 

If it is too small for the carrier vehicle, it runs too fast, and internal damage to the breaker may result. 

If it is too large for the carrier vehicle, it may overbalance the machine and cause it to tip over. 

The surrounding environment matters too. An overly large breaker may cause vibrations that damage nearby foundations or pipes. 
As we said, the manufacturer/renter of the equipment should be able to give you good advice about what size you need.  
8. What is the average cost of a breaker?
How much these tools cost depends on factors such as weight, power, manufacturer, and add-ons. You should expect to pay at least several thousand–prices may range from $5,500-$17,000 on average. 
In general, more power means a higher price. But more power often means higher productivity and efficiency, so it may be a worthwhile tradeoff in the long run. 
9. What is the average lifespan of a concrete breaker?
How long your breaker lasts depends on factors such as quality of make, maintenance, and type of use. Generally, if you use and maintain it well, it should last many years. 
Here is how you can extend the life of your concrete breaker: 
Operate the tool correctly–avoid blank firing, using the tool for improper materials, or using it as a pry bar or to move things. Make sure you have the right size of tool for the job.  

Lubricate, lubricate, lubricate! Lack of grease will increase internal temperature and cause the tool to deteriorate over time, so be sure to grease it regularly. 

Make sure to purchase a high-quality tool in the first place–then you will be sure to get a good return on your investment. 
Remembering these tips and others can help you avoid breaking your breakers! 
10. What are some common mistakes to avoid when using a breaker?
In this article, we have already covered most of the common mistakes you might make when using a concrete breaker. To recap: 
DO wear the correct gear, including eye and ear protection 

DO lubricate the tool regularly 

DO read the operator's manual or get instruction from an experienced operator 

DO keep the point at a 90-degree angle to the surface you want to break (operating at an angle can be damaging to the head) 

DO NOT dry fire 

DO NOT use the breaker to move rocks or as a pry bar 
And always be aware and use your common sense! These tools are large and powerful and need to be handled properly. 
Concrete breakers can be an invaluable tool on various construction sites–but to operate them properly and stay safe, you need to know what you are doing!  
We hope this article helps you stay safe and productive on your job sites. 
If you want more information or want to look at breakers for sale, contact us here at Lawsen Equipment! 
At Lawsen, we manufacture hydraulic concrete breakers as well as other equipment, such as: 
Check them out on our website today, or contact us for more information. 
We look forward to hearing from you!