An Introduction to Hydraulic Concrete Breakers
Are you a contractor who is tired of delayed timelines because the concrete breaker you need isn't available for rent?
Here at Lawsen Equipment, we understand this frustration. And we don't think it needs to exist. That's why we've built high-quality hydraulic concrete breakers that can be sized to your machine. 
Say goodbye to being at the mercy of rental companies or breaking concrete by hand!
Whether you're just starting out as a contractor or have already experienced the frustration of delays, this post is for you. We'll briefly discuss how a concrete breaker works and how it can benefit your business.
Ready to begin? 
Let's dive in!
What is a hydraulic concrete breaker?
In any discussion, it's best to start out by defining your terms. So, what is a hydraulic concrete breaker? 
We'll keep it simple.
A hydraulic concrete breaker is a percussion hammer used to demolish hard structures like concrete or rock. This machine can be attached to various types of equipment (generally, backhoes or skid steers) and is powered by an auxiliary hydraulic system. 
The first hydraulic breaker, the Hydraulikhammer HM 400, was designed and produced by the German company Krupp in 1967. This invention has made demolition projects easier ever since!
Here at Lawsen Equipment, our concrete breakers are designed as skid steer attachments, so that's the type we'll focus on today. Other names for concrete breakers include skid-steer concrete breakers and skid-steer jackhammers.
Jackhammer vs. Hydraulic Concrete Breaker
The closest cousin of the hydraulic concrete breaker is arguably the traditional jackhammer (which can also be hydraulic). So what makes them different? 
The most apparent difference is that jackhammers are handheld. But the differences extend beyond this, and some are less apparent. 
Let's take a closer look. 
Better Suited For Different Jobs
Jackhammers and skid steer breakers are designed for the same essential work. However, they are designed for different job sizes. Jackhammers are intended for smaller or more precise jobs. For example, if a tent company needs to remove some asphalt to set up a tent, a skid steer attachment would be a bit of an overkill.
However, larger equipment is better suited for the job if you need to remove and replace the stamped concrete sidewalks around a home. Could you get the job done with a traditional jackhammer? Probably. But it would take more time and be more demanding on your employees. That leads us to our next point. 
Worker Injury Risk
Most jobs come with some injury risk and wear on the body. But there are some significant risks to be aware of when operating a traditional jackhammer. Running a tool that pulses or shakes for an extended time can cause damage to circulation in the hand and fingers. Symptoms like numbness, tingling, and discoloration of fingers are signs that damage is occurring. Over time, this can permanently damage nerves, muscles, and blood vessels. A worker's neck and shoulders can also be affected. This phenomenon is called Hand-arm Vibration Syndrome (HAVS) and is irreversible. 
Just to be clear, we're not saying that hydraulic skid steer breakers are necessarily the golden ticket to this problem. Jackhammers can be used in a way that diminishes the risk of injury (e.g., taking 10-15 minute breaks every hour). But concrete breakers do considerably decrease the amount of wear to the body since the vibrations are both less intense and more removed from the person operating the attachment. Plus, they get the job done much more quickly and efficiently!*
*As we mentioned earlier, some jobs are better suited for handheld jackhammers. 
Why You Need a Hydraulic Concrete Breaker
If you are a contractor who regularly needs concrete, asphalt, or stone broken, a hydraulic concrete breaker is an invaluable tool. But is it worth investing in one? 
Most of the time, it truly is! Here are five reasons why:
It's high-quality and simple to operate.

Quality is worth investing in when it comes to concrete breaker attachments. At Lawsen Equipment, our breaker attachments are made locally in Ohio and come with a two-year warranty. They are also designed with common sense engineering, making them simple to use and maintain.  

It makes the job easier.

A skid steer concrete breaker lessons the workload and allows you to utilize your workers more efficiently. A job that would have taken two men with jackhammers a few hours can be completed by one employee and a skid steer breaker in much less time. This means the whole job gets done more quickly, and the time and manpower you saved can be used elsewhere. 

It'll be properly sized for your machine.

This is a bigger deal than you might initially think. If the breaker attachment is too small for your machine, it operates too fast and damages the internal seal. If it's too big, it creates a tipping hazard for the machine. 

It's safer.

As we discussed in the previous section, the risk of HVS isn't as high with hydraulic breakers due to their design. Additionally, if the attachment is sized correctly, there won't be a tripping hazard. If you purchase your own breaker attachment, you can ensure that the sizing is correct for your machine.

You are also safe inside the cab of skid steer and protected from breathing in lots of dust and getting debris chips in your eyes

.

No waiting on rental companies.

It's very frustrating when a job is going smoothly, only to be brought up short by a delay beyond your control. If you've rented a breaker attachment, you've probably experienced this. It's common to experience delays when renting an attachment because you need to work around the schedules of others who also need the attachment. When you purchase your own breaker, this problem evaporates.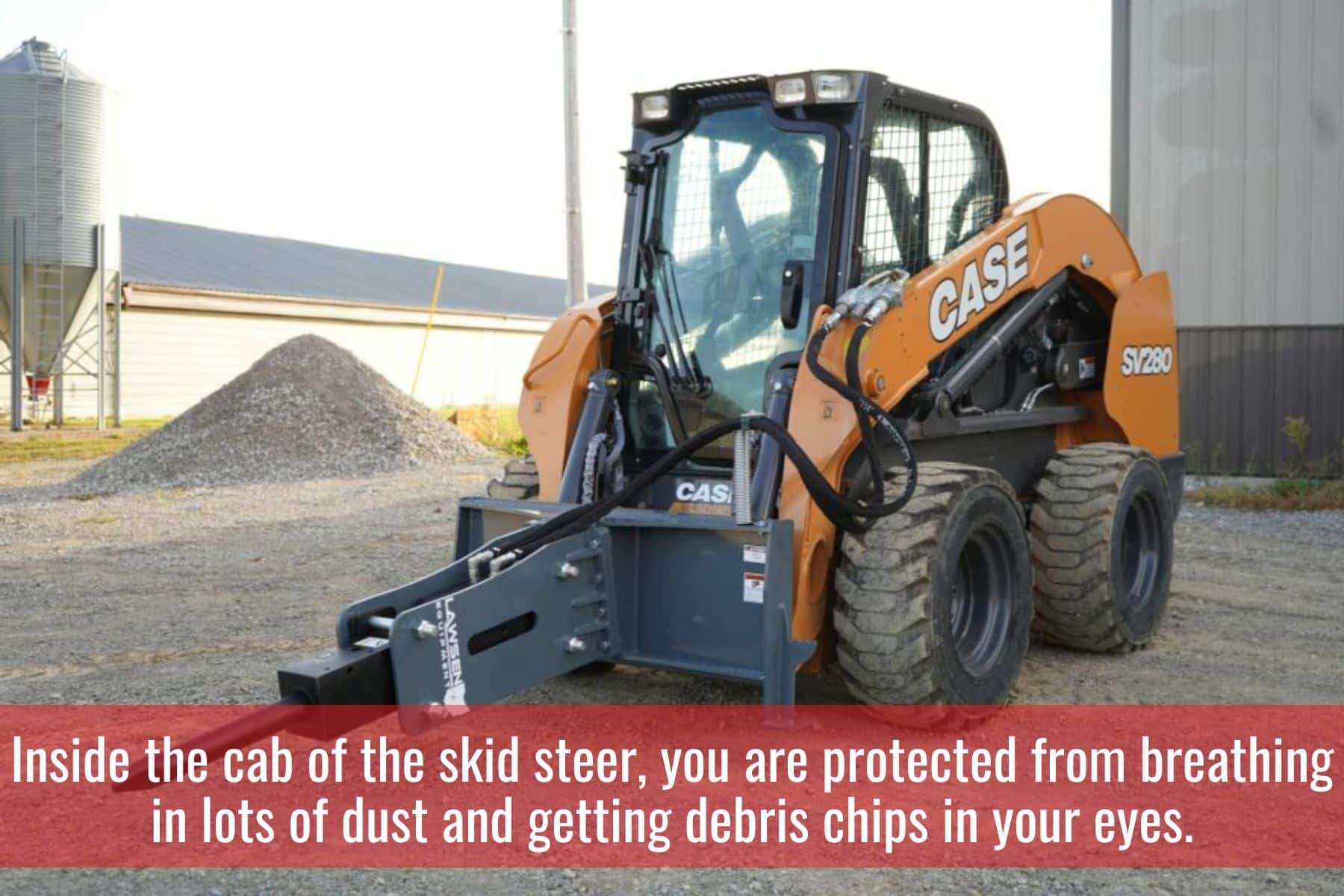 Buy or Rent a Concrete Breaker?
While a hydraulic concrete breaker is generally a worthwhile investment, it may not be right for every contractor at this time. Here are a few questions to ask yourself to help you decide if a concrete breaker attachment is right for your company.
Does my company have the capital to invest?

If you're just starting out or have recently invested in other equipment for your company, it could be better to keep renting for now. However, it's important to remember that it will probably be cheaper to own your own breaker in the long run. 

How many of our jobs require a breaker?

If your company only does a few jobs a year that require a concrete breaker, renting is a better option. However, if you regularly work jobs requiring concrete removal, investing in a hydraulic skid steer breaker is an excellent choice. 

How accessible is a rental company?

It could be worth investing in a breaker if the closest rental company is a significant distance away or the breakers are consistently unavailable. If you don't do many jobs requiring a breaker, you could rent it out as a side hustle. 
There are many good reasons to invest in a skid steer concrete breaker, but you are the best person to decide if it's right for your company. If you are tired of dealing with the downtime that often comes with renting and want peace of mind knowing the attachment will be perfectly fitted to your machine, purchasing your own breaker is just the ticket.
Let's wrap this up with a few simple safety tips for operating a hydraulic concrete breaker – whether it's a rental or your own. 
Read the operator's manual. We know it sounds boring. But reading the manual isn't wasted time. It provides you with helpful information on how to safely operate and maintain this particular attachment. 

Wear proper safety gear. Don those safety glasses. Your eyes will thank you.

Install a shield on your skid steer. If your skid steer doesn't have a shield, it's best to install one to protect against flying debris. 

Conduct proper maintenance and inspect regularly. This prolongs the life of your attachment, plus you'll be more likely to catch it if something needs repairs. 

Don't blank-fire.

Blank-firing

is turning on the breaker attachment while it is not in contact with the concrete. This causes extreme wear on the breaker and can cause accidents. 

Use a breaker only as intended. Don't use a breaker to lift, pry, or move rock or bits of concrete. This can lead to accidents!