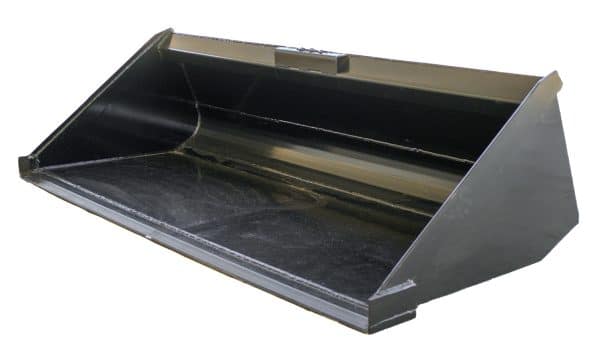 Heavy duty low profile buckets that are ideal for everything from digging to material handling. Weld-on cutting edge with back design that enhances loading and clean out.
Please click this spec image to view it in full size:
Ohio Sales Tax – We charge sales tax to orders shipped to Ohio as required by law. If you qualify for a tax exemption, please submit a tax exempt form to [email protected]. Upon verification, we will refund the sales tax amount. Click here to download tax exempt form.
Shipping Multiple Items – If ordering multiple items, reach out to us to calculate accurate shipping cost. 
Low profile skid steer buckets serve an important purpose in various construction and landscaping tasks. These buckets are designed to be flat and close to the ground. This makes them useful for tasks that require digging, scooping, and moving materials in tight spaces.
One primary use of low profile skid steer buckets is excavation. They can efficiently dig and remove dirt, gravel, and other materials from areas where larger machinery might not fit. These buckets are especially handy when working in confined spaces like trenches or narrow alleys.
Landscapers also find low profile skid steer buckets valuable for grading and leveling. They can easily spread and distribute soil, gravel, or mulch across surfaces. They create even and smooth terrain for gardens, lawns, or pathways.
Another use is in construction sites for tasks such as transporting and loading materials like sand, rocks, and debris. The low profile design allows the bucket to get close to the ground, making it easier to scoop up and move heavy items.
In agriculture, these buckets can assist with chores like cleaning out animal pens, spreading feed, or moving hay bales.
Moreover, low profile skid steer buckets are essential in snow removal. They can efficiently clear snow from driveways, walkways, and parking lots. This helps to keep areas safe and accessible during winter.
Overall, low profile skid steer buckets are versatile tools with multiple applications. They work well in construction, landscaping, agriculture, and snow removal. Their ability to work in tight spaces and effectively move materials makes them indispensable.
Have a question?
Please send us a quick message below!
"*" indicates required fields