Dig
holes faster
Properly sized
for your machine
Less maintenance
required
Are you frustrated at the higher maintenance and lower quality of many chain-reduction augers?
We believe every construction and landscape crew in Texas deserves an auger drive that is built to handle the daily wear-and-tear of the jobsite without constant maintenance.
How does the right planetary motor auger help Texas contractors and landscapers?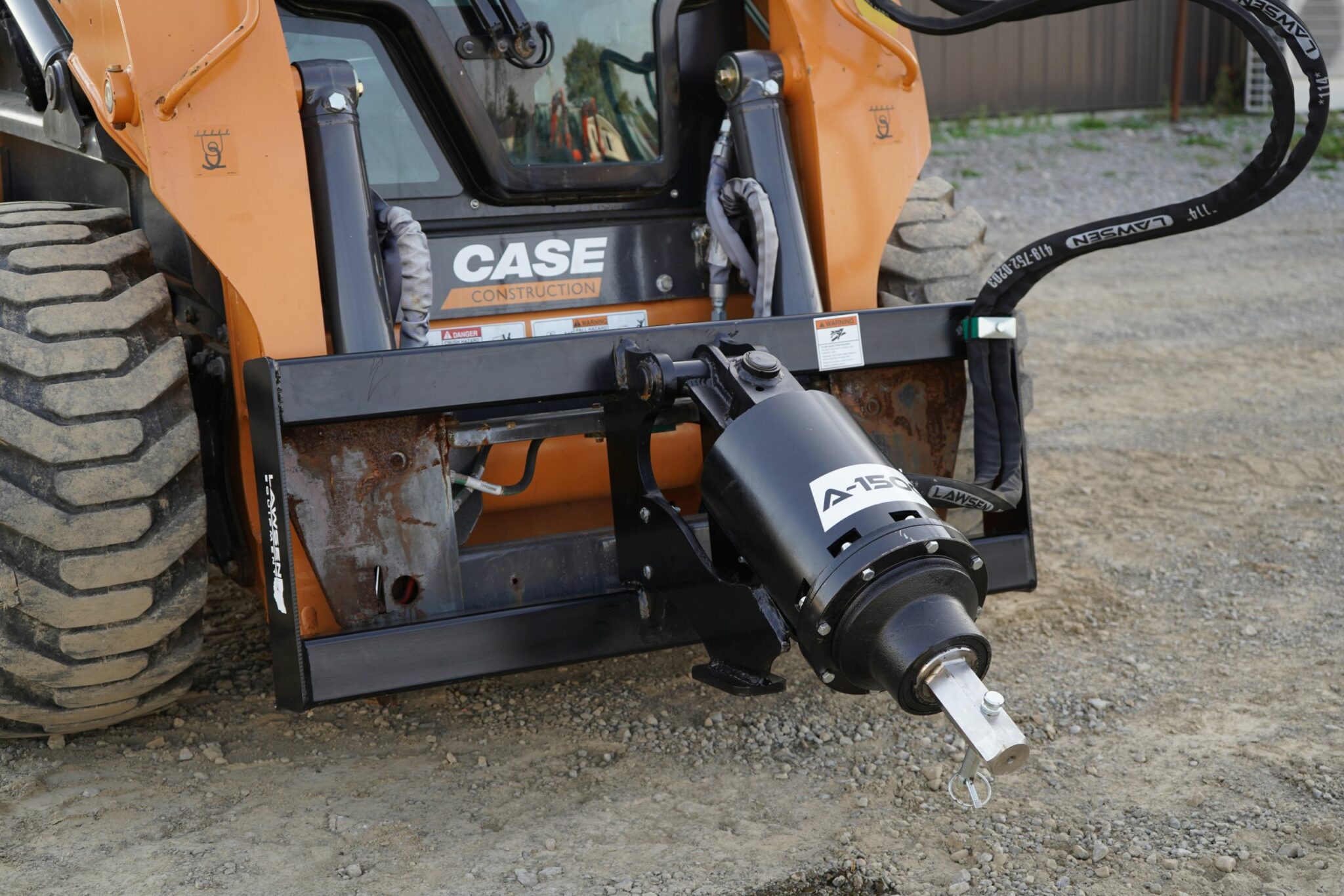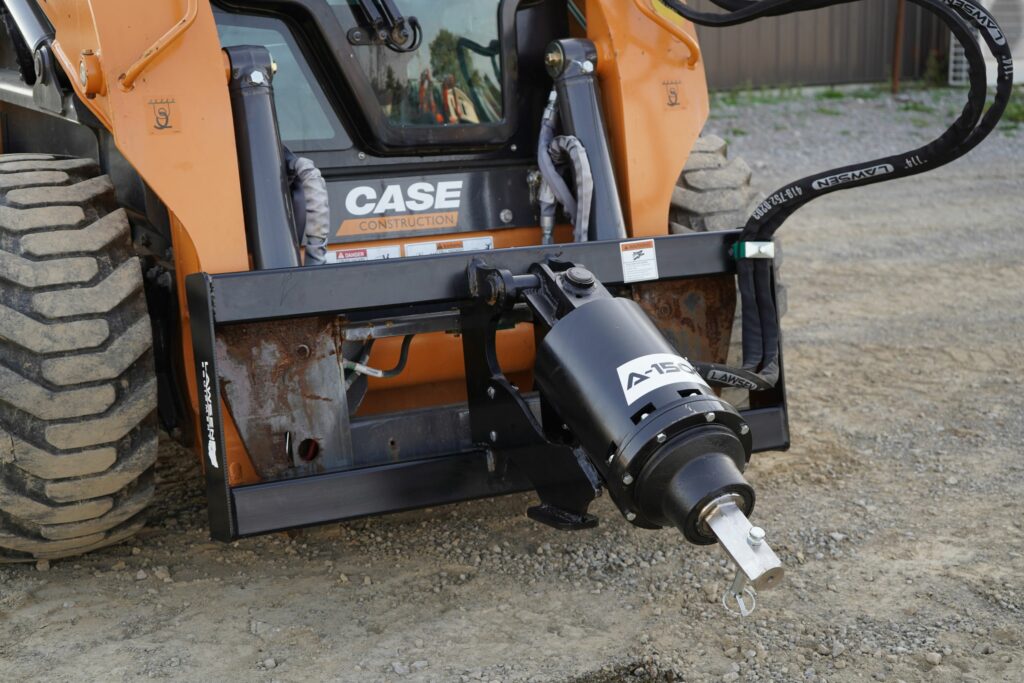 Designed and built for long-term construction use
A pedestal on the auger helps protect the auger drive when unattached
No chains involved - everything is run by hydraulic oil
Optional weight brackets allow for increased down-pressure
Dig holes faster and with minimal labor!
How would a heavy-duty auger help your crew be more efficient?
We Make The Process Simple:
We help you find the right auger drive for your specific machine and auger bits.
Buy your auger online, and we ship it to your Texas location.
Have peace of mind knowing your auger is designed to handle the daily wear-and-tear of construction.
Why Work With Lawsen Equipment?
Our warranties are 5 years for auger drive and 3 years for motor
Common-sense engineering that is easier to use
Made in the United States (Ohio)
We size your auger correctly for your machine and auger bits
Skid Steer Augers Available in Texas
We manufacture a range of heavy-duty auger drives as well as auger bits designed for aggressive use.
Our skid steer auger attachments come standard with a 5-year warranty on the drive and a 3-year warranty on the motor.
Our auger bits come standard with a  1-year warranty.
OIL GPM for Augers: 6 - 35
Max Auger Diameter: 24" - 36"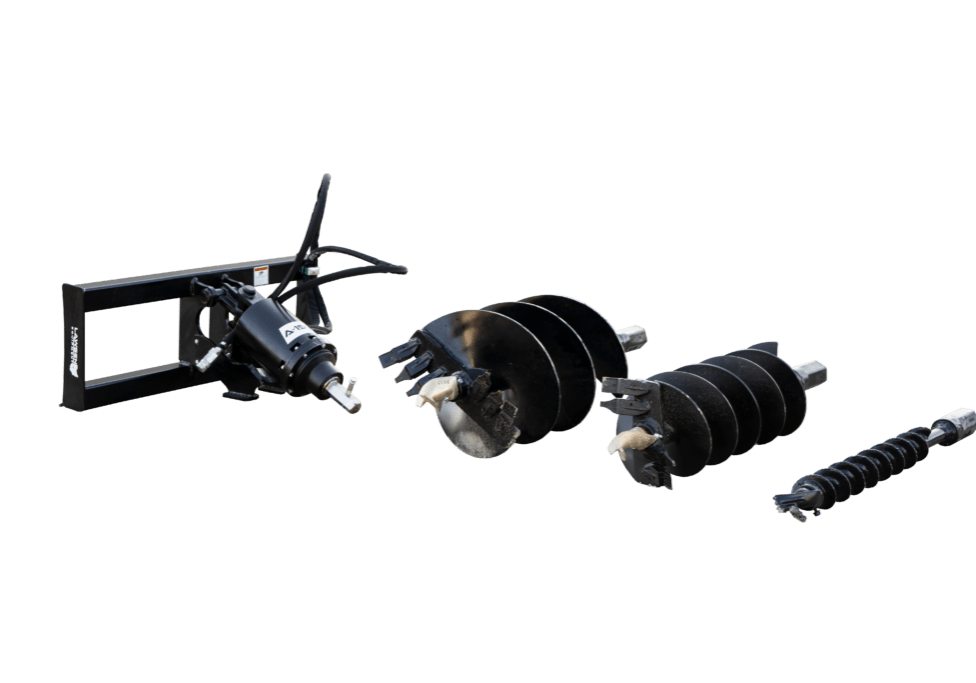 Click a series to view full specs
Heavy-duty auger drives with a 5-year warranty on the drive and a 3-year warranty on the motor.
OIL GPM: 6 - 35 GPM
Max Auger Diameter: 24" - 36"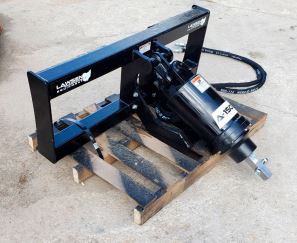 Complete Auger Drive Units - Includes 1/2" Hose Kit & Flat Face Couplers:
Model

Output Shaft

Max Auger
Diameter

Oil GPM

Operating
Weight
A1000KH
2" HEX
24"
6 - 15 GPM
348 LBS
A1000KR
2-9/16" ROUND
24"
6 - 15 GPM
348 LBS
A1500KH
2" HEX
30"
10 - 25 GPM
351 LBS
A1500KR
2-9/16" ROUND
30"
10 - 25 GPM
351 LBS
A1900KH
2" HEX
36"
15 - 30 GPM
354 LBS
A1900KR
2-9/16" ROUND
36"
15 - 30 GPM
354 LBS
A2400KH
2" HEX
36"
20 - 35 GPM
360 LBS
A2400KR
2-9/16" ROUND
36"
20 - 35 GPM
360 LBS
Dealing with difficult ground conditions? This auger bit is specifically designed
to deal with dirt, compacted soil, and heavy clay.
Available in 3 ft. and 4 ft. length with diameters from 6" up to 48"
Standard 2" hex collar but also available in 2" or 2 9/16" round

This auger bit takes things to a whole new level with enhanced carbide tips to
deal with asphalt, fractured rock, and the worst ground conditions.
Available in 3 ft. and 4 ft. length with diameters from 6" up to 48"
Standard 2" hex collar but also available in 2" or 2 9/16" round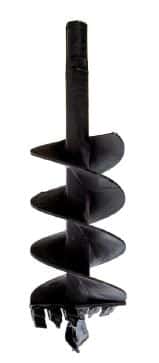 CDR Bullet Tooth Rock Augers
Designed for rock type drilling – things like frozen ground, solid and fractured rock, asphalt, and concrete.
This auger has a cast steel boring head, bullet-style teeth and heavy-duty single lighting.
Available in 3 ft and 4 ft lengths with diameters from 2" up to 36"
Standard 2" hex collar but also available in 2" or 2 9/16" round

Remove tree stumps of any size easy and clean with our Stump Planer attachment.
Available in 12" and 16" diameter, a must-have for ground preparation and maintenance jobs.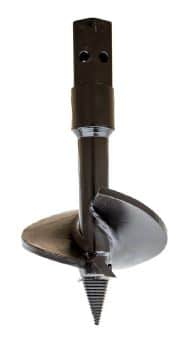 Heavy-Duty Auger Drives in Texas
As a construction or landscaping crew working in Texas, you may have experienced the problems of owning a chain-reduction auger.
Whether it's the lower product quality or higher maintenance required, it's frustrating when a mini skid steer auger doesn't perform well with the typical job wear-and-tear.
That's why we designed our planetary motor auger attachments to require minimal maintenance while performing better with daily construction or landscaping use.
Would you like to be less reliant on rental companies when it comes to skid steer attachments, particularly post drivers, concrete breakers, and brush grapples?
At Lawsen Equipment, we make owning these attachments easy for your skid steer - particularly with our quality production designed to withstand long-term construction use.
Give us a call today to get started! 
If you run a farm or business in Texas, you are already familiar with the weather, scenery, and attractions Texas has to offer, which include: 
Texas State Capitol 
San Antonio River Walk 
Houston Museum of Natural Science 
The Sixth Floor Museum at Dealey Plaza 
Natural Bridge Caverns 
Galveston - Port Bolivar Ferry 
Fort Worth Zoo 
Waco Mammoth National Monument 
USS Lexington Museum on the Bay 
Lake Texoma 
National Museum of the Pacific War 
Waco Suspension Bridge 
And much, much more! Texas is the second largest state in the USA, and it is packed with fun things to do and see. 
Texas is located in the South Central region of the United States and with more than 29.1 million residents it is the second largest US state in both area and population. It is surpassed in area by Alaska and in population by California. 
Texas, USA boasts some pretty major cities. Houston is the most populous city in Texas and the fourth largest in the USA, and San Antonio comes in as the second most populous in the state and the seventh largest in the USA. The Texas state capitol, Austin, is the second most populous state capitol in the USA. 
Texas is nicknamed the "Lone Star State" because of its former status as an independent republic. The nickname is also a reminder of the Texan struggle for independence from Mexico. The "lone star" can be seen on the Texan flag. 
Sometimes we associate Texas with the southwestern deserts, but in reality, Texas has a varied and diverse landscape due to its immense size and its geological features such as the Balcones fault. It is made up of prairies, grasslands, forests, swamps, piney woods, and coastlines, plus some desert as well. 
Texas.gov says this about Texas: 
"There's something for everyone in Texas! From one-of-a-kind state parks and historical landmarks to some of the best music and food around, explore Texas culture, and find your niche."
If you own a construction business or run a crew that does a lot of concrete projects in Texas, you should consider getting an attachment from Lawsen Equipment to make your business more efficient. Give us a call today to get started! 
We look forward to hearing from you!
We serve all counties in Texas:
Harris County, Dallas County, Tarrant County, Bexar County, Travis County, Collin County, Denton County, Hidalgo County, El Paso County, Fort Bend County, Montgomery County, Williamson County, Cameron County, Brazoria County, Nueces County, Bell County, Galveston County, Lubbock County, Webb County, McLennan County, Jefferson County, Smith County, Brazos County, Hays County, Ellis County, Johnson County, Midland County, Guadalupe County, Ector County, Comal County, Parker County, Taylor County, Randall County, Grayson County, Wichita County, Kaufman County, Gregg County, Tom Green County, Potter County, Rockwall County, Hunt County, Bowie County, Victoria County, Angelina County, Bastrop County, Liberty County, Orange County, Henderson County, Coryell County, Walker County, Wise County, San Patricio County, Harrison County, Nacogdoches County, Starr County, Hood County, Maverick County, Anderson County, Hardin County, Van Zandt County, Rusk County, Waller County, Cherokee County, Kerr County, Medina County, Atascosa County, Polk County, Wilson County, Lamar County, Navarro County, Val Verde County, Burnet County, Kendall County, Wood County, Caldwell County, Erath County, Chambers County, Wharton County, Upshur County, Jim Wells County, Cooke County, Brown County, Matagorda County, Hopkins County, Howard County, Hill County, Jasper County, Washington County, Fannin County, Hale County, Titus County, Bee County, Kleberg County, Cass County, Austin County, Palo Pinto County, San Jacinto County, Grimes County, Uvalde County, and Gillespie County.
We also serve all cities in the state, including:
Houston, San Antonio, Dallas, Austin, Fort Worth, El Paso, Arlington, Corpus Christi, Plano, Laredo, Lubbock, Irving, Garland, Amarillo, Grand Prairie, McKinney, Frisco, Brownsville, Pasadena, Killeen, McAllen, Mesquite city, Midland, Denton, Waco, Carrollton, Round Rock, Pearland, Abilene, Odessa, Richardson, Sugar Land, Beaumont, College Station, The Woodlands, Lewisville, Tyler, League City, Wichita Falls, Allen, San Angelo, Edinburg, Conroe, Bryan, New Braunfels, Mission, Longview, Atascocita, Flower Mound, Pharr, Cedar Park, Temple, Baytown, Georgetown, Missouri City, Mansfield, North Richland Hills, Victoria, Rowlett, Harlingen, San Marcos, Pflugerville, Spring, Leander, Euless, Port Arthur, Grapevine, DeSoto, Wylie, Galveston, Little Elm, Texas City, Bedford, Cedar Hill, Burleson, Keller, Kyle, Rockwall, Haltom City, The Colony, Channelview, Sherman, Farmers Branch, Schertz, Huntsville, Coppell, Weslaco, Friendswood, Lancaster, Duncanville, Hurst, Mission Bend, Rosenberg, San Juan city, Waxahachie, Texarkana, Del Rio, La Porte, Lufkin Socorro, and more.
We sell and ship our post drivers throughout the entire United States. States we serve include:
Not sure if we serve your area? Please fill out our quote request form, and we will let you know!