Dig
holes faster
Properly sized
for your machine
Less maintenance
required
Are you frustrated at the higher maintenance and lower quality of many chain-reduction augers?
We believe every construction and landscape crew in Montana deserves an auger drive that is built to handle the daily wear-and-tear of the jobsite without constant maintenance.
How does the right planetary motor auger help Montana contractors and landscapers?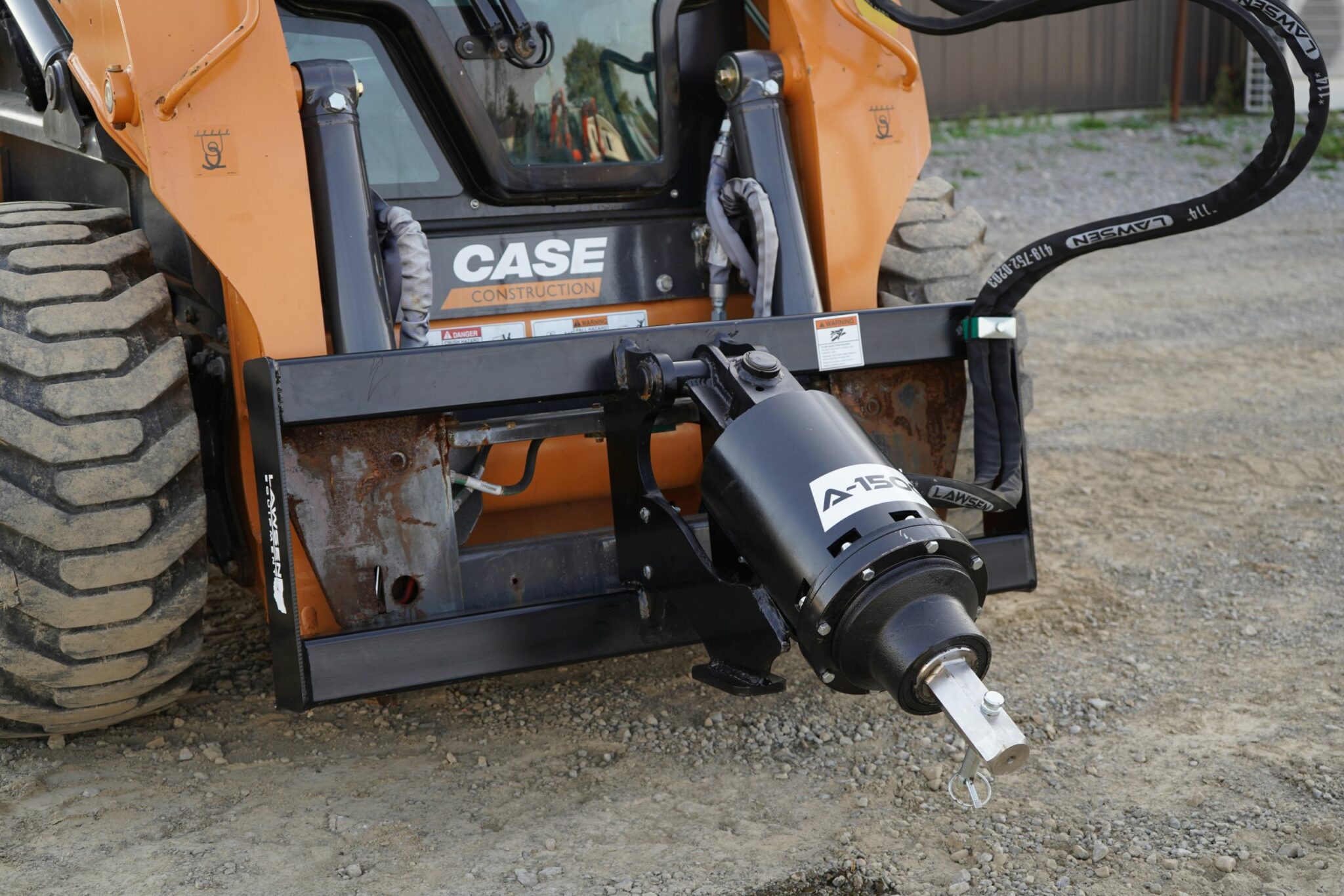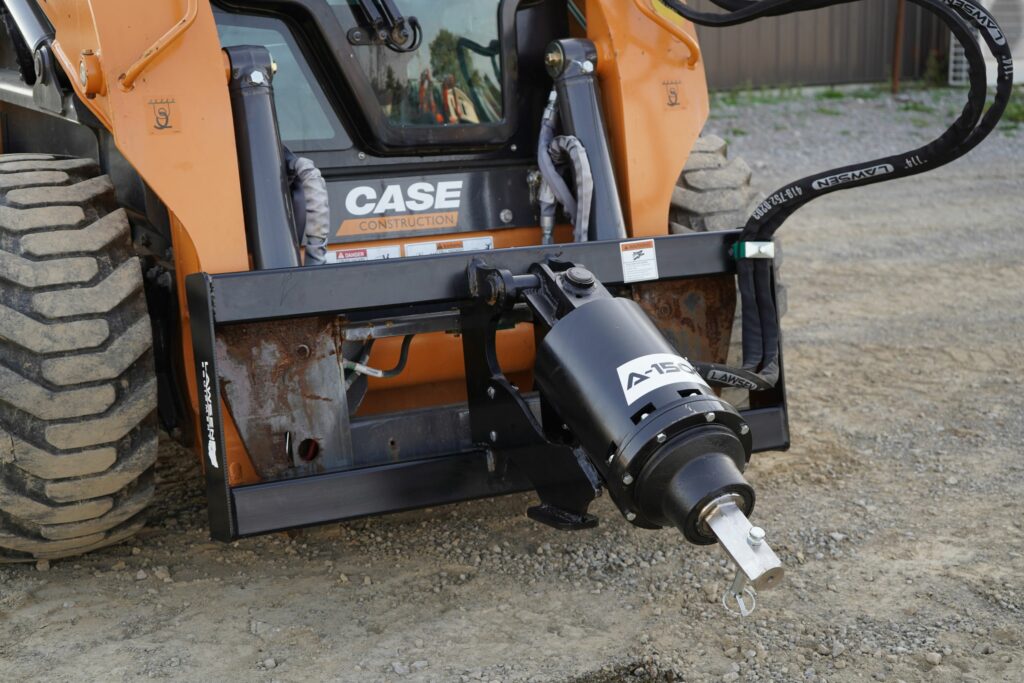 Designed and built for long-term construction use
A pedestal on the auger helps protect the auger drive when unattached
No chains involved - everything is run by hydraulic oil
Optional weight brackets allow for increased down-pressure
Dig holes faster and with minimal labor!
How would a heavy-duty auger help your crew be more efficient?
We Make The Process Simple:
We help you find the right auger drive for your specific machine and auger bits.
Buy your auger online, and we will ship it to your Montana location.
Have peace of mind knowing your auger is designed to handle the daily wear-and-tear of construction.
Why Work With Lawsen Equipment?
Our warranties are 5 years for auger drive and 3 years for motor
Common-sense engineering that is easier to use
Made in the United States (Ohio)
We size your auger correctly for your machine and auger bits
Skid Steer Augers Available in Montana
We manufacture a range of heavy-duty auger drives as well as auger bits designed for aggressive use.
Our skid steer auger attachments come standard with a 5-year warranty on the drive and a 3-year warranty on the motor.
Our auger bits come standard with a  1-year warranty.
OIL GPM for Augers: 6 - 35
Max Auger Diameter: 24" - 36"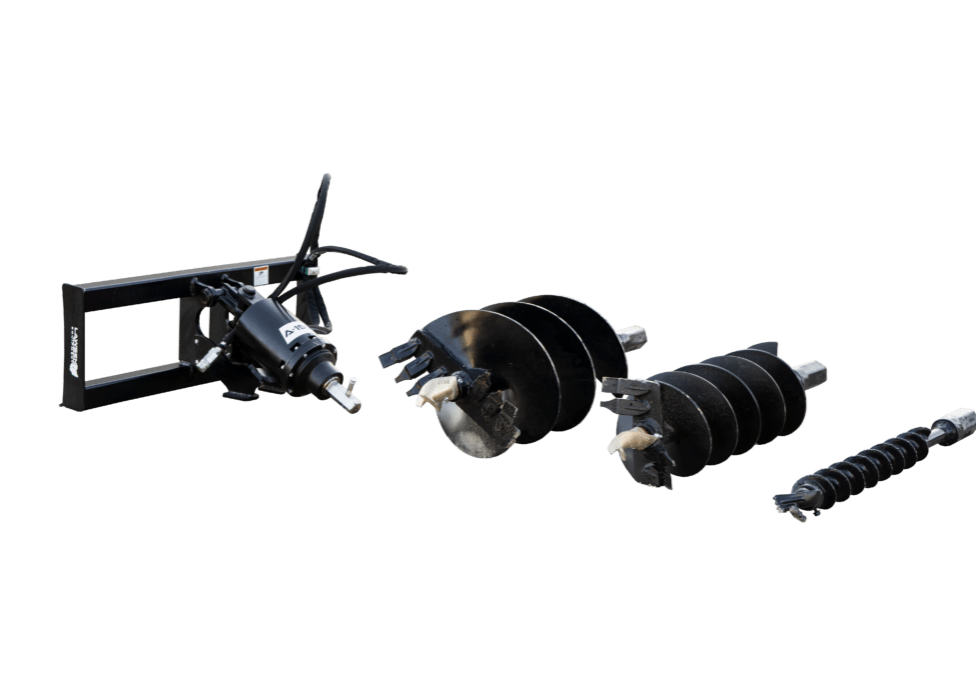 Click a series to view full specs
Heavy-duty auger drives with a 5-year warranty on the drive and a 3-year warranty on the motor.
OIL GPM: 6 - 35 GPM
Max Auger Diameter: 24" - 36"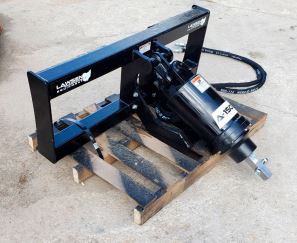 Complete Auger Drive Units - Includes 1/2" Hose Kit & Flat Face Couplers:
Model

Output Shaft

Max Auger
Diameter

Oil GPM

Operating
Weight
A1000KH
2" HEX
24"
6 - 15 GPM
348 LBS
A1000KR
2-9/16" ROUND
24"
6 - 15 GPM
348 LBS
A1500KH
2" HEX
30"
10 - 25 GPM
351 LBS
A1500KR
2-9/16" ROUND
30"
10 - 25 GPM
351 LBS
A1900KH
2" HEX
36"
15 - 30 GPM
354 LBS
A1900KR
2-9/16" ROUND
36"
15 - 30 GPM
354 LBS
A2400KH
2" HEX
36"
20 - 35 GPM
360 LBS
A2400KR
2-9/16" ROUND
36"
20 - 35 GPM
360 LBS
Dealing with difficult ground conditions? This auger bit is specifically designed
to deal with dirt, compacted soil, and heavy clay.
Available in 3 ft. and 4 ft. length with diameters from 6" up to 48"
Standard 2" hex collar but also available in 2" or 2 9/16" round

This auger bit takes things to a whole new level with enhanced carbide tips to
deal with asphalt, fractured rock, and the worst ground conditions.
Available in 3 ft. and 4 ft. length with diameters from 6" up to 48"
Standard 2" hex collar but also available in 2" or 2 9/16" round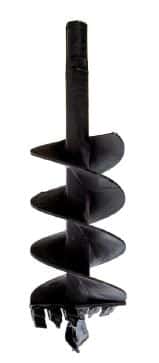 CDR Bullet Tooth Rock Augers
Designed for rock type drilling – things like frozen ground, solid and fractured rock, asphalt, and concrete.
This auger has a cast steel boring head, bullet-style teeth and heavy-duty single lighting.
Available in 3 ft and 4 ft lengths with diameters from 2" up to 36"
Standard 2" hex collar but also available in 2" or 2 9/16" round

Remove tree stumps of any size easy and clean with our Stump Planer attachment.
Available in 12" and 16" diameter, a must-have for ground preparation and maintenance jobs.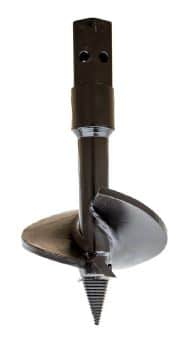 Heavy-Duty Auger Drives in Montana
As a construction or landscaping crew working in Montana, you may have experienced the problems of owning a chain-reduction auger.
Whether it's the lower product quality or higher maintenance required, it's frustrating when a mini skid steer auger doesn't perform well with the typical job wear-and-tear.
That's why we designed our planetary motor auger attachments to require minimal maintenance while performing better with daily construction or landscaping use.
If you run a business or crew in Montana that has to destroy a lot of concrete, then you may experience the frustration of not having the right concrete breaker in time or not being sized correctly for your skid steer or excavator.
At Lawsen Equipment, we understand that you want to run your business smartly and efficiently. That is why we manufacture quality skid steer attachments such as post drivers, concrete breakers, or brush grapples that help you get more done so you can focus on what matters–growing your business. 
Give us a call today to order your attachment! 
If you own a business here, you already know about some of the attractions which make Montana unique, which include: 
Yellowstone National Park 
Lamar Valley 
Going to the Sun Road 
Grand Canyon of the Yellowstone 
Grand Prismatic Spring 
Town Square 
Beartooth Highway 
National Elk Refuge 
National Museum of Wildlife Art 
Museum of the Rockies 
A Carousel for Missoula 
Aerial Fire Depot and Smokejumper Center 
And much more in the beautiful state of Montana! 
Known as "Big Sky Country," Montana contains great stretches of wide open prairie and badlands. The western half of the state also contains numerous mountain ranges, which are mostly part of the Rocky Mountains. 
Montana has multiple unofficial nicknames, including "The Treasure State," "Land of the Shining Mountains," and "The Last Best Place." the state's economy is mainly based on agriculture such as ranching and cereal grain farming, as well as natural resources including oil, natural gas, coal, mining, and lumber. Health care, service, and government jobs also play into the state's economy. 
However, Montana's fastest growing sector is tourism, as the state can boast several amazing national parks including Glacier and Yellowstone, plus other attractions that draw nearly 13 million tourists annually. 
If you are ever passing through, you will have to stop and see the sights for yourself! 
The name "Montana" comes from the Spanish word "montana" meaning "mountain," or "mountainous country." The name fits the state to a T–the mountains in Montana are absolutely stunning! 
The official Montana website lists some interesting facts about Montana: 
Population: 1,005,141
Nickname: Treasure State
State Capital: Helena
State Flower: Bitterroot
State Bird: Western Meadowlark
State Animal: Grizzly Bear
State Fish: Blackspotted Cutthroat Trout
State Gemstones: Sapphire & Agate
State Soil: Scobey Soil
State Motto: Oro y Plata (Gold & Silver)
With its varied terrain and stunning national parks, Montana is a treasure trove of beauty and adventure. Be sure to see it all for yourself someday! 
If you own a business or run a construction crew in Montana where your mind yourself needing to break concrete on a lot of jobs, give us a call at Lawsen Equipment to find quality tractor and skid steer attachments to help you run more efficiently. We would be happy to help out! 
We serve all counties in Montana:
Beaverhead County, Big Horn County, Blaine County, Broadwater County, Carbon County, Carter County, Cascade County, Chouteau County, Custer County, Daniels County, Dawson County, Deer Lodge County, Fallon County, Fergus County, Flathead County, Gallatin County, Garfield County, Glacier County, Golden Valley County, Granite County, Hill County, Jefferson County, Judith Basin County, Lake County, Lewis and Clark County, Liberty County, Lincoln County, Madison County, McCone County, Meagher County, Mineral County, Missoula County, Musselshell County, Park County, Petroleum County, Phillips County, Pondera County, Powder River County, Powell County, Prairie County, and Ravalli County.
We also serve all cities in the state, including:
Billings, Missoula, Great Falls Bozeman, Butte-Silver Bow, Helena, Kalispell, Havre, Belgrade, Anaconda-Deer Lodge County, Helena Valley Southeast, Evergreen, Miles City, Lockwood, Helena Valley West Central, Whitefish, Livingston, Laurel, Sidney, Lewistown, Columbia Falls, Orchard Homes, Polson, Glendive, Four Corners, Hamilton, Bigfork, Dillon, Helena Valley Northwest, Lolo, Malmstrom AFB, Hardin, Helena Valley Northeast, Glasgow, Big Sky, Cut Bank, Deer Lodge, Shelby, North Browning, Montana City, Libby, Wolf Point, Conrad, Colstrip, Lame Deer, Lakeside, East Missoula, Red Lodge, Townsend, Malta, and more.
We sell and ship our post drivers throughout the entire United States. States we serve include:
Not sure if we serve your area? Please fill out our quote request form, and we will let you know!