Sized properly
for your machine
Don't rely on
rental companies
Safer for
machine & operator
Are you tired of jobs being stalled because you couldn't find the right-sized concrete breaker for rent?
We believe every construction crew in Montana should have a skid steer jack hammer that is correctly sized for their specific machine and keeps a job moving without being at the mercy of a rental company.
How does a properly sized concrete breaker improve efficiency for MT businesses?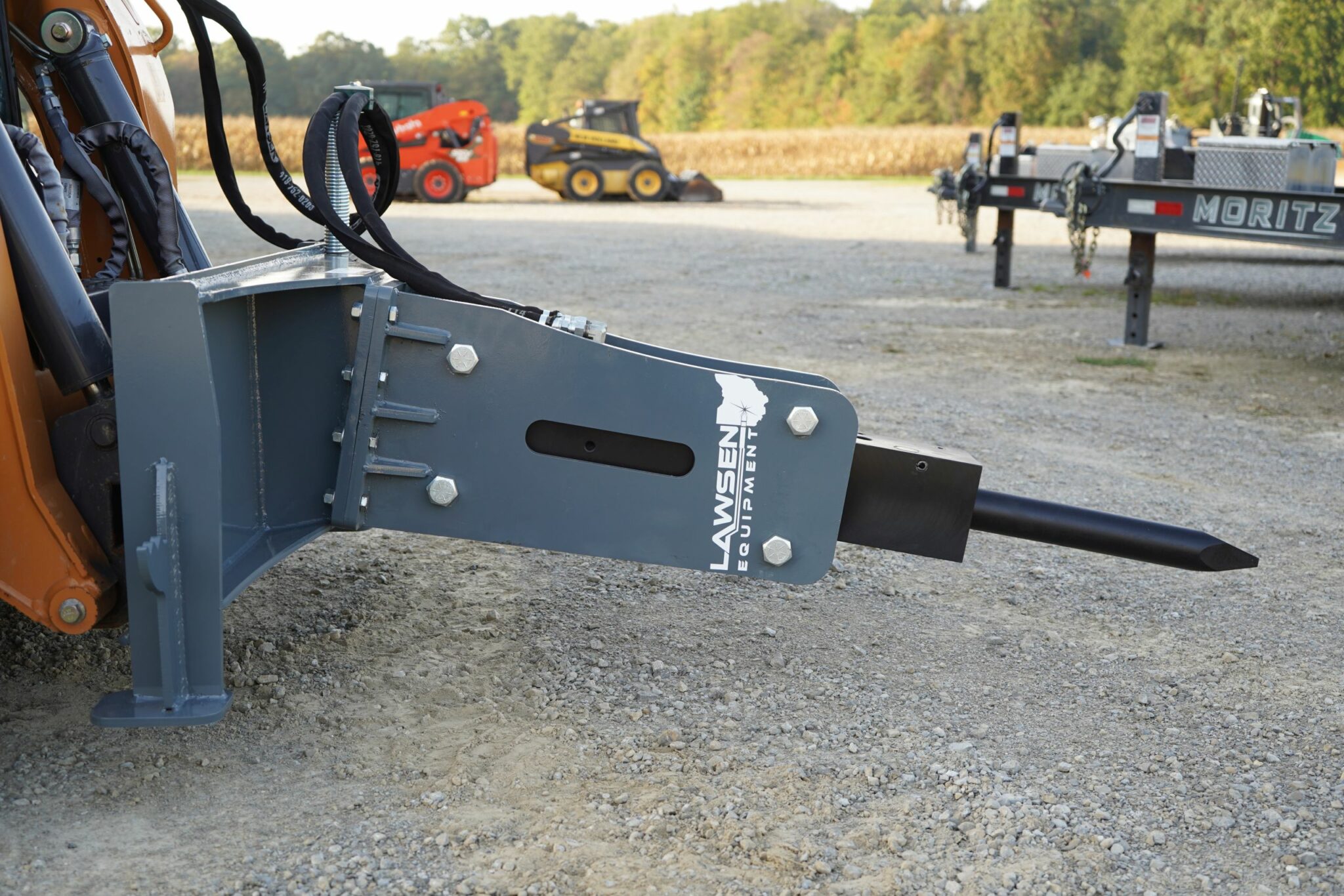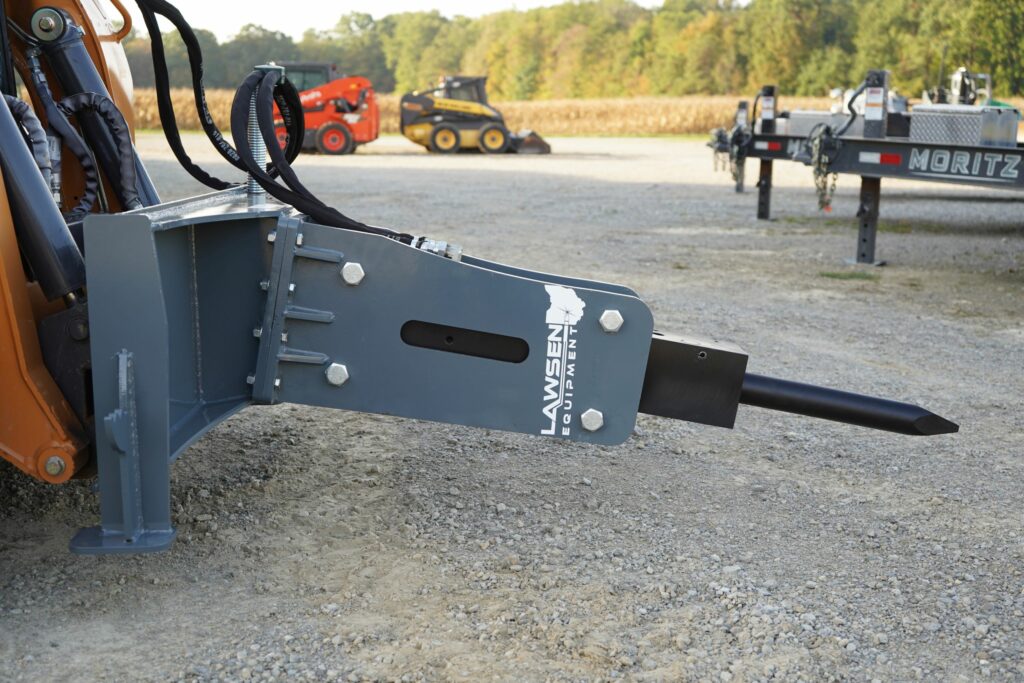 Safer for the machine and operator
Less wear-and-tear on the machine and jack hammer
Easier to operate
No job downtime picking up a rental
And all without needing to pay for a rental!
Are you ready to reduce job downtime when concrete needs to be broken?
We Make The Process Simple:
We help you find the concrete jackhammer for your specific machine.
Buy your concrete breaker online.
3.
Experience Less Downtime!
Complete concrete projects faster with the right jackhammer without relying on rental companies.
Why Work With Lawsen Equipment?
2-year warranty on our concrete breakers
We match your machine with the correct-sized jack hammer resulting in less wear-and-tear
Made in The United States (Ohio)
Common-sense engineering that is easier to use
Concrete Breakers for sale in Montana
Break concrete into manageable pieces
Used for most demolition jobs
Good for breaking bedrock
Chisel Diameter: 2" - 3.375"
Oil GPM: 5.2 - 26 GPM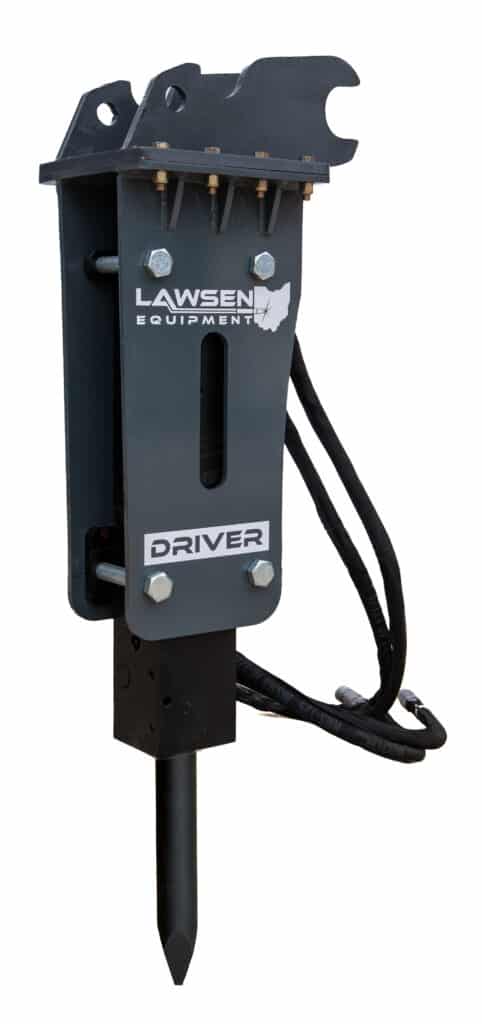 Good for breaking concrete
Highly efficient and adaptable
Extremely reliable
Chisel Diameter: 2" - 3.375"
Oil GPM: 5.2 - 26 GPM
Click a series to view full specs
Concrete Breakers for Skid Steers
Breaking concrete into manageable pieces, or breaking up bedrock is easy and safe since our jackhammers are perfectly sized to fit your skid steer. Enjoy reliable, trustworthy, and powerful concrete-breaking operations.
Chisel Diameter: 2" - 3.375"
Oil GPM: 5.2 - 26 GPM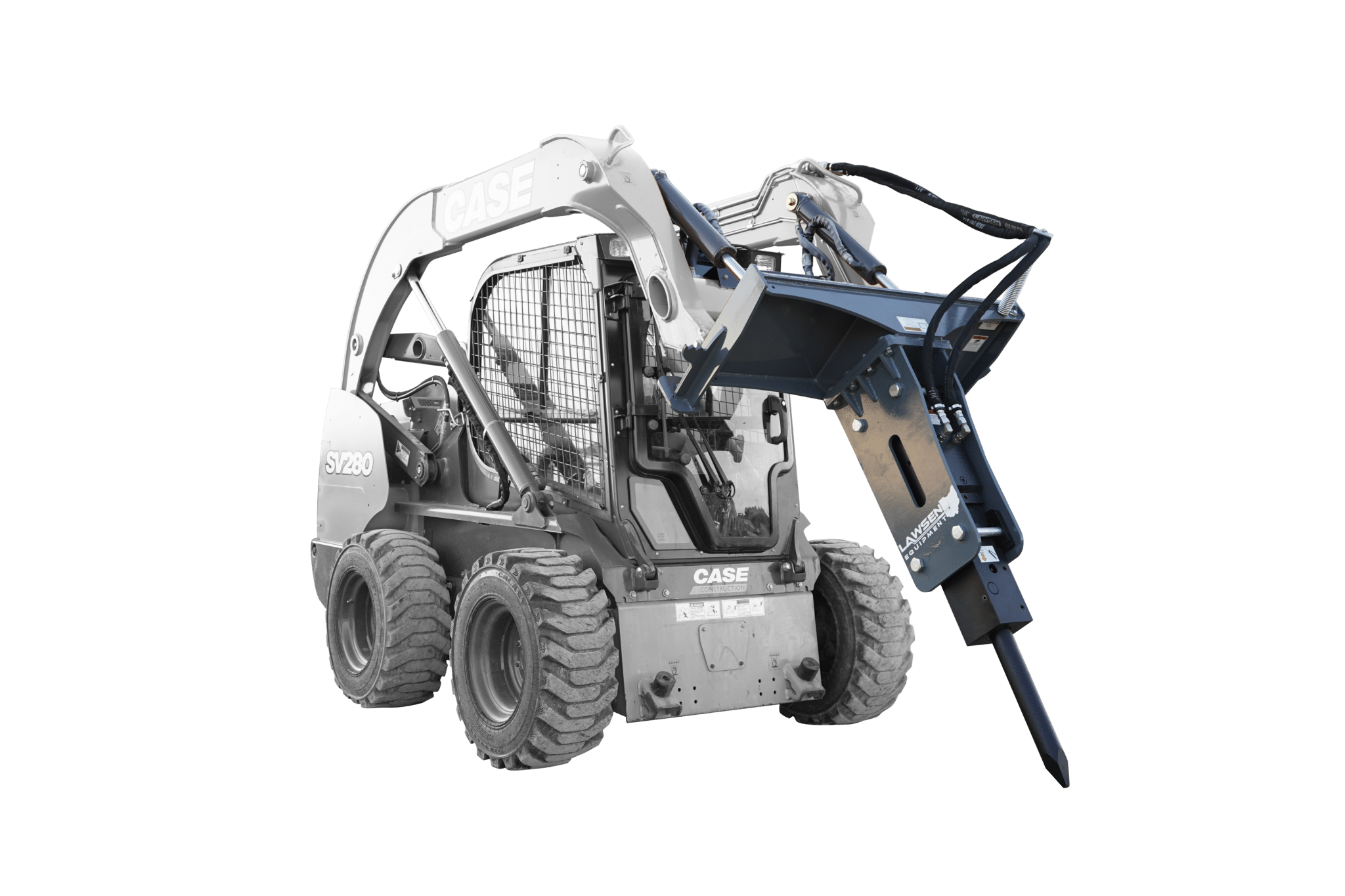 Model

Chisel
Diam.
Working
Pressure
Oil
GPM
Operating
Weight
Energy
Class
L - 53B
2"
2500 PSI
5.2 - 13.2
457 lbs.
550 ft. lb.
L - 68B
2.75"
2500 PSI
10.5 - 19
1100 lbs.
750 ft. lb.
L - 75B
3"
2500 PSI
13 - 24
1400 lbs.
1000 ft. lb.
L - 85B
3.375"
2500 PSI
16 - 26
1640 lbs.
1500 ft. lb.
Concrete Breakers for Excavators
Excavator concrete breakers are efficient and highly adaptable, making them extremely versatile. Combining superior efficiency and performance with high durability and reliability.
Chisel Diameter: 2" - 3.375"
Oil GPM: 5.2 - 26 GPM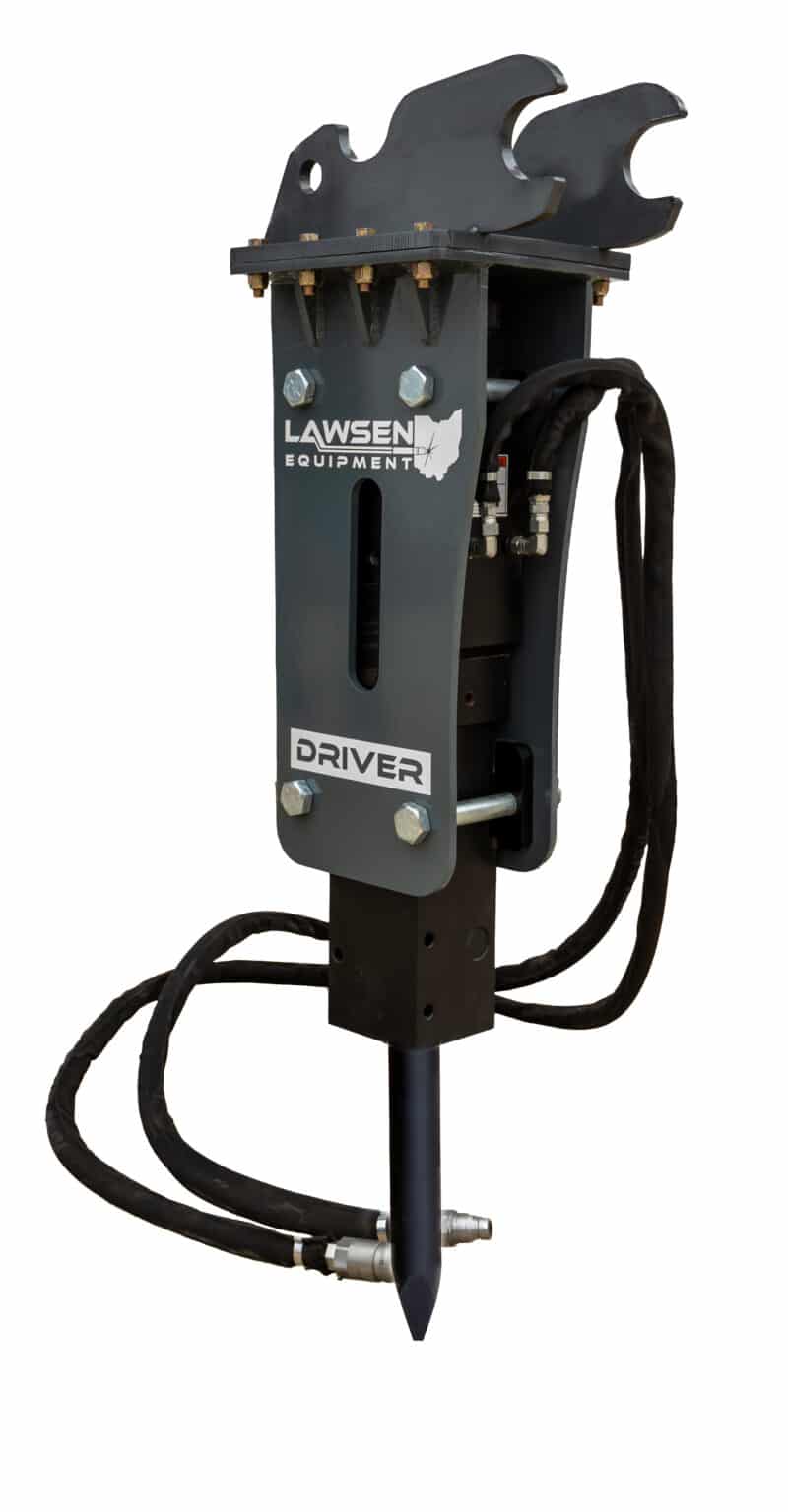 Model

Chisel
Diam.
Working
Pressure
Oil
GPM
Operating
Weight
Energy
Class
L - 53
2"
2500 PSI
5.2 - 13.2
570 lbs.
500 ft. lb.
L - 68
2.75"
2500 PSI
10.5 - 19
1100 lbs.
750 ft. lb.
L - 75
3"
2500 PSI
13 - 24
1400 lbs.
1000 ft. lb.
L - 85
3.375"
2500 PSI
16 - 26
1640 lbs.
1500 ft. lb.
Concrete Breaker & Jackhammer FAQs
The size of concrete breaker you need depends on the type of job you are doing. If the concrete is thick, you need a bigger concrete breaker.

Another factor is the skid steers or excavators that you have on site. Certain skid steers and excavators are only capable of running certain concrete breakers.

So, the two things to check when choosing a concrete breaker are the thickness of the concrete and specifications for the operating machine.
Choosing the wrong size of concrete breaker has 3 possible outcomes:

If the breaker you chose is too small for how thick the concrete is, it won't be very effective and will take a long time to complete the job. 
If the concrete breaker is too small for the skid steer or excavator, it will operate too fast and cause internal seal damage.
If the concrete breaker is too big for the skid steer or excavator it presents a tipping hazard for the operating machine. 
Your skid steer will need a minimum of 10 GPM to operate our concrete breakers. .
Honestly, a concrete breaker is almost always better than a jackhammer. A hydraulic concrete breaker is the modern way to creak concrete and is simply more effective. The main time you may want to choose a jackhammer is if you only have a small amount of concrete that needs to be removed, or if you don't have access to a skid steer or excavator. 
Sometimes, people generically refer to hydraulic concrete breakers as jackhammers. However, this is not accurate. 

Concrete breakers are almost always hydraulic while jackhammers are air driven. Concrete breakers are often operated by machine while jackhammers are handheld.

And usually, concrete breakers are much more effective and efficient when removing concrete (and they save you a lot of backaches!) 
Yes, providing the skid steer has auxiliary hydraulics and is capable of 10 GPM.
No. Standard universal skid steer quick attach and 1 set of hoses is all that is needed.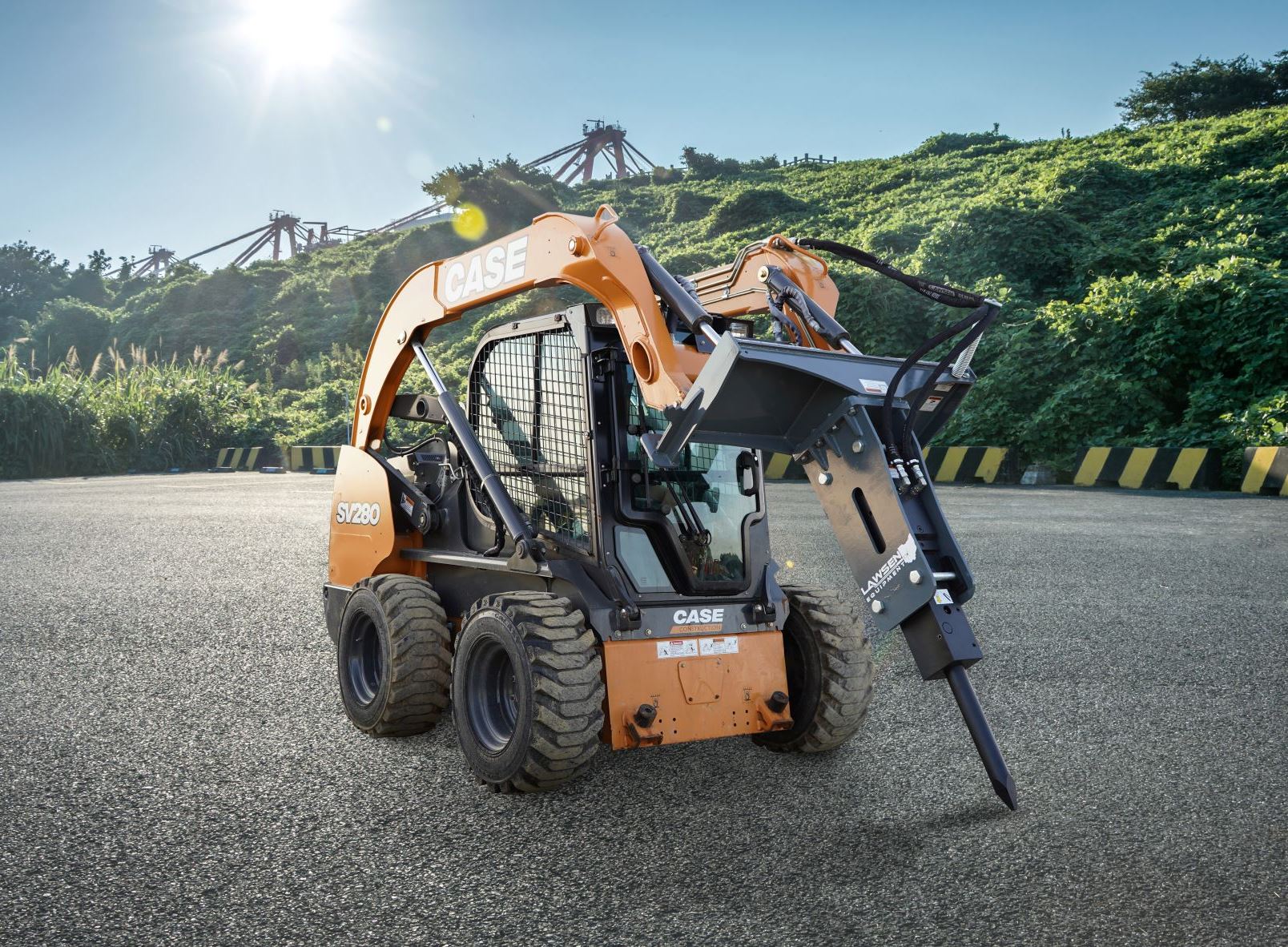 Skid Steer Jack Hammers & Concrete Breakers in Montana
If you run a construction company in Montana, then you know there is nothing more frustrating than needing to break up some concrete on the job - only to realize the nearest rental company doesn't have the right jack hammer for your machine.
This results in you needing to call and chase down the right rental while your crew has to wait or move onto something else.
By owning your own jack hammer, you don't need to experience these delays, and having the proper-sized breaker is also safer for the machine and operator!
If you run a business or crew in Montana that has to destroy a lot of concrete, then you may experience the frustration of not having the right concrete breaker in time or not being sized correctly for your skid steer or excavator.
At Lawsen Equipment, we understand that you want to run your business smartly and efficiently. That is why we manufacture quality skid steer attachments such as post drivers, auger drives, or brush grapples that help you get more done so you can focus on what matters–growing your business. 
Give us a call today to order your attachment! 
If you own a business here, you already know about some of the attractions which make Montana unique, which include: 
Yellowstone National Park 
Lamar Valley 
Going to the Sun Road 
Grand Canyon of the Yellowstone 
Grand Prismatic Spring 
Town Square 
Beartooth Highway 
National Elk Refuge 
National Museum of Wildlife Art 
Museum of the Rockies 
A Carousel for Missoula 
Aerial Fire Depot and Smokejumper Center 
And much more in the beautiful state of Montana! 
Known as "Big Sky Country," Montana contains great stretches of wide open prairie and badlands. The western half of the state also contains numerous mountain ranges, which are mostly part of the Rocky Mountains. 
Montana has multiple unofficial nicknames, including "The Treasure State," "Land of the Shining Mountains," and "The Last Best Place." the state's economy is mainly based on agriculture such as ranching and cereal grain farming, as well as natural resources including oil, natural gas, coal, mining, and lumber. Health care, service, and government jobs also play into the state's economy. 
However, Montana's fastest growing sector is tourism, as the state can boast several amazing national parks including Glacier and Yellowstone, plus other attractions that draw nearly 13 million tourists annually. 
If you are ever passing through, you will have to stop and see the sights for yourself! 
The name "Montana" comes from the Spanish word "montana" meaning "mountain," or "mountainous country." The name fits the state to a T–the mountains in Montana are absolutely stunning! 
The official Montana website lists some interesting facts about Montana: 
Population: 1,005,141
Nickname: Treasure State
State Capital: Helena
State Flower: Bitterroot
State Bird: Western Meadowlark
State Animal: Grizzly Bear
State Fish: Blackspotted Cutthroat Trout
State Gemstones: Sapphire & Agate
State Soil: Scobey Soil
State Motto: Oro y Plata (Gold & Silver)
With its varied terrain and stunning national parks, Montana is a treasure trove of beauty and adventure. Be sure to see it all for yourself someday! 
If you own a business or run a construction crew in Montana where your mind yourself needing to break concrete on a lot of jobs, give us a call at Lawsen Equipment to find quality tractor and skid steer attachments to help you run more efficiently. We would be happy to help out! 
Give us a call today! We look forward to hearing from you. 
We serve all counties in Montana:
Beaverhead County, Big Horn County, Blaine County, Broadwater County, Carbon County, Carter County, Cascade County, Chouteau County, Custer County, Daniels County, Dawson County, Deer Lodge County, Fallon County, Fergus County, Flathead County, Gallatin County, Garfield County, Glacier County, Golden Valley County, Granite County, Hill County, Jefferson County, Judith Basin County, Lake County, Lewis and Clark County, Liberty County, Lincoln County, Madison County, McCone County, Meagher County, Mineral County, Missoula County, Musselshell County, Park County, Petroleum County, Phillips County, Pondera County, Powder River County, Powell County, Prairie County, and Ravalli County.
We also serve all cities in the state, including:
Billings, Missoula, Great Falls Bozeman, Butte-Silver Bow, Helena, Kalispell, Havre, Belgrade, Anaconda-Deer Lodge County, Helena Valley Southeast, Evergreen, Miles City, Lockwood, Helena Valley West Central, Whitefish, Livingston, Laurel, Sidney, Lewistown, Columbia Falls, Orchard Homes, Polson, Glendive, Four Corners, Hamilton, Bigfork, Dillon, Helena Valley Northwest, Lolo, Malmstrom AFB, Hardin, Helena Valley Northeast, Glasgow, Big Sky, Cut Bank, Deer Lodge, Shelby, North Browning, Montana City, Libby, Wolf Point, Conrad, Colstrip, Lame Deer, Lakeside, East Missoula, Red Lodge, Townsend, Malta, and more.
We sell and ship our concrete breakers throughout the entire United States. States we serve include:
Not sure if we serve your area? Please fill out our quote request form, and we will let you know!