Sized properly
for your machine
Don't rely on
rental companies
Safer for
machine & operator
Are you tired of jobs being stalled because you couldn't find the right-sized concrete breaker for rent?
We believe every construction crew in North Dakota should have a skid steer jack hammer that is correctly sized for their specific machine and keeps a job moving without being at the mercy of a rental company.
How does a properly sized concrete breaker improve efficiency for ND businesses?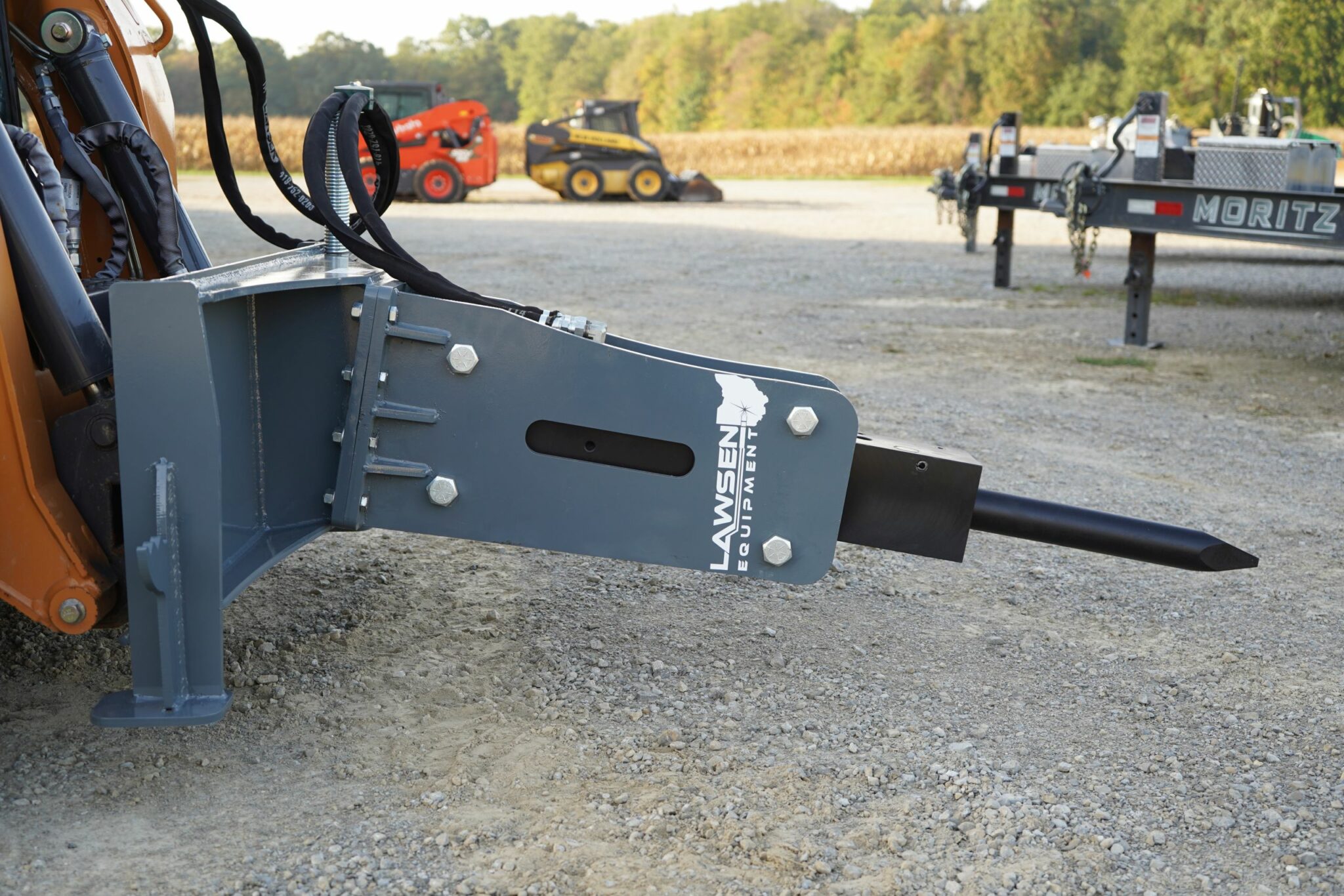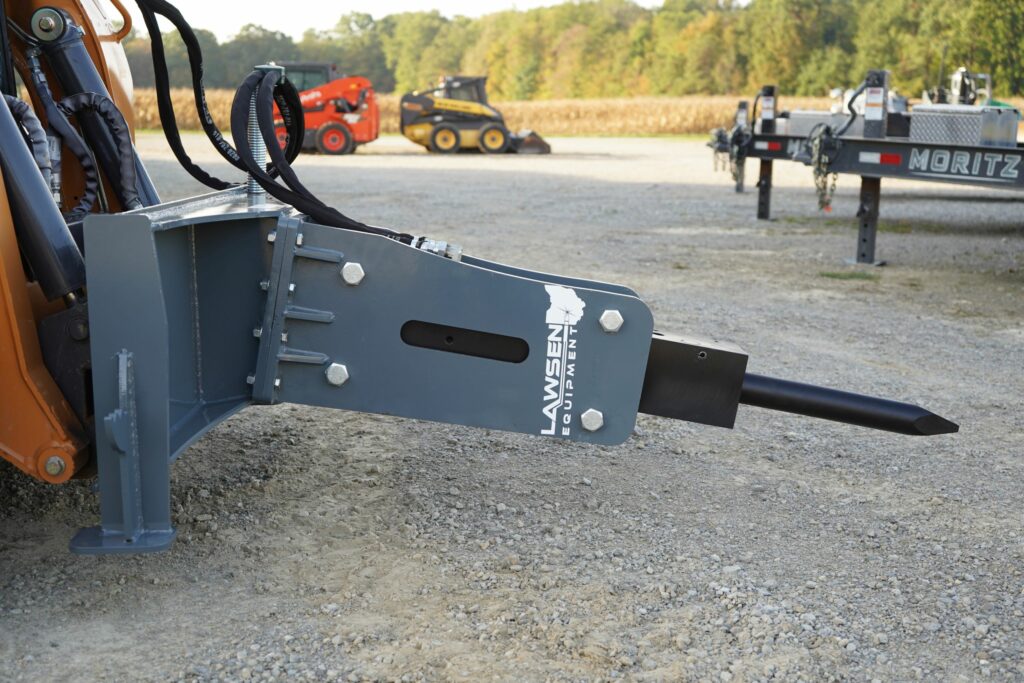 Safer for the machine and operator
Less wear-and-tear on the machine and jack hammer
Easier to operate
No job downtime picking up a rental
And all without needing to pay for a rental!
Are you ready to reduce job downtime when concrete needs to be broken?
We Make The Process Simple:
We help you find the concrete jackhammer for your specific machine.
Buy your concrete breaker online.
3.
Experience Less Downtime!
Complete projects faster with the right jackhammer without relying on rental companies.
Why Work With Lawsen Equipment?
2-year warranty on our concrete breakers
We match your machine with the correct-sized jack hammer resulting in less wear-and-tear
Made in The United States (Ohio)
Common-sense engineering that is easier to use
Concrete Breakers for Sale in North Dakota
Break concrete into manageable pieces
Used for most demolition jobs
Good for breaking bedrock
Chisel Diameter: 2" - 3.375"
Oil GPM: 5.2 - 26 GPM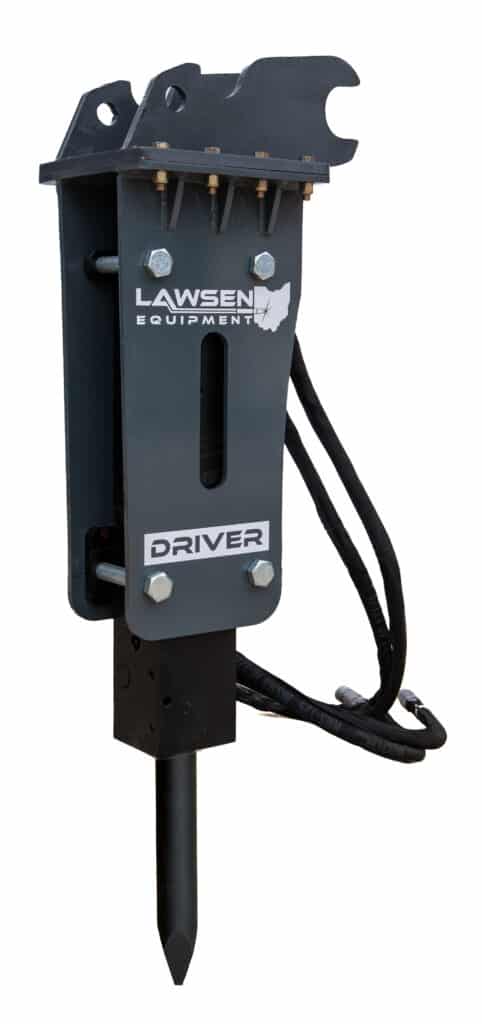 Good for breaking concrete
Highly efficient and adaptable
Extremely reliable
Chisel Diameter: 2" - 3.375"
Oil GPM: 5.2 - 26 GPM
Click a series to view full specs
Concrete Breakers for Skid Steers
Breaking concrete into manageable pieces, or breaking up bedrock is easy and safe since our jackhammers are perfectly sized to fit your skid steer. Enjoy reliable, trustworthy, and powerful concrete-breaking operations.
Chisel Diameter: 2" - 3.375"
Oil GPM: 5.2 - 26 GPM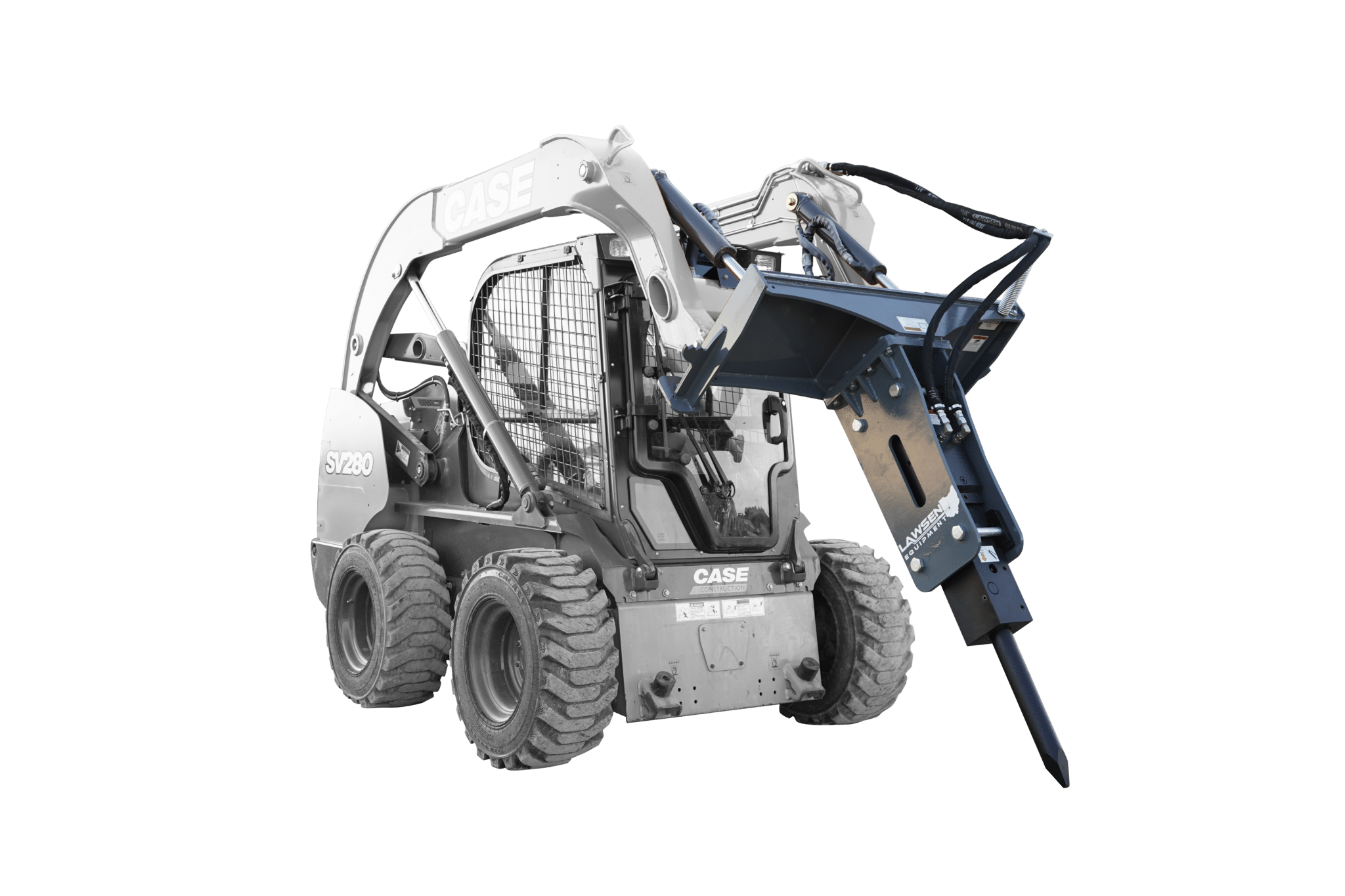 Model

Chisel
Diam.
Working
Pressure
Oil
GPM
Operating
Weight
Energy
Class
L - 53B
2"
2500 PSI
5.2 - 13.2
457 lbs.
550 ft. lb.
L - 68B
2.75"
2500 PSI
10.5 - 19
1100 lbs.
750 ft. lb.
L - 75B
3"
2500 PSI
13 - 24
1400 lbs.
1000 ft. lb.
L - 85B
3.375"
2500 PSI
16 - 26
1640 lbs.
1500 ft. lb.
Concrete Breakers for Excavators
Excavator concrete breakers are efficient and highly adaptable, making them extremely versatile. Combining superior efficiency and performance with high durability and reliability.
Chisel Diameter: 2" - 3.375"
Oil GPM: 5.2 - 26 GPM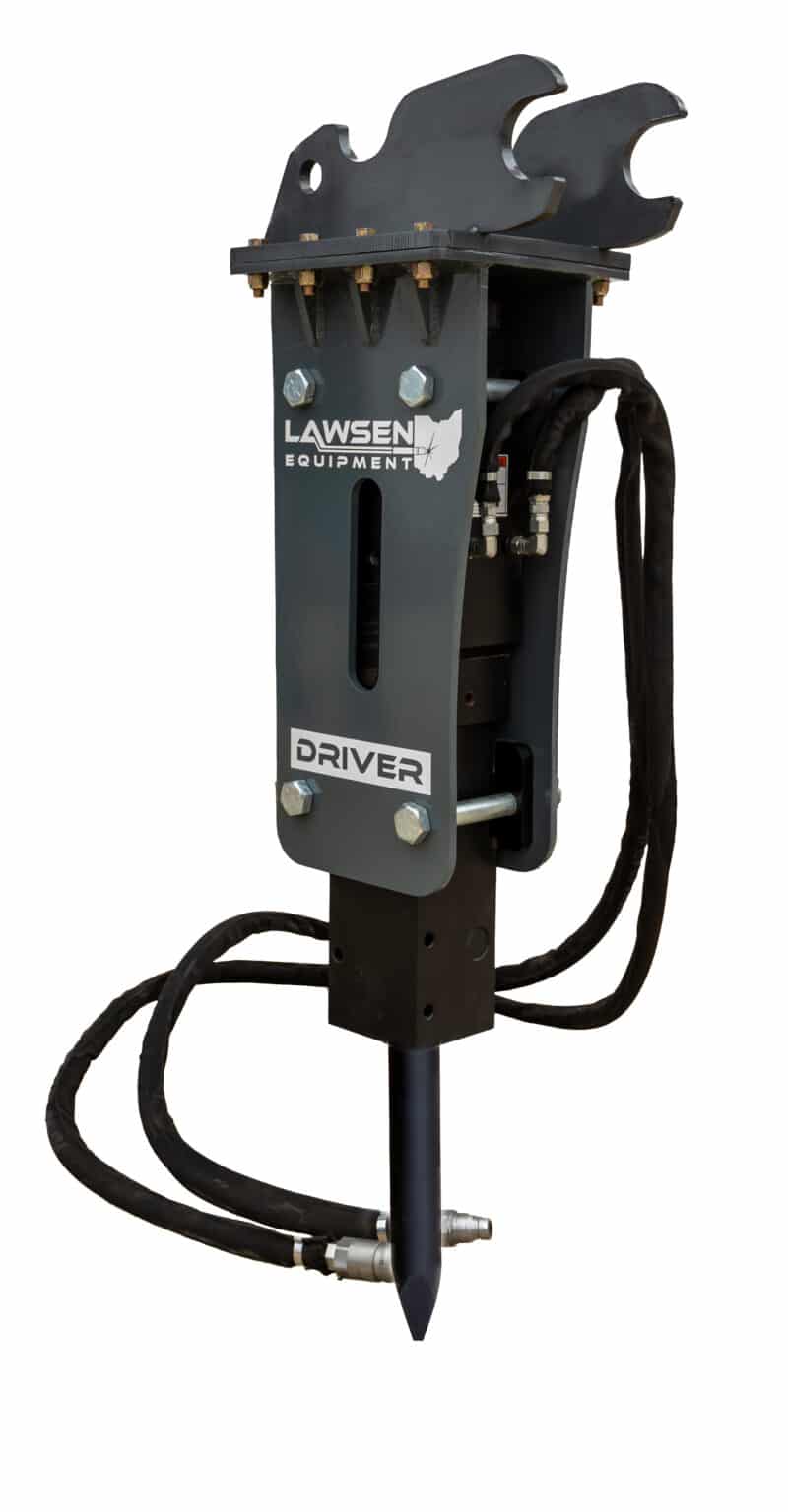 Model

Chisel
Diam.
Working
Pressure
Oil
GPM
Operating
Weight
Energy
Class
L - 53
2"
2500 PSI
5.2 - 13.2
570 lbs.
500 ft. lb.
L - 68
2.75"
2500 PSI
10.5 - 19
1100 lbs.
750 ft. lb.
L - 75
3"
2500 PSI
13 - 24
1400 lbs.
1000 ft. lb.
L - 85
3.375"
2500 PSI
16 - 26
1640 lbs.
1500 ft. lb.
Concrete Breaker & Jackhammer FAQs
The size of concrete breaker you need depends on the type of job you are doing. If the concrete is thick, you need a bigger concrete breaker.

Another factor is the skid steers or excavators that you have on site. Certain skid steers and excavators are only capable of running certain concrete breakers.

So, the two things to check when choosing a concrete breaker are the thickness of the concrete and specifications for the operating machine.
Choosing the wrong size of concrete breaker has 3 possible outcomes:

If the breaker you chose is too small for how thick the concrete is, it won't be very effective and will take a long time to complete the job. 
If the concrete breaker is too small for the skid steer or excavator, it will operate too fast and cause internal seal damage.
If the concrete breaker is too big for the skid steer or excavator it presents a tipping hazard for the operating machine. 
Your skid steer will need a minimum of 10 GPM to operate our concrete breakers. .
Honestly, a concrete breaker is almost always better than a jackhammer. A hydraulic concrete breaker is the modern way to creak concrete and is simply more effective. The main time you may want to choose a jackhammer is if you only have a small amount of concrete that needs to be removed, or if you don't have access to a skid steer or excavator. 
Sometimes, people generically refer to hydraulic concrete breakers as jackhammers. However, this is not accurate. 

Concrete breakers are almost always hydraulic while jackhammers are air driven. Concrete breakers are often operated by machine while jackhammers are handheld.

And usually, concrete breakers are much more effective and efficient when removing concrete (and they save you a lot of backaches!) 
Yes, providing the skid steer has auxiliary hydraulics and is capable of 10 GPM.
No. Standard universal skid steer quick attach and 1 set of hoses is all that is needed.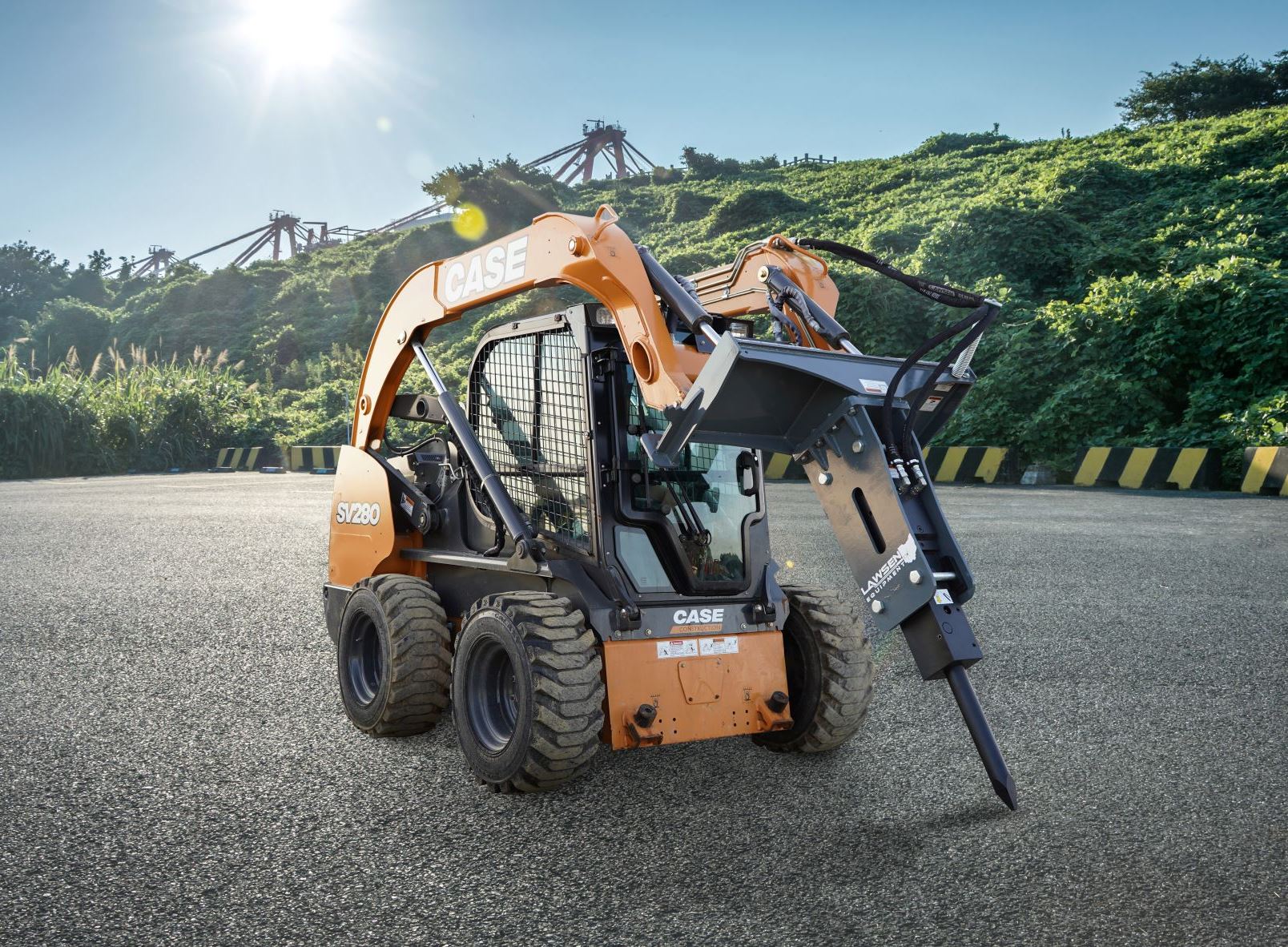 Skid Steer Jack Hammers & Concrete Breakers in North Dakota
If you run a construction company or manage a crew in North Dakota, then you know there is nothing more frustrating than needing to break up some concrete on the job - only to realize the nearest rental company doesn't have the right jack hammer for your machine.
This results in you needing to call and chase down the right rental while your crew has to wait or move onto something else.
By owning your own jack hammer, you don't need to experience these delays, and having the proper-sized breaker is also safer for the machine and operator!
Do you run a construction company or crew that has a lot of concrete demolition projects?
Do you find yourself handicapped at times by rental companies or poor-quality jackhammers when you need to get rid of concrete on the job?
At Lawsen Equipment, we understand why you want to run your business smartly. That is why we manufacture quality attachments for skid steers, including hydraulic post drivers, auger drivers, and brush grapples. Our attachments enable you to do more with your equipment and work more efficiently. 
Give us a call today to order yours! 
If your business is located in North Dakota, you already know about some of the attractions that make North Dakota unique, which include: 
Dakota Zoo 
Knife River Indian Villages Historic Site 
Fargo-Moorehead Visitors Center 
Red River Zoo 
Ralph Englestad Arena 
Theodore Roosevelt National Park 
Bonanzaville 
Scandinavian Heritage Park 
University of North Dakota 
North Dakota State Capitol Building 
Fargo Air Museum 
Flood Memorial Monument 
And much more in the beautiful state of North Dakota! You can also find all sorts of outdoor adventures to experience in the state's rugged prairies and steppes.  
Bordered by the Canadian provinces of Saskatchewan and Manitoba, North Dakota is located on the northern border of the United States. Some say that the geographic center of North America is located in North Dakota–the town of Rugby. 
North Dakota is the 19th largest state in terms of square mileage, but with a population of less than 780,000, it is the fourth least populous state in the USA. Its capital, Bismarck, accounts for nearly a fifth of its total population. Almost half of the residents in North Dakota live in rural areas. 
The state was originally inhabited by multiple Native America Tribes, one of which was the Dakota Sioux, from which the state got its name. 
We serve all counties in North Dakota:
Adams County, Barnes County, Benson County, Billings County, Bottineau County, Bowman County, Burke County, Burleigh County, Cass County, Cavalier County, Dickey County, Divide County, Dunn County, Eddy County, Emmons County, Foster County, Golden Valley County, Grand Forks County, Grant County, Griggs County, Hettinger County, Kidder County, Lamoure County, Logan County, McHenry County, McIntosh County, McKenzie County, McLean County, Mercer County, Morton County, Mountrail County, Nelson County, Oliver County, Pembina County, Pierce County, Ramsey County, Ransom County, Renville County, Richland County, Rolette County, Sargent County, Sheridan County, Sioux County, Slope County, Stark County, Steele County, Stutsman County, Towner County, Trail County, Walsh County, Ward County, Wells County, and Williams County.
We also serve all cities in the state, including:
Fargo, Bismarck, Grand Forks, Minot, West Fargo, Williston, Dickinson, Mandan, Jamestown, Wahpeton, Devils Lake, Valley City, Watford City, Lincoln, Grafton, Horace, Beulah, New Town, Rugby, Casselton, Stanley, Hazen, Bottineau, Lisbon, Tioga, Carrington, Langdon, Oakes, Mayville, Hillsboro, Harvey, Garrison, Bowman, Park River, Mapleton, New Rockford, Surrey, Washburn, Burlington, Larimore, Cavalier, Rolla, Cando, Thompson, Ellendale, Velva Crosby, Linton, Hettinger, New Salem, and more.
We sell and ship our concrete breakers throughout the entire United States. States we serve include:
Not sure if we serve your area? Please fill out our quote request form, and we will let you know!