Sized properly
for your machine
Don't rely on
rental companies
Safer for
machine & operator
Are you tired of jobs being stalled because you couldn't find the right-sized concrete breaker for rent?
We believe every construction crew in Wyoming should have a skid steer jack hammer that is correctly sized for their specific machine and keeps a job moving without being at the mercy of a rental company.
How does a properly sized concrete breaker improve efficiency for businesses in Wyoming?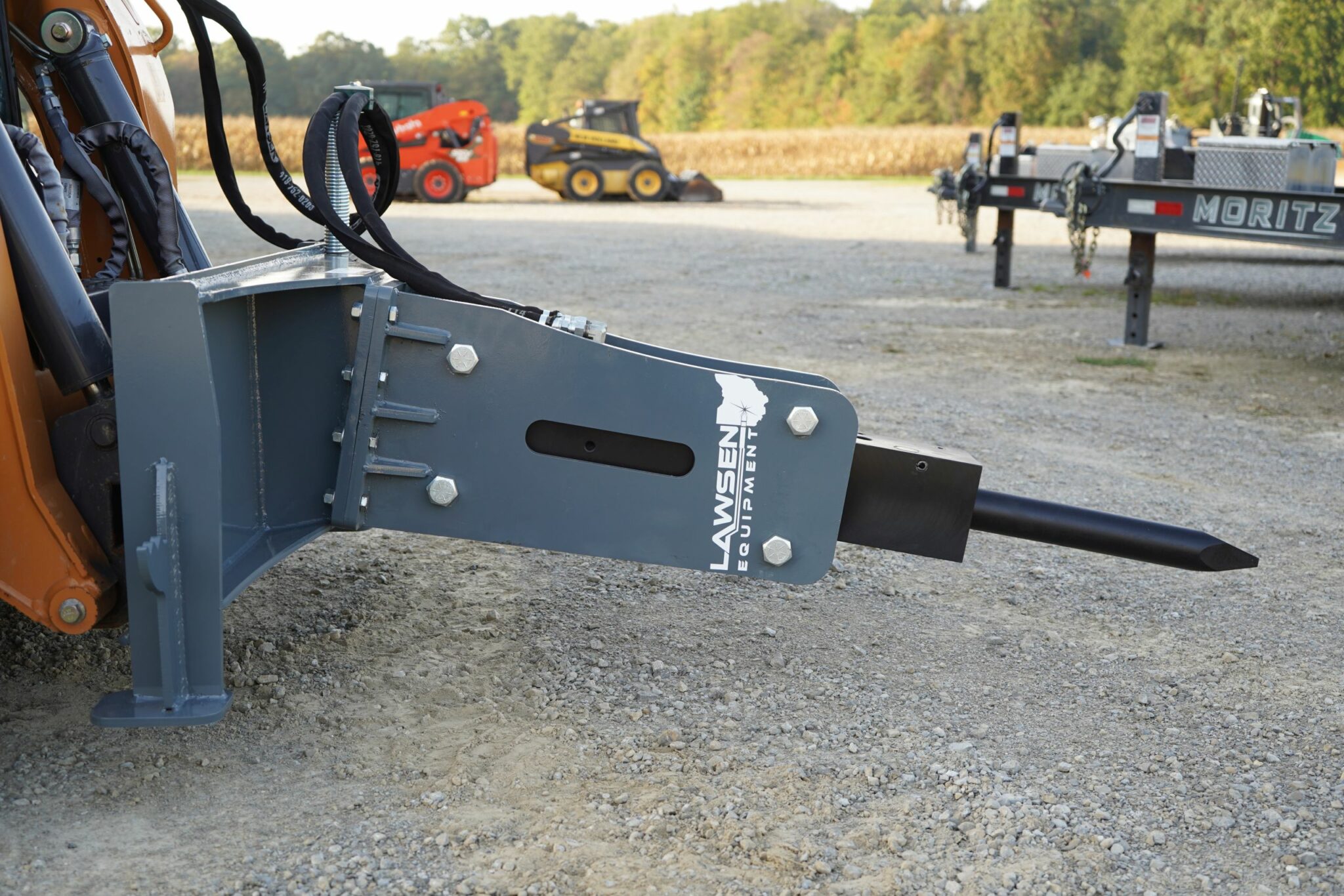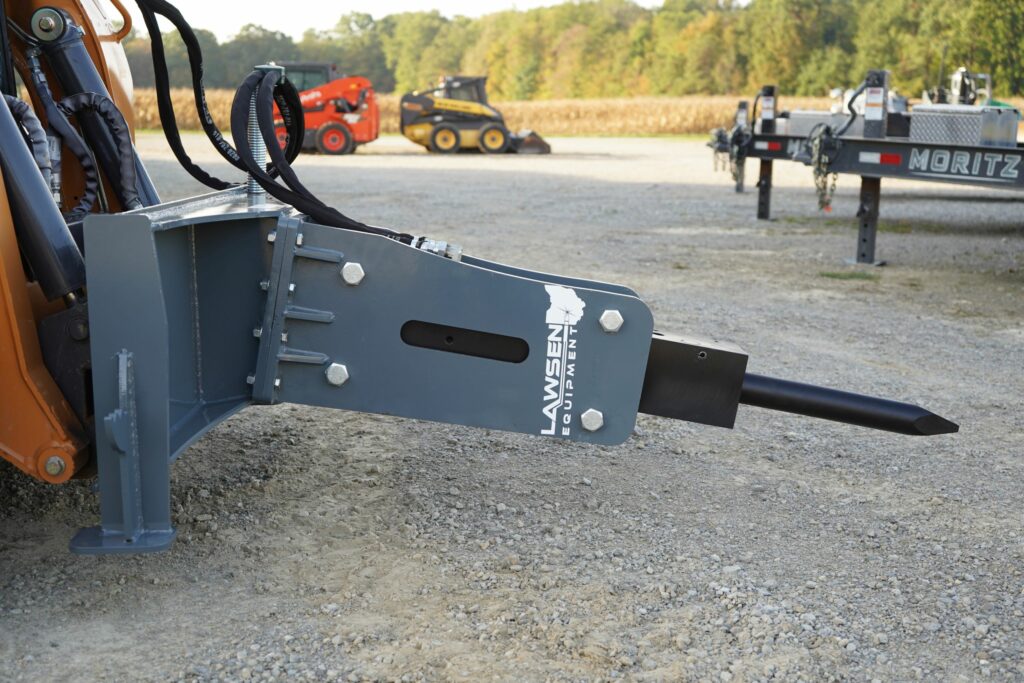 Safer for the machine and operator
Less wear-and-tear on the machine and jack hammer
Easier to operate
No job downtime picking up a rental
And all without needing to pay for a rental!
Are you ready to reduce job downtime when concrete needs to be broken?
We Make The Process Simple:
We help you find the concrete jackhammer for your specific machine.
Buy your concrete breaker online.
3.
Experience Less Downtime!
Complete projects faster with the right jackhammer without relying on rental companies.
Why Work With Lawsen Equipment?
2-year warranty on our concrete breakers
We match your machine with the correct-sized jack hammer resulting in less wear-and-tear
Made in The United States (Ohio)
Common-sense engineering that is easier to use
Concrete Breakers for Sale in Wyoming
Break concrete into manageable pieces
Used for most demolition jobs
Good for breaking bedrock
Chisel Diameter: 2" - 3.375"
Oil GPM: 5.2 - 26 GPM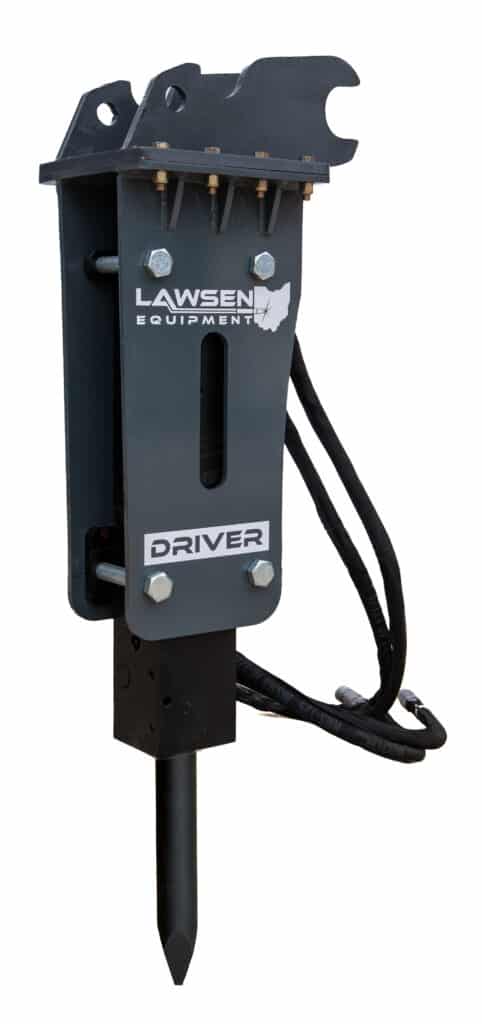 Good for breaking concrete
Highly efficient and adaptable
Extremely reliable
Chisel Diameter: 2" - 3.375"
Oil GPM: 5.2 - 26 GPM
Click a series to view full specs
Concrete Breakers for Skid Steers
Breaking concrete into manageable pieces, or breaking up bedrock is easy and safe since our jackhammers are perfectly sized to fit your skid steer. Enjoy reliable, trustworthy, and powerful concrete-breaking operations.
Chisel Diameter: 2" - 3.375"
Oil GPM: 5.2 - 26 GPM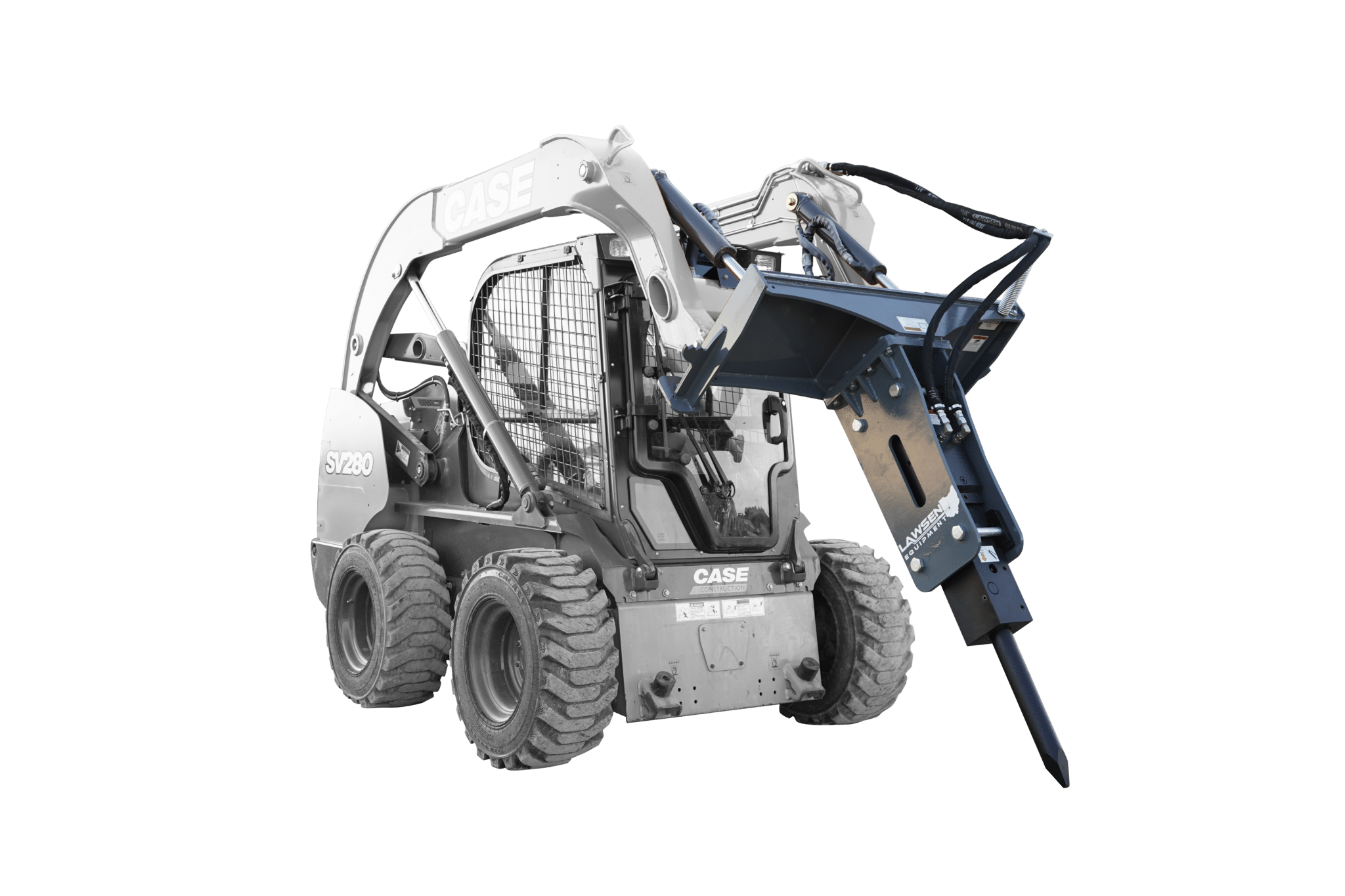 Model

Chisel
Diam.
Working
Pressure
Oil
GPM
Operating
Weight
Energy
Class
L - 53B
2"
2500 PSI
5.2 - 13.2
457 lbs.
550 ft. lb.
L - 68B
2.75"
2500 PSI
10.5 - 19
1100 lbs.
750 ft. lb.
L - 75B
3"
2500 PSI
13 - 24
1400 lbs.
1000 ft. lb.
L - 85B
3.375"
2500 PSI
16 - 26
1640 lbs.
1500 ft. lb.
Concrete Breakers for Excavators
Excavator concrete breakers are efficient and highly adaptable, making them extremely versatile. Combining superior efficiency and performance with high durability and reliability.
Chisel Diameter: 2" - 3.375"
Oil GPM: 5.2 - 26 GPM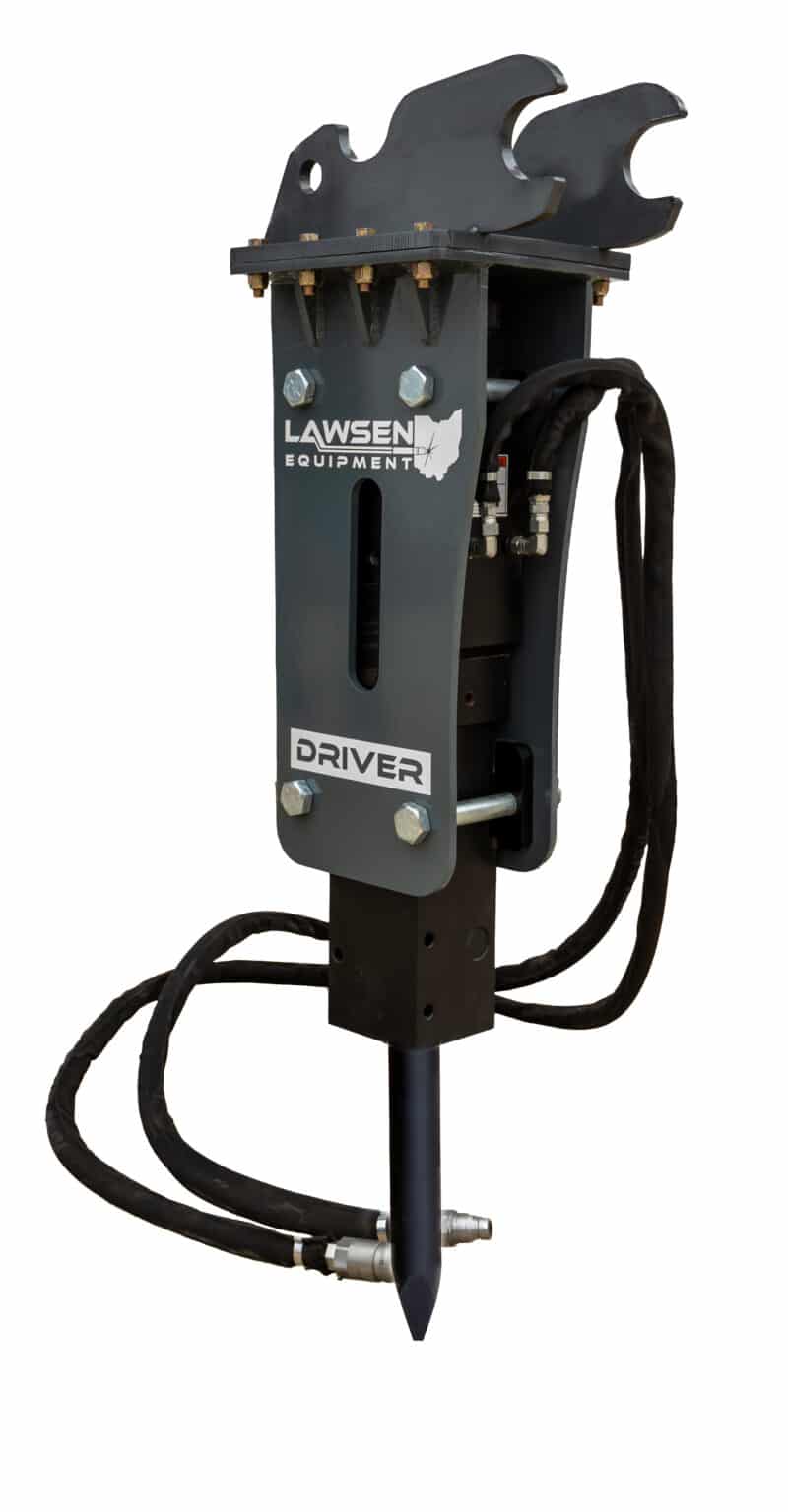 Model

Chisel
Diam.
Working
Pressure
Oil
GPM
Operating
Weight
Energy
Class
L - 53
2"
2500 PSI
5.2 - 13.2
570 lbs.
500 ft. lb.
L - 68
2.75"
2500 PSI
10.5 - 19
1100 lbs.
750 ft. lb.
L - 75
3"
2500 PSI
13 - 24
1400 lbs.
1000 ft. lb.
L - 85
3.375"
2500 PSI
16 - 26
1640 lbs.
1500 ft. lb.
Concrete Breaker & Jackhammer FAQs
The size of concrete breaker you need depends on the type of job you are doing. If the concrete is thick, you need a bigger concrete breaker.

Another factor is the skid steers or excavators that you have on site. Certain skid steers and excavators are only capable of running certain concrete breakers.

So, the two things to check when choosing a concrete breaker are the thickness of the concrete and specifications for the operating machine.
Choosing the wrong size of concrete breaker has 3 possible outcomes:

If the breaker you chose is too small for how thick the concrete is, it won't be very effective and will take a long time to complete the job. 
If the concrete breaker is too small for the skid steer or excavator, it will operate too fast and cause internal seal damage.
If the concrete breaker is too big for the skid steer or excavator it presents a tipping hazard for the operating machine. 
Your skid steer will need a minimum of 10 GPM to operate our concrete breakers. .
Honestly, a concrete breaker is almost always better than a jackhammer. A hydraulic concrete breaker is the modern way to creak concrete and is simply more effective. The main time you may want to choose a jackhammer is if you only have a small amount of concrete that needs to be removed, or if you don't have access to a skid steer or excavator. 
Sometimes, people generically refer to hydraulic concrete breakers as jackhammers. However, this is not accurate. 

Concrete breakers are almost always hydraulic while jackhammers are air driven. Concrete breakers are often operated by machine while jackhammers are handheld.

And usually, concrete breakers are much more effective and efficient when removing concrete (and they save you a lot of backaches!) 
Yes, providing the skid steer has auxiliary hydraulics and is capable of 10 GPM.
No. Standard universal skid steer quick attach and 1 set of hoses is all that is needed.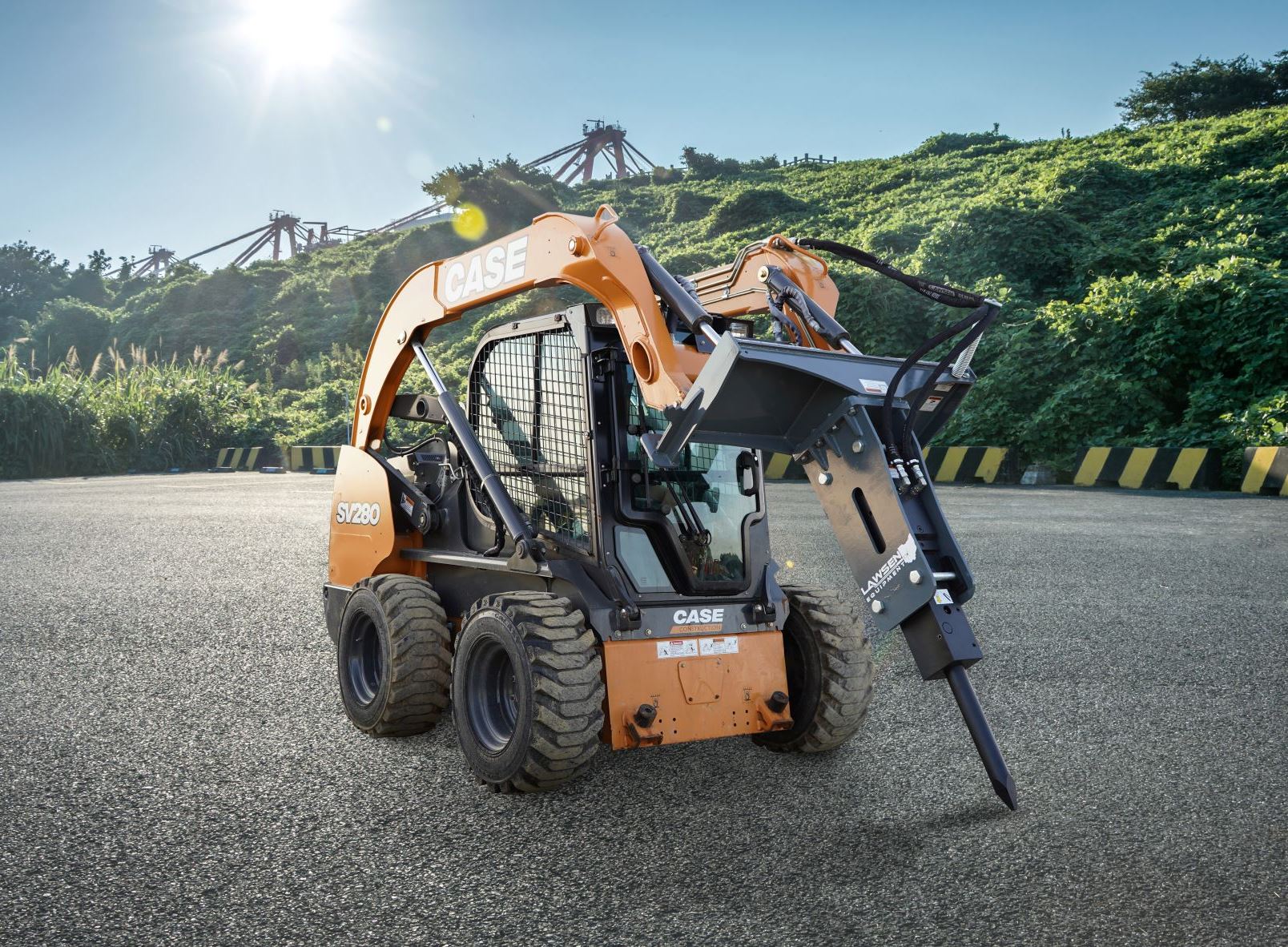 Skid Steer Jack Hammers & Concrete Breakers in Wyoming
If you run a construction company or manage a crew in Wyoming, then you know there is nothing more frustrating than needing to break up some concrete on the job - only to realize the nearest rental company doesn't have the right jack hammer for your machine.
This results in you needing to call and chase down the right rental while your crew has to wait or move onto something else.
By owning your own jack hammer, you don't need to experience these delays, and having the proper-sized breaker is also safer for the machine and operator!
Like many construction companies, you are probably constantly looking for ways to cut costs and make your crews more efficient as you work in Wyoming.
Part of that efficiency is when you run into demolition projects - particularly with concrete.
Instead of needing to spend money and waste time waiting for an inferior rental jackhammer, you can enjoy increased efficiency with one of the best skid steer jackhammers available!
At Lawsen equipment, we manufacture the skid steer attachments that you need to get more done with your existing equipment and run your business more efficiently! This includes hydraulic post drivers, auger drives, and more. 
Give us a call today to get started. We serve all areas in Wyoming. 
If you own a farm or business in Wyoming, you have probably already experienced the climate, scenery, and attractions in Wyoming, which include: 
Yellowstone National Park 
Lamar Valley 
Grand Canyon of Yellowstone 
Grand Prismatic Spring 
Town Square 
National Elk Refuge 
National Museum of Wildlife Art 
Grand Teton 
Wyoming State Museum 
Chief Joseph Scenic Highway 
Buffalo Bill Center of the West 
Cheyenne Depot Museum 
And much, much more! You will have to come to Wyoming, USA to see it all for yourself. 
Wyoming is a dry, windy state covered mostly by the Rocky Mountains in the west and high-elevation prairie called the High Plains in the east. It has a semi-arid to continental climate. Almost half of the land in the state is owned by the federal government and is generally protected for public uses. These federal lands include two national parks: Grand Teton and Yellowstone. There are also extensive wildlife preserves, national forest, and fish hatcheries in Wyoming. 
The state of Wyoming is sparsely populated - in fact, with a population of 576,851, it is the least populated state in the USA. Its capitol, Cheyenne, has an estimated population of 63,957 people. 
Wyoming was inhabited by indigenous peoples for years. Some of the tribes that lived there historically include the Arapaho, Crow, Lakota, and Shoshone people. Some of these tribes are still recognized by the government today. The name "Wyoming" comes from the Lenape word meaning "at the big river flat." 
Historically, Wyoming was a region filled with ranchers, shepherds, and cattle farmers. Today, Wyoming's economy is based off of tourism and the extraction of products such as coal, natural gas, oil, and trona. Agricultural products of Wyoming include barley, hay, livestock, sugar beets, wheat, and wool. 
Historically, the state is known for being the first to allow women to vote and the right to assume an elected office, in addition to being the first state to elect a female governor. Because of this its main nickname is "The Equality State" and its motto is "Equal Rights." 
If you own or manage a crew in the construction or concrete industries in Wyoming and want to run it more efficiently, give us a call at Lawsen equipment! We look forward to hearing from you! 
We serve all counties in Wyoming:
Laramie County, Natrona Country, Campbell County, Sweetwater County, Fremont County, Albany County, Sheridan County, Park County, Teton County, Uinta County, Lincoln County, Carbon County, Converse County, Goshen County, Big Horn County, Sublette County, Platte County, Johnson County, Washakie County, Crook County, Weston County, Hot Springs County, and Niobrara County.
We also serve all cities in the state, including:
Cheyenne, Casper, Laramie, Gillette, Rock Springs, Sheridan, Green River, Riverton, Jackson, Cody, Rawlins, Lander, Torrington, Ranchettes, Douglas, Powell, Worland, Buffalo, South Greeley, Fox Farm-College, Mills, Wheatland, Newcastle, Warren AFB, Evansville, Bar Nunn, Kemmerer, Thermopolis, North Rock Springs, Glenrock, Lovell, Star Valley Ranch, Pinedale, Greybull, Ho back, South Park, Afton, Wright, Fort Washakie, Lyman, Arapahoe, Ethete, Saratoga, Lusk, Wilson, Sundance, Basin, Rafter J Ranch, Pine Bluffs, and more.
We sell and ship our concrete breakers throughout the entire United States. States we serve include:
Not sure if we serve your area? Please fill out our quote request form, and we will let you know!