Clear land &
brush faster
Move
compost easier
Fewer
Maintenance Issues
Are you tired of wasting time or needing to use manual labor when a standard dirt bucket doesn't do the job?
We believe every operator in Montana with access to a quick attach machine deserves a fast, easy, and efficient alternative when a dirt bucket isn't efficient.
How does our brush grapple help farmers & contractors in Montana?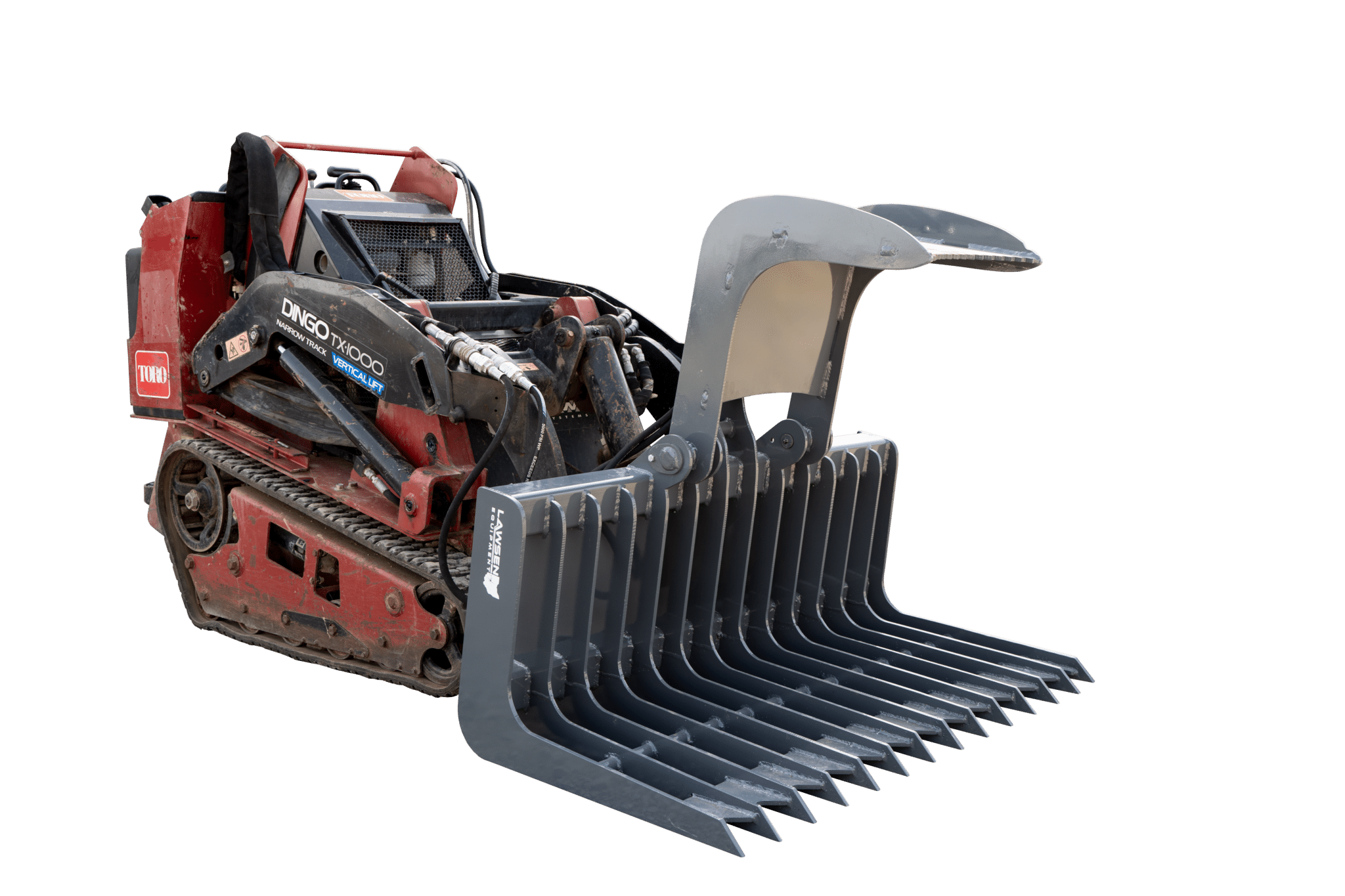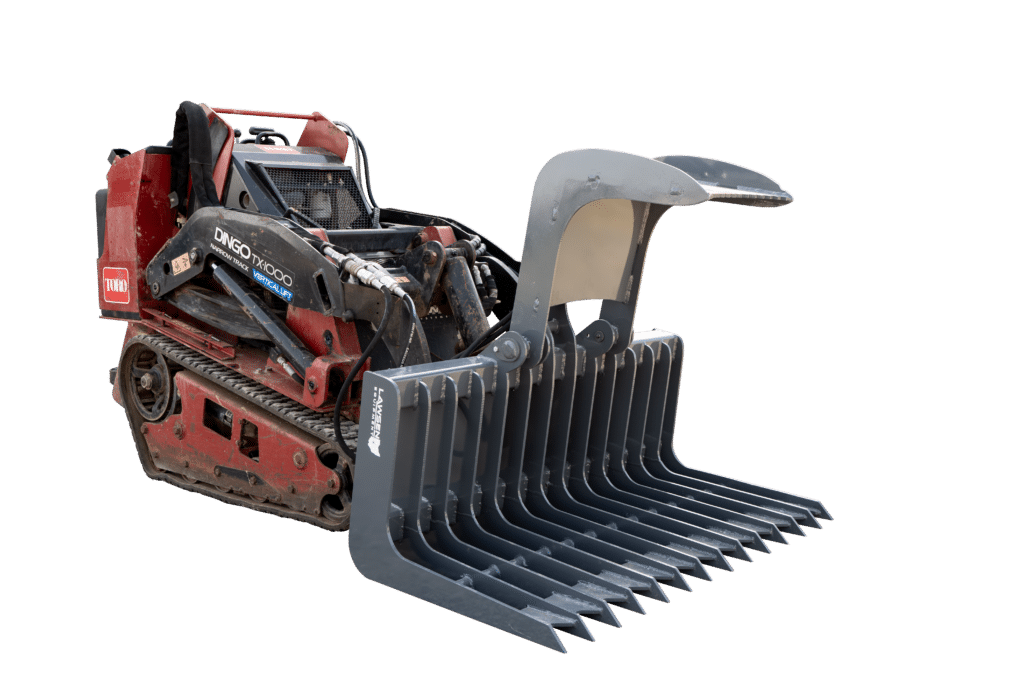 4" tine spacing for better rock, brush, and compost filtering
Optimal operator view - similar to a dirt bucket
Hydraulic hose placement is on the side to avoid pinching while attaching or dumping
Low-entry height on the front tines allows for easier material loading and grabbing
Maximum strength with proper gusseting
How would an efficient brush grapple make your Montana operation more efficient?
We Make A New Brush Grapple Simple:
We will help you find the brush grapple designed for your specific machine.
Purchase your brush grapple, and we ship it directly to you.
3.
Move Brush & Compost Faster!
Clear land, brush, rocks, and compost faster and with minimal manual labor.
Why Work With Lawsen Equipment?
1-year warranty on our brush grapples
Common-sense engineering that is easy to use
Made in the United States (Ohio)
Less maintenance with better-protected hydraulic hoses and proper gussets
Brush Grapples For Sale In Montana
Our brush grapples come with a standard 1-year warranty.
Length: 48" - 84"
Operating Weight: 580 - 1,230 LBS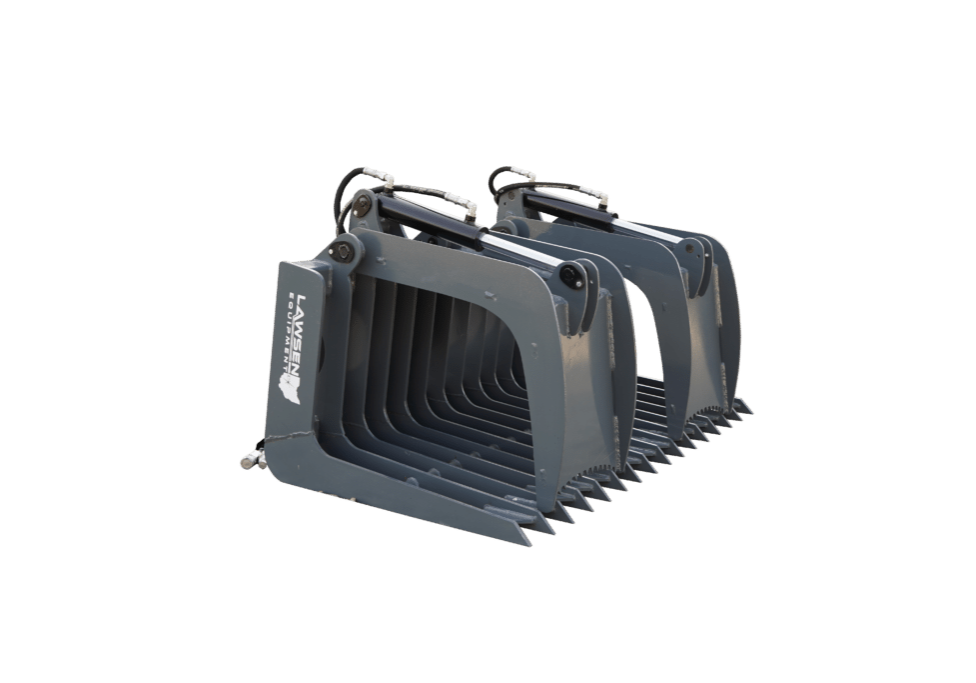 Standard Brush Grapple Models:
Model

Description

Length

Tine
Spacing
Working
Pressure
Operating
Weight
LCG - 54
Mini Skid or Compact Tractor Grapple (Dual Clamp & 1/4" tines)
54"
4"
3,000 PSI
580 LBS
LBG - 4
Compact Tractor Grapple (Single Clamp)
48"
4"
3,000 PSI
825 LBS
LBG - 4
Compact Tractor Grapple (Double Clamp)
48"
4"
3,000 PSI
980 LBS
LBG - 5
Standard Skid Steer Grapple
60"
4"
3,000 PSI
1,142 LBS
LBG - 6
Standard Skid Steer Grapple
72"
4"
3,000 PSI
1,198 LBS
LBG - 7
Standard Skid Steer Grapple
84"
4"
3,000 PSI
1,230 LBS
Questions about our brush grapples?
A brush grapple is a skid steer attachment that replaces a bucket with an open bottom and debris clamps. They are made for sifting rocks, and other unwanted debris out of a material. 
Yes! Any machine that has auxiliary hydraulics can operate our brush grapples.
Thankfully attaching our brush grapples to a tractor or skid steer is very simple. If you are familiar with any kind of hydraulic attachments you should be able to do the job in a minute or two.
Yes, a single set of hydraulic hoses is needed to operate our brush grapples. These hydraulic hoses are provided with the brush grapple when you purchase it. 
Yes we have brush grapples as small as 4 feet wide and as large as 8 feet side.
There is no minimal required hydraulic flow needed to operate our brush grapples.
Skid Steer & Tractor Grapples for Sale in Montana
If you have a quick-attach machine, you've probably experienced the limits of the standard dirt bucket.
For a farmer it might be moving large piles of compost or manure or clearing land for pasture or crops.
For a landscaper it might be clearing brush for new seeding.
No matter your profession, we believe having an efficient brush grapple will help your business when a dirt bucket just doesn't do the job!
If you own a Montana business such as a farm or landscaping business, you probably want to run it as efficiently as possible so you can get more done, grow, and increase your revenue. 
At Lawsen Equipment, we understand that you want to run your business smartly and efficiently. That is why we manufacture quality attachments for skid steers and tractors such as post drivers and concrete breakers that help you get more done so you can focus on what matters–growing your business. 
Give us a call today to order your attachment! 
If you own a business here, you already know about some of the attractions which make Montana unique, which include: 
Yellowstone National Park 
Lamar Valley 
Going to the Sun Road 
Grand Canyon of the Yellowstone 
Grand Prismatic Spring 
Town Square 
Beartooth Highway 
National Elk Refuge 
National Museum of Wildlife Art 
Museum of the Rockies 
A Carousel for Missoula 
Aerial Fire Depot and Smokejumper Center 
And much more in the beautiful state of Montana! 
Known as "Big Sky Country," Montana contains great stretches of wide open prairie and badlands. The western half of the state also contains numerous mountain ranges, which are mostly part of the Rocky Mountains. 
Montana has multiple unofficial nicknames, including "The Treasure State," "Land of the Shining Mountains," and "The Last Best Place." the state's economy is mainly based on agriculture such as ranching and cereal grain farming, as well as natural resources including oil, natural gas, coal, mining, and lumber. Health care, service, and government jobs also play into the state's economy. 
However, Montana's fastest growing sector is tourism, as the state can boast several amazing national parks including Glacier and Yellowstone, plus other attractions that draw nearly 13 million tourists annually. 
If you are ever passing through, you will have to stop and see the sights for yourself! 
The name "Montana" comes from the Spanish word "montana" meaning "mountain," or "mountainous country." The name fits the state to a T–the mountains in Montana are absolutely stunning! 
The official Montana website lists some interesting facts about Montana: 
Population: 1,005,141
Nickname: Treasure State
State Capital: Helena
State Flower: Bitterroot
State Bird: Western Meadowlark
State Animal: Grizzly Bear
State Fish: Blackspotted Cutthroat Trout
State Gemstones: Sapphire & Agate
State Soil: Scobey Soil
State Motto: Oro y Plata (Gold & Silver)
With its varied terrain and stunning national parks, Montana is a treasure trove of beauty and adventure. Be sure to see it all for yourself someday! 
If you own a farm, ranch, landscaping business, or other company that requires a lot of consistent post-pounding in Montana, give us a call at Lawsen Equipment to find quality tractor and skid steer attachments to help you run more efficiently. We would be happy to help out! 
We serve all areas in the state, including all the major cities in Montana: 
Billings, Missoula, Great Falls, Bozeman, Helena, Butte, Kalispell, Belgrade, Havre, Whitefish, Anaconda, Helena Valley Southeast, Helena Valley West Central, Lockwood, Evergreen, Livingston, Miles City, Columbia Falls, Laurel, Sidney, Orchard Homes, Lewistown, Polson, Hamilton, Four Corners  
Give us a call today! We look forward to hearing from you.  
We serve all counties in Montana:
Beaverhead County, Big Horn County, Blaine County, Broadwater County, Carbon County, Carter County, Cascade County, Chouteau County, Custer County, Daniels County, Dawson County, Deer Lodge County, Fallon County, Fergus County, Flathead County, Gallatin County, Garfield County, Glacier County, Golden Valley County, Granite County, Hill County, Jefferson County, Judith Basin County, Lake County, Lewis and Clark County, Liberty County, Lincoln County, Madison County, McCone County, Meagher County, Mineral County, Missoula County, Musselshell County, Park County, Petroleum County, Phillips County, Pondera County, Powder River County, Powell County, Prairie County, and Ravalli County.
We also serve all cities in the state, including:
Billings, Missoula, Great Falls Bozeman, Butte-Silver Bow, Helena, Kalispell, Havre, Belgrade, Anaconda-Deer Lodge County, Helena Valley Southeast, Evergreen, Miles City, Lockwood, Helena Valley West Central, Whitefish, Livingston, Laurel, Sidney, Lewistown, Columbia Falls, Orchard Homes, Polson, Glendive, Four Corners, Hamilton, Bigfork, Dillon, Helena Valley Northwest, Lolo, Malmstrom AFB, Hardin, Helena Valley Northeast, Glasgow, Big Sky, Cut Bank, Deer Lodge, Shelby, North Browning, Montana City, Libby, Wolf Point, Conrad, Colstrip, Lame Deer, Lakeside, East Missoula, Red Lodge, Townsend, Malta, and more.
We sell and ship our post drivers throughout the entire United States. States we serve include:
Ohio
South Dakota
West Virginia
Not sure if we serve your area? Please fill out our quote request form, and we will let you know!