Clear land &
brush faster
Move
compost easier
Fewer
Maintenance Issues
Are you tired of wasting time or needing to use manual labor when a standard dirt bucket doesn't do the job?
We believe every operator in North Dakota with access to a quick attach machine deserves a fast, easy, and efficient alternative when a dirt bucket isn't efficient.
How does our brush grapple help farmers & contractors in North Dakota?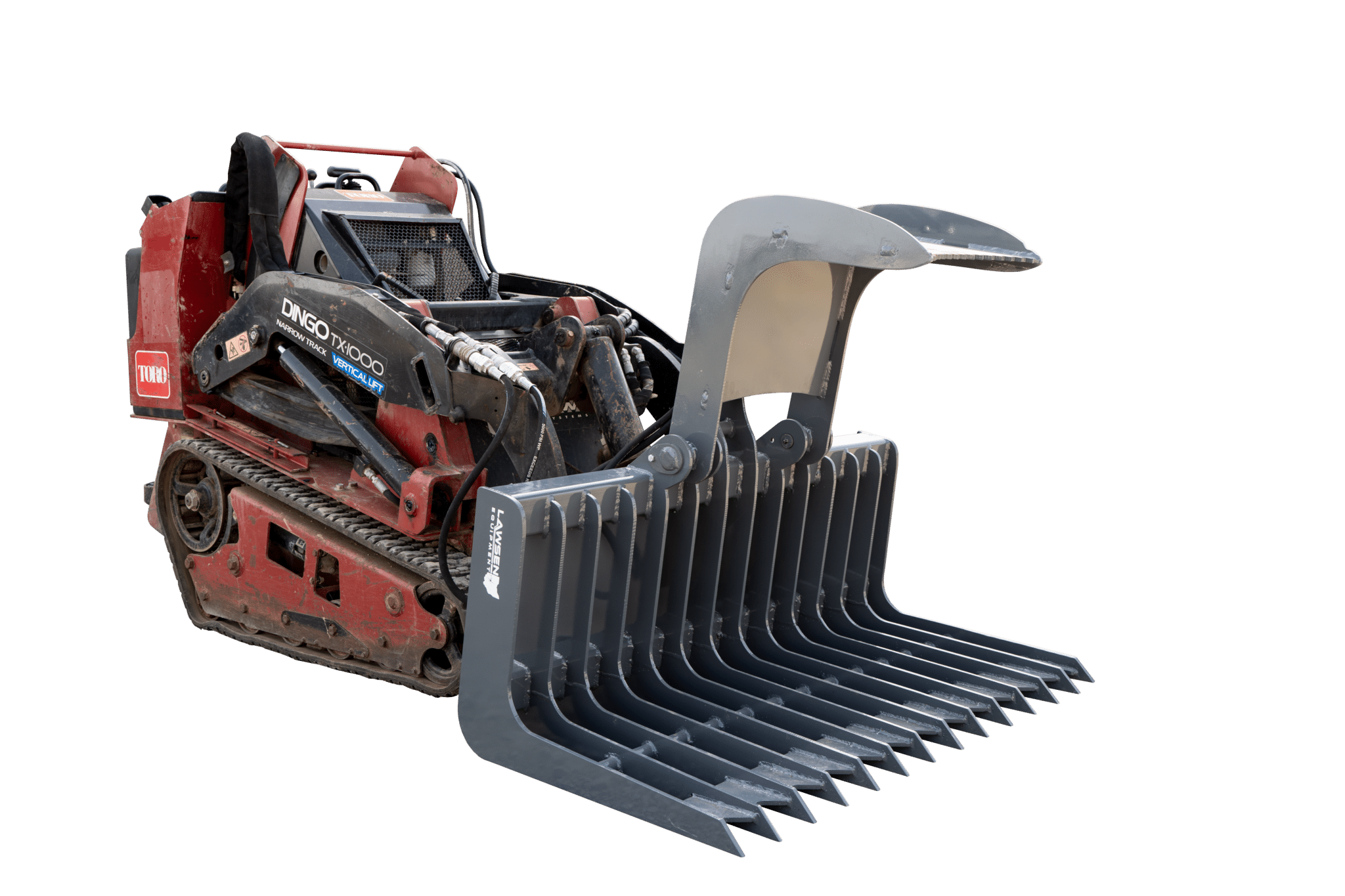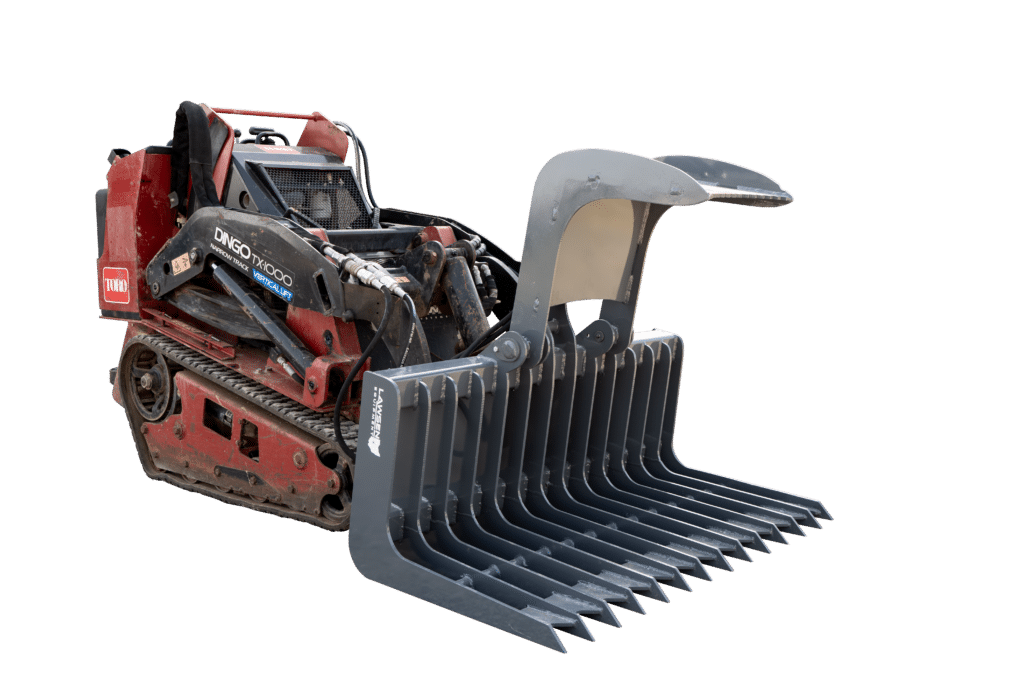 4" tine spacing for better rock, brush, and compost filtering
Optimal operator view - similar to a dirt bucket
Hydraulic hose placement is on the side to avoid pinching while attaching or dumping
Low-entry height on the front tines allows for easier material loading and grabbing
Maximum strength with proper gusseting
How would an efficient brush grapple make your North Dakota operation more efficient?
We Make A New Brush Grapple Simple:
We will help you find the brush grapple designed for your specific machine.
Purchase your brush grapple, and we ship it directly to you.
3.
Move Brush & Compost Faster!
Clear land, brush, rocks, and compost faster and with minimal manual labor.
Why Work With Lawsen Equipment?
1-year warranty on our brush grapples
Common-sense engineering that is easy to use
Made in the United States (Ohio)
Less maintenance with better-protected hydraulic hoses and proper gussets
Brush Grapples Available In North Dakota
Our brush grapples come with a standard 1-year warranty.
Length: 48" - 84"
Operating Weight: 580 - 1,230 LBS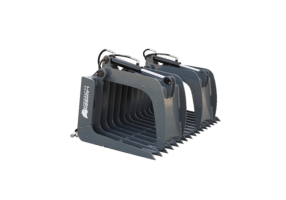 Standard Brush Grapple Models:
Model

Description

Length

Tine
Spacing
Working
Pressure
Operating
Weight
LCG - 54
Mini Skid or Compact Tractor Grapple (Dual Clamp & 1/4" tines)
54"
4"
3,000 PSI
580 LBS
LBG - 4
Compact Tractor Grapple (Single Clamp)
48"
4"
3,000 PSI
825 LBS
LBG - 4
Compact Tractor Grapple (Double Clamp)
48"
4"
3,000 PSI
980 LBS
LBG - 5
Standard Skid Steer Grapple
60"
4"
3,000 PSI
1,142 LBS
LBG - 6
Standard Skid Steer Grapple
72"
4"
3,000 PSI
1,198 LBS
LBG - 7
Standard Skid Steer Grapple
84"
4"
3,000 PSI
1,230 LBS
Questions about our brush grapples?
Skid Steer & Tractor Grapples for Sale in North Dakota
If you have a quick-attach machine, you've probably experienced the limits of the standard dirt bucket.
For a farmer it might be moving large piles of compost or manure or clearing land for pasture or crops.
For a landscaper it might be clearing brush for new seeding.
No matter your profession, we believe having an efficient brush grapple will help your business when a dirt bucket just doesn't do the job!
If you run a landscaping business or farm in North Dakota, you are probably on a constant hunt for ways to run your business more efficiently. 
After all, the more efficient your business is, the more you can get done, and the more you can grow. 
At Lawsen Equipment, we understand why you want to run your business smartly. That is why we manufacture quality attachments for tractors and skid steers such as hydraulic post drivers, concrete breakers, and brush grapples. Our attachments enable you to do more with your equipment and work more efficiently. 
Give us a call today to order yours! 
If your business is located in North Dakota, you already know about some of the attractions that make North Dakota unique, which include: 
Dakota Zoo 

Knife River Indian Villages Historic Site 

Fargo-Moorehead Visitors Center 

Red River Zoo 

Ralph Englestad Arena 

Theodore Roosevelt National Park 

Bonanzaville 

Scandinavian Heritage Park 

University of North Dakota 

North Dakota State Capitol Building 

Fargo Air Museum 

Flood Memorial Monument 
And much more in the beautiful state of North Dakota! You can also find all sorts of outdoor adventures to experience in the state's rugged prairies and steppes.  
Bordered by the Canadian provinces of Saskatchewan and Manitoba, North Dakota is located on the northern border of the United States. Some say that the geographic center of North America is located in North Dakota–the town of Rugby. 
North Dakota is the 19th largest state in terms of square mileage, but with a population of less than 780,000, it is the fourth least populous state in the USA. Its capital, Bismarck, accounts for nearly a fifth of its total population. Almost half of the residents in North Dakota live in rural areas. 
The state was originally inhabited by multiple Native America Tribes, one of which was the Dakota Sioux, from which the state got its name. 
North Dakota is located in the Great Plains region. Its geography mainly consists of broad prairies, steppes, temperate savanna, badlands, and farmlands. The state is rich in natural resources such as oil, which contribute to its economic development. 
Do you want to visit North Dakota? NorthDakota.com says this to anyone who wants to visit: 
Explore our scenic rolling plains and rugged Badlands from the comfort of your vehicle, on a horse or mountain bike. Our state is expanding as a prominent location for those seeking an opportunity with vibrant communities that offer boundless experiences statewide. For example, Census 2020 results indicated McKenzie County as the fastest-growing county in the nation while our state is simultaneously growing younger with an average median below the U.S.

Our climate supports year-round recreation with more than 200 days of sunshine annually and an average high temperature of 82 degrees in the summer and 65 degrees in the early fall. Innovation is changing our agriculture and energy industries. Our fertile soil, lush pastures and rich geology allow us to feed and fuel the world with leading production while providing a mosaic of colors throughout the state.

As travelers increasingly seek out unique vacation destinations, it's no surprise that fewer crowds, more room to roam, and places to relax are driving visitors like you to North Dakota.
Be sure to stop in to visit North Dakota sometime! 
If you run a business in North Dakota and would like to buy attachments for your tractor or skid steer, give us a call at Lawsen Equipment. 
We serve all areas in the state, including the major cities in North Dakota: 
Fargo, Bismarck, Grand Forks, Minot, West Fargo, Williston, Dickinson, Mandan, Jamestown, Watford City, Wahpeton, Devils Lake, Valley City, Minot AFB, Grafton, Lincoln, Horace, Beulah, Stanley, New Town 
And all other cities and towns in North Dakota. We look forward to hearing from you!
We serve all counties in North Dakota:
Adams County, Barnes County, Benson County, Billings County, Bottineau County, Bowman County, Burke County, Burleigh County, Cass County, Cavalier County, Dickey County, Divide County, Dunn County, Eddy County, Emmons County, Foster County, Golden Valley County, Grand Forks County, Grant County, Griggs County, Hettinger County, Kidder County, Lamoure County, Logan County, McHenry County, McIntosh County, McKenzie County, McLean County, Mercer County, Morton County, Mountrail County, Nelson County, Oliver County, Pembina County, Pierce County, Ramsey County, Ransom County, Renville County, Richland County, Rolette County, Sargent County, Sheridan County, Sioux County, Slope County, Stark County, Steele County, Stutsman County, Towner County, Trail County, Walsh County, Ward County, Wells County, and Williams County.
We also serve all cities in the state, including:
Fargo, Bismarck, Grand Forks, Minot, West Fargo, Williston, Dickinson, Mandan, Jamestown, Wahpeton, Devils Lake, Valley City, Watford City, Lincoln, Grafton, Horace, Beulah, New Town, Rugby, Casselton, Stanley, Hazen, Bottineau, Lisbon, Tioga, Carrington, Langdon, Oakes, Mayville, Hillsboro, Harvey, Garrison, Bowman, Park River, Mapleton, New Rockford, Surrey, Washburn, Burlington, Larimore, Cavalier, Rolla, Cando, Thompson, Ellendale, Velva Crosby, Linton, Hettinger, New Salem, and more.
We sell and ship our post drivers throughout the entire United States. States we serve include:
Ohio
South Dakota
West Virginia
Not sure if we serve your area? Please fill out our quote request form, and we will let you know!