Clear land &
brush faster
Move
compost easier
Fewer
Maintenance Issues
Are you tired of wasting time or needing to use manual labor when a standard dirt bucket doesn't do the job?
We believe every operator in Virginia with access to a quick attach machine deserves a fast, easy, and efficient alternative when a dirt bucket isn't efficient.
How does our brush grapple help farmers & contractors in Virginia?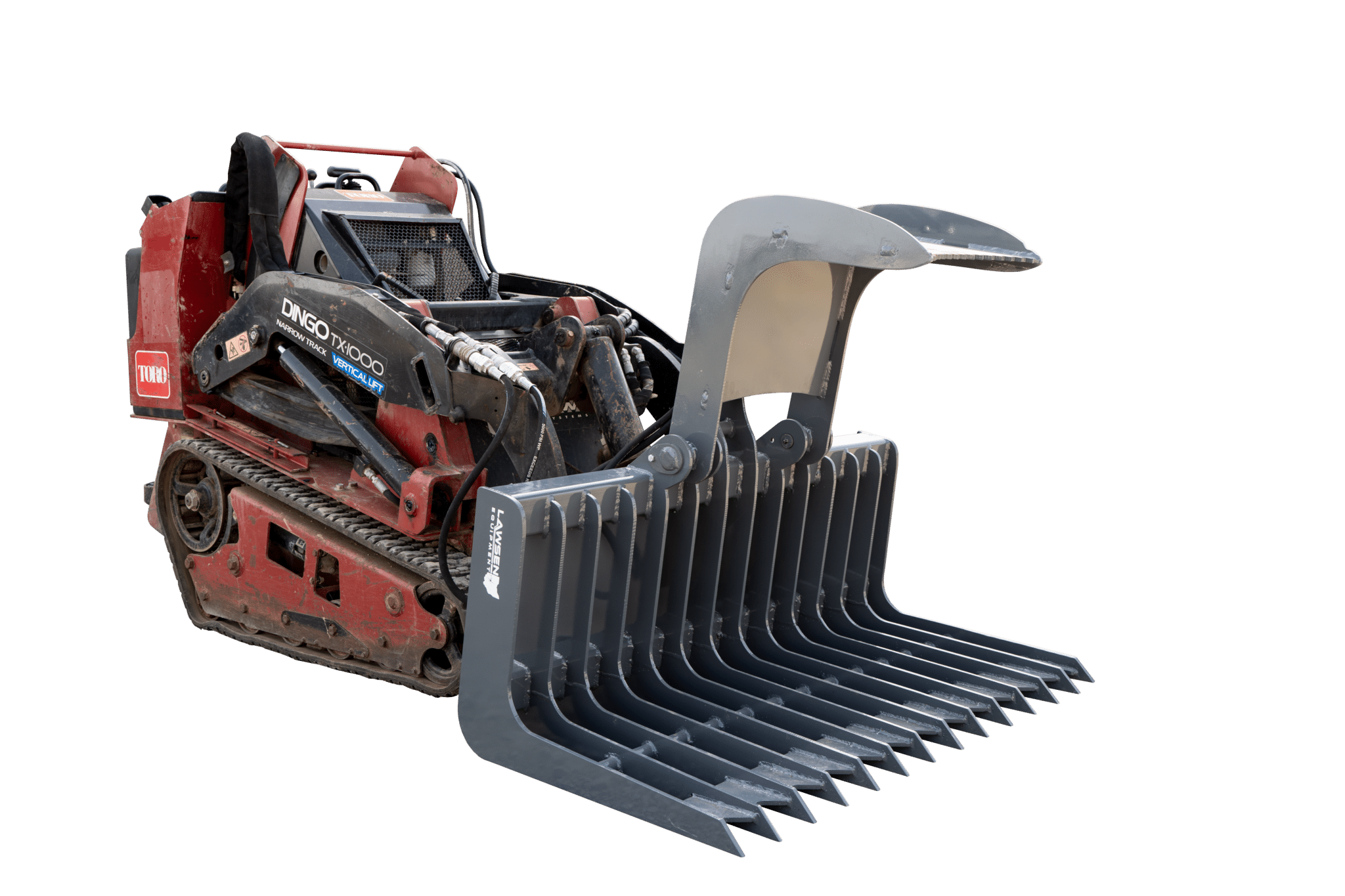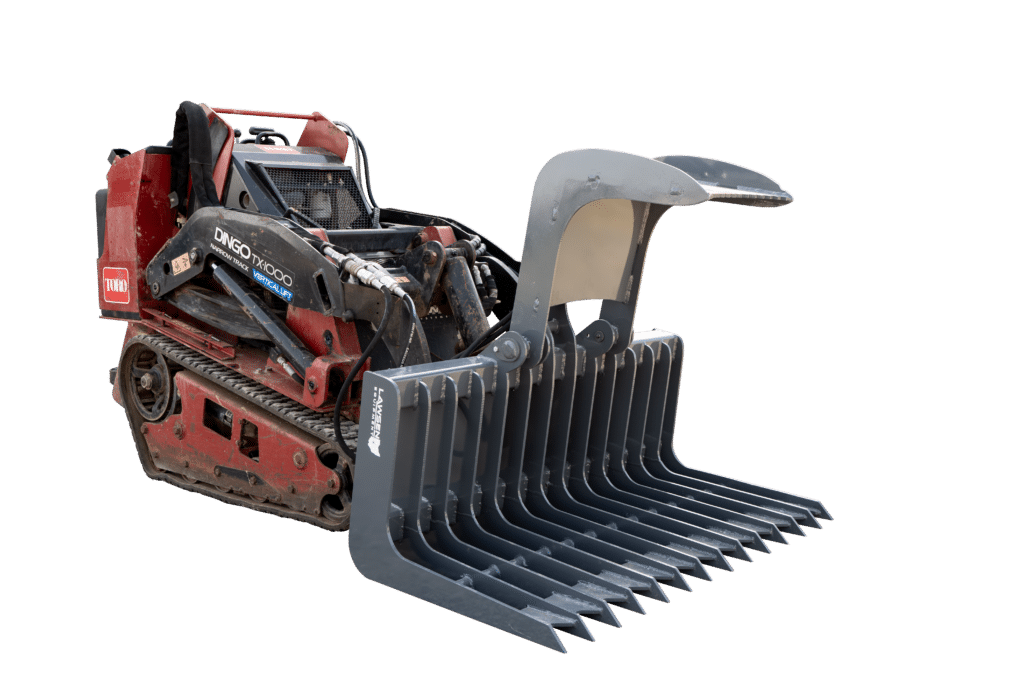 4" tine spacing for better rock, brush, and compost filtering
Optimal operator view - similar to a dirt bucket
Hydraulic hose placement is on the side to avoid pinching while attaching or dumping
Low-entry height on the front tines allows for easier material loading and grabbing
Maximum strength with proper gusseting
How would an efficient brush grapple make your Virginia operation more efficient?
We Make A New Brush Grapple Simple:
We will help you find the brush grapple designed for your specific machine.
Purchase your brush grapple, and we ship it directly to you.
3.
Move Brush & Compost Faster!
Clear land, brush, rocks, and compost faster and with minimal manual labor.
Why Work With Lawsen Equipment?
1-year warranty on our brush grapples
Common-sense engineering that is easy to use
Made in the United States (Ohio)
Less maintenance with better-protected hydraulic hoses and proper gussets
Brush Grapples Available In Virginia
Our brush grapples come with a standard 1-year warranty.
Length: 48" - 84"
Operating Weight: 580 - 1,230 LBS
Standard Brush Grapple Models:
Model

Description

Length

Tine
Spacing
Working
Pressure
Operating
Weight
LCG - 54
Mini Skid or Compact Tractor Grapple (Dual Clamp & 1/4" tines)
54"
4"
3,000 PSI
580 LBS
LBG - 4
Compact Tractor Grapple (Single Clamp)
48"
4"
3,000 PSI
825 LBS
LBG - 4
Compact Tractor Grapple (Double Clamp)
48"
4"
3,000 PSI
980 LBS
LBG - 5
Standard Skid Steer Grapple
60"
4"
3,000 PSI
1,142 LBS
LBG - 6
Standard Skid Steer Grapple
72"
4"
3,000 PSI
1,198 LBS
LBG - 7
Standard Skid Steer Grapple
84"
4"
3,000 PSI
1,230 LBS
Questions about our brush grapples?
A brush grapple is a skid steer attachment that replaces a bucket with an open bottom and debris clamps. They are made for sifting rocks, and other unwanted debris out of a material. 
Yes! Any machine that has auxiliary hydraulics can operate our brush grapples.
Thankfully attaching our brush grapples to a tractor or skid steer is very simple. If you are familiar with any kind of hydraulic attachments you should be able to do the job in a minute or two.
Yes, a single set of hydraulic hoses is needed to operate our brush grapples. These hydraulic hoses are provided with the brush grapple when you purchase it. 
Yes we have brush grapples as small as 4 feet wide and as large as 8 feet side.
There is no minimal required hydraulic flow needed to operate our brush grapples.
Skid Steer & Tractor Grapples for Sale in Virginia
If you have a quick-attach machine, you've probably experienced the limits of the standard dirt bucket.
For a farmer it might be moving large piles of compost or manure or clearing land for pasture or crops.
For a landscaper it might be clearing brush for new seeding.
No matter your profession, we believe having an efficient brush grapple will help your business when a dirt bucket just doesn't do the job!
If you run a farm, fencing business, or landscaping business in Virginia, you probably want to run it as efficiently as you can. 
What if you could do more with your equipment, get more done, and increase your revenue? 
At Lawsen Equipment, we understand that you want to run your business as efficiently as possible. That is why we manufacture quality attachments for skid steers. That way you can get more done with your equipment and run your business more efficiently, allowing you to grow and increase your revenue. 
Give us a call today to get started! 
If you run a farm or business in Virginia, you have probably already experienced some of the cool attractions in the state, which include: 
Virginia Beach 
Colonial Williamsburg 
Arlington National Cemetery 
Busch Gardens 
The Natural Bridge 
Manassas National Battlefield Park
Thomas Jefferson's Monticello 
George Washington's Mount Vernon 
Shenandoah National Park/Skyline Drive 
Richmond Canal Walk 
Luray Caverns
Chincoteague and Assateague Islands 
Virginia Aquarium and Marine Science Center 
And so much more in the beautiful state of Virginia, USA! From George Washington's home to the US capitol, there is plenty to do and see here.   
Officially the Commonwealth of Virginia, this state is located in the Mid-Atlantic and Southeastern regions of the US, between the Atlantic Coast and the Appalachian Mountains. Both the Blue Ridge Mountains and the Chesapeake Bay shape the geography and climate of Virginia. Virginia has a humid, subtropical climate. 
Virginia has a rich and lengthy history. It starts with several Indian tribes that used to inhabit the area, including the tribe of the famous Powhatan. Later, Virginia became the first permanent English settlement in America. Its status as the first settlement earned it the nickname "Old Dominion." It became part of the original 13 colonies, and then part of the United States in 1776. Later, during the Civil War, Virginia was split between the Confederacy and the Union. 
Today, the state's economy runs off of diverse sources, including local and federal government, military, farming, and high-tech. It's a great place to run a business, having been named Top State For Business by the CNBC in 2021. 
The Virginia.org website states it like this: 
"Virginia is for all sorts of people. Small families, big families, and your family. Whether you're a summer beach lounger, a fall mountain hiker, a poolside wine sipper, or a rooftop oyster slurper, Virginia's got something for every type of lover. So, come love it for yourself."
You will have to come see Virginia for yourself sometime! 
If you run a farm or business in Virginia, give us a call today at Lawsen equipment. We would love to help you run your business more efficiently. 
We look forward to hearing from you!
We serve all counties in Virginia:
Fairfax County, Prince William County, Virginia Beach city/county, Loudoun County, Chesterfield County, Henrico County, Norfolk city/county, Chesapeake city/county, Arlington County, Richmond city/county, Newport News city/county, Alexandria city/county, Stafford County, Hampton city/county, Spotsylvania County, Albemarle County, Hanover County, Roanoke city/county, Montgomery County, Portsmouth city/county, Roanoke County, Suffolk city/county, Frederick County, Rockingham County, Lynchburg city/county, Bedford County, James City County, Augusta County, Fauquier County, York County, Pittsylvania County, Franklin County, Campbell County, Washington County, Harrisonburg city/county, Culpeper County, Henry County, Charlottesville city/county, Shenandoah County, Tazewell County, Manassas city/county, Danville city/county, Warren County, Prince George County, Wise County, Gloucester County, Isle of Wight County, Louisa County, Orange County, Halifax County, Pulaski County, Botetourt County, Accomack County, Amherst County, Petersburg city/county, Mecklenburg County Caroline County, Smyth County, Carroll County, Powhatan County, Fredericksburg city/county, Wythe County, Dinwiddie County, Winchester city/county, Russell County, Fluvanna County, King George County, Salem city/county, Staunton city/county, Page County, Lee County, Goochland County, Fairfax city/county, Prince Edward County, Rockbridge County, Hopewell city/county, New Kent County, Waynesboro city/county, Scott County Buchanan County, Greene County, Westmoreland County, Radford city/county, Southampton County, Patrick County, Manassas Park city/county, Colonial Heights city/county, Buckingham County, Bristol city/county, King William County, Giles County, Brunswick County, Appomattox County, Floyd County, Grayson County, Nottoway County, Williamsburg city/county, Alleghany County, Nelson County, and Dickenson County.
We also serve all cities in the state, including:
Virginia Beach, Norfolk, Chesapeake, Arlington, Richmond, Newport News, Alexandria, Hampton, Roanoke, Portsmouth, Suffolk, Lynchburg, Centreville, Dale City, Reston, Leesburg, Harrisonburg, McLean, Tuckahoe, Charlottesville, Lake Ridge, Blacksburg, Ashburn, Burke, Woodbridge, Annandale, Linton Hall, Manassas, Danville, Mechanicsville, Oakton, Fair Oaks, Springfield, South Riding, West Falls Church, Sterling, Petersburg, Fredericksburg, Winchester, Short Pump, Salem, Tysons, Cave Spring, Staunton, Herndon, Chantilly, West Springfield, Bailey's Crossroads, Fairfax, Woodlawn CDP, Lincolnian, Hopewell, Christiansburg, Waynesboro, Chester, Lee Sylvania, Rose Hill CDP, Montclair, Lorton, Brambleton, McNair, Cherry Hill, Meadowbrook, Franconia, Franklin Farm, Culpeper, Merrifield, Hybla Valley, Buckhall, Idylwood, Midlothian, Sudley, Burke Centre, Radford, Laurel, Bon Air, Kingstowne, Manassas Park, Colonial Heights, Bristol, Bull Run CDP, Vienna, East Highland Park, Wolf Trap, Gainesville, Fort Hunt, Front Royal, Hollins, Highland Springs, Glen Allen, Great Falls, Groveton, Falls Church, Broadlands, Kings Park West, Brandermill, Huntington, Mount Vernon, Newington, and more.
We sell and ship our post drivers throughout the entire United States. States we serve include:
Ohio
South Dakota
West Virginia
Not sure if we serve your area? Please fill out our quote request form, and we will let you know!